TREM2 Mystery: Altered Microglia, No Effect on Plaques
Since the 2012 discovery that mutations in the microglial gene TREM2 increase Alzheimer's risk by about as much the ApoE4 allele does, researchers have tried to figure out why (see Nov 2012 news story). TREM2 being a microglial receptor, one popular idea holds that the risk variant prevents these immune cells from gobbling up amyloid plaques. However, in the June 2 Molecular Neurodegeneration, researchers led by David Holtzman at Washington University in St. Louis show it's not that simple. In AD model mice lacking one TREM2 allele, the authors saw fewer microglia around plaques, but no increase in amyloid deposition. TREM2 variants exert their harmful effects through an amyloid-independent mechanism, Holtzman told Alzforum.
Other researchers were intrigued by the finding. Rita Guerreiro, Dervis Salih, and John Hardy at University College London speculated that TREM2 variants interfere with microglial migration, proliferation, or survival. "This is an interesting study that merits further investigation and replication," they wrote (see full comment below).
First author Jason Ulrich crossed APP/PS1 mice with TREM2 knockout mice. The knockout mice were generated by Washington University's Marco Colonna, who first cloned the TREM2 gene in 2000 (see Bouchon et al., 2000). The APP/PS1/TREM2 offspring had only one working copy of TREM2. Since the pathologic TREM2 variant, R47H, is believed to render the protein nonfunctional, the heterozygous TREM2 mice should mimic the effects of the R47H variant, Holtzman said.
The authors looked for effects on microglia and plaques in 3-month-old animals. They saw a dramatic difference in microglia. Far fewer of these immune cells gathered around plaques in the heterozygous mice compared to controls. These microglia also had smaller cell bodies than the controls did. Overall, the immune cells covered about 40 percent less territory around plaques in the heterozygotes. Despite this, the number and size of amyloid deposits did not change. (See image below.)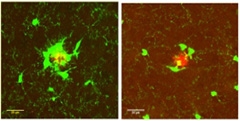 Would a difference in plaques show up over time in older mice? To test this, the authors looked in 7-month-old heterozygotes. Again, they saw no change in amyloid deposition compared to controls. In ongoing work, the authors are examining whether these older mice also have fewer microglia around plaques.
Microglia can exacerbate Alzheimer's disease by releasing cytokines that turn up brain inflammation. The authors measured levels of several cytokines to see if a lack of TREM2 might release the brakes on inflammatory processes. They found no significant differences between heterozygotes and controls, although a couple of pro-inflammatory cytokines were slightly decreased in the heterozygotes.
In future work, Holtzman will try to pin down what losing TREM2 in microglia does to the brain. Perhaps these cells have trouble phagocytosing molecules other than Aβ, or perhaps they interact differently with surrounding cells and intercellular matrix, Holtzman speculated. He also plans to examine the effects of TREM2 heterozygosity in other disease models, such as mice with mutant tau. Intriguingly, TREM2 variants increase risk for several neurodegenerative diseases that do not involve Aβ, including frontotemporal dementias (see Oct 2012 news story), Parkinson's disease (see Oct 2013 news story), and amyotrophic lateral sclerosis (see Feb 2014 news story).
These mouse models also need to be tied to human disease. "Isolation of monocytes from TREM2 mutation carriers and analysis of their Aβ clearance and degradation functions will help to further delineate the involved mechanisms," suggested Michael Heneka at the University of Bonn, Germany (see full comment below). "Studies that combine such analysis with human PET imaging for Aβ of mutation carriers would be of great value," he wrote.—Madolyn Bowman Rogers.