Brain Within a Brain? Nested Organoids a New Way to Study Human Microglia
Could putting a tiny brain inside a larger brain help study disease? As far-fetched as the idea might sound, the approach could allow scientists to investigate human microglia in near-physiological conditions. These cells are notoriously mercurial, changing gene expression to adapt to their environment. Thus, microglia in a dish behave differently to those in a human brain. In the May 11 Cell, researchers led by Fred Gage at the Salk Institute for Biological Studies in La Jolla, California, skirt this problem by growing microglia in human cerebral organoids inside mouse brains. The host brain provides blood flow and nutrients, the nested human organoid the right environmental cues. In this system, microglial gene expression resembled that seen in human brain, the authors found. "In effect, this gives us the ability to peek into the human brain dynamically," co-first author Simon Schaefer, now at the Technical University of Munich, told Alzforum.
Microglia in human brain organoids survive long-term when planted into mouse brain.
The cells assume mature homeostatic states that resemble those in human brain.
The system can be used to study cell- and patient-specific aspects of disease.
"It is very exciting to see a research paper like this," said Shauna Yuan at the University of Minnesota, Minneapolis.
"The advantage of this new method is the possibility of examining the interaction of human microglia and neuronal cells in vivo, during development, and in a disease microenvironment."
Little Brain, Big Brain. Human erythromyeloid, i.e. microglial, precursors (red) are added to cultured cerebral organoids, then transplanted into mouse brain for long-term survival. [Courtesy of Schaefer et al., Cell.]
Previous studies had alerted the field that microglia change state as soon as they are removed from the brain and placed in a dish (Jul 2016 conference news; Jun 2017 news). One way to get around this problem, yet still study human microglia in an accessible system, would be to culture them inside cerebral organoids, pea-sized brains grown from stem cells (Aug 2013 news; Jun 2019 news; Oct 2019 news).
Gage and colleagues set out to do this. However, cerebral organoids do not give rise to microglia. The immune cells have a distinct developmental origin, forming from erythromyeloid progenitors (EMPs) that migrate into the nascent brain. To replicate this developmental process, joint first authors Schaefer and Abed Mansour, now at the Hebrew University of Jerusalem, generated fluorescently labeled EMPs from human induced pluripotent stem cells, using a protocol developed by Mathew Blurton-Jones and colleagues at the University of California, Irvine (Abud et al., 2017). They cultured these EMPs with separately grown human cortical organoids that were 5 to 6 weeks old, the stage when neurogenesis begins. The EMPs migrated into the organoid within 12 hours, and a week later, 96 percent of them expressed the microglial master regulator PU.1, indicating they had differentiated.
But there was a problem. The microglia maintained an expression profile typical of fetal brain, and over three months in culture, nearly all of them died off. The cerebral organoids were not providing the right cues for their maturation and long-term survival. To get around this, Schaefer and Mansour used a protocol previously established in the Gage lab for transplanting cerebral organoids into the brains of immunocompromised mice (Mansour et al., 2018). As expected, the host brain vascularized the organoid, creating a more sustainable environment.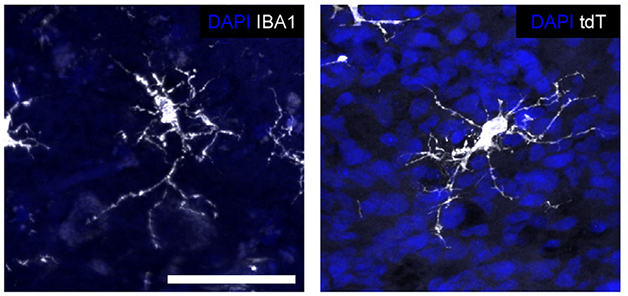 Mature Microglia. Human microglia (white) in a transplanted cerebral organoid (right) assume the same ramified shape as do microglia in human brain (left). Nuclei are blue. [Courtesy of Schaefer et al., Cell.]
In this system, the human microglia thrived. Within eight weeks, nearly all of them expressed mature markers such as TMEM119, P2RY12, and IBA1. They assumed the branching shape of mature microglia, and two-photon time-lapse imaging showed them surveying their environment, as homeostatic microglia do in the brain. The cells even responded to an injury by extending their processes toward the lesion (see movie below). Moreover, human microglia stayed put within the graft, not migrating into the surrounding mouse brain. This may be because the mouse version of the microglial growth factor CSF-1 does not sustain human cells, the authors noted. They found that once transplanted into the mouse brain, the human organoid began producing its own CSF-1.
Emergency Responders. Organoid microglia rapidly react to an injury, extending long cellular processes to the site. [Movie courtesy of Schafer et al., Cell, 2023.]
RNA-Seq studies highlighted the robustness of this model for producing brain-like microglia. Comparing transcriptional profiles of grafted and cultured organoids, only the former contained homeostatic microglia, while in the latter the cells expressed genes for cellular stress and apoptosis. Microglia gene-expression profiles in the graft closely matched those seen in live human brain samples (Geirsdottir et al., 2019; Sankowski et al., 2019).
These in vivo organoids offer an alternative to chimeric mice developed by researchers in the Blurton-Jones and Bart De Strooper labs, in which human microglia are transplanted directly into mouse brain (Aug 2019 news). Gage and colleagues found that directly transplanted human microglia had expression profiles similar to mouse microglia, suggesting the mouse environment influenced the human cells, whereas those in nested organoids did not.
Finally, the authors demonstrated that this approach can be used to study disease. They grew cortical organoids from iPSCs made from people with autism spectrum disorder (ASD), then populated them with EMPs generated from healthy controls. The microglia that emerged looked abnormal, with large cell bodies and too many filopodia, similar to reactive microglia seen in ASD brain (Morgan et al., 2010; Lee et al., 2017). This suggested to the authors that the microglial changes in ASD are not due to microglial gene variants, but to a response to the brain environment.—Madolyn Bowman Rogers
References
News Citations
Paper Citations
Primary Papers
Schafer ST, Mansour AA, Schlachetzki JC, Pena M, Ghassemzadeh S, Mitchell L, Mar A, Quang D, Stumpf S, Ortiz IS, Lana AJ, Baek C, Zaghal R, Glass CK, Nimmerjahn A, Gage FH. An in vivo neuroimmune organoid model to study human microglia phenotypes.

Cell

. 2023 May 11;186(10):2111-2126.e20. PubMed.