It Bleeds! New Mini-Brains Sport Functioning Blood Vessels
While scientists can grow brain-like organoids in a culture dish, these tiny structures still lack many of the features of the real brain. Crucially, they don't form a vascular system, which is essential for delivering oxygen to neurons deep within the structure. Now, In-Hyun Park at Yale School of Medicine in New Haven, Connecticut, and colleagues have generated cortical organoids that appear to have a functioning vasculature. In the October 7 Nature Methods, they describe how a single transcription factor coaxed some of the starting stem cells that go on to build organoids to form tubes lined with endothelial cells. These organoids had healthier, more mature neurons than did organoids without blood vessels. The vessels transported fluid and formed the tight junctions between endothelial cells typical of the blood-brain barrier. Aβ42 oligomers disrupted these junctions, allowing molecules to leak into the neural tissue. Vascularized organoids could provide a model for investigating brain development and disease mechanisms, the authors believe.
New protocol generates cortical organoids with blood vessels.
Cells lining these vessels form tight junctions, as in the blood-brain barrier.
Neurons in these organoids stay healthy for months.
Other researchers agreed, calling the model an important advance. "This paper introduces a new approach that improves upon and extends the capabilities of cortical organoids, and promises to facilitate deeper investigation into the complex biology underlying Alzheimer's disease," Li-Huei Tsai and Joel Blanchard at Massachusetts Institute of Technology, Cambridge, wrote to Alzforum (full comment below). Weiming Xia at Boston University noted that the vascularized organoids could be used for high-throughput drug screening. "This system … has tremendous potential for testing therapeutic agents and determining their permeabilities across the blood-brain barrier," he wrote (full comment below).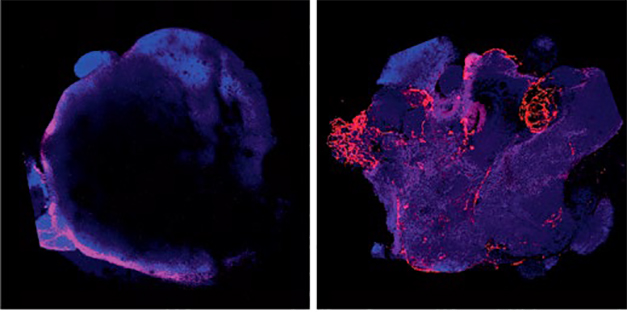 Now With Blood! By nudging stem cells toward an endothelial fate (right), researchers generated cortical organoids with a vasculature (red). Control organoids (left) express few endothelial markers. Neurons are purple. [Courtesy of Cakir et al., Nature Methods.]
Researchers generated the first cortical organoids in 2013. They seeded stem cells into a three-dimensional matrix in a nutrient bath. Over a month, the cells differentiated and formed small, brain-like structures a few millimeters wide. These possessed cell layers, and they mimicked structures such as the hippocampus and cerebral cortex (Aug 2013 news). Without a blood supply, however, neurons in the center of these organoids eventually starved and died.
Park and colleagues wondered if prodding stem cells to become endothelial cells might spur vascular development. Joint first authors Bilal Cakir and Yangfei Xiang transduced 20 percent of the starting stem cell pool with a lentivirus carrying the endothelial transcription factor ETV2, under the control of an inducible promoter. The authors turned on ETV2 expression after 18 days in culture, when organoids were already forming. By 1 month of age, the organoids had developed tube-shaped vessels that expressed endothelial cell markers. These tubes transported a labeled marker throughout the organoid, suggesting they formed a working vascular system.
The vessels expressed numerous blood-brain barrier markers, such as α-ZO1, occludin, and claudin-5. Cells around the vessels expressed markers of pericytes, tiny cells that hug capillaries in the brain and are essential for blood-brain barrier formation during embryonic development (Daneman et al., 2010). In control organoids, blood-brain barrier markers were sparse, pericyte markers absent. Electrical resistance across vessel walls was high, indicating a tight barrier between lumen and neural tissue.
To further test for blood-brain barrier function, the authors added Aβ42 to the culture media. Oligomers, but not fibrils, abolished α-ZO1 staining and caused vessels to leak labeled tracer into the surrounding tissue. Aβ has been shown to disrupt the blood-brain barrier in mice (Sep 2015 news). "Vascular cortical organoids may be a useful model for investigating how amyloid and other pathogenic protein oligomers influence BBB properties," Tsai and Blanchard wrote. Park told Alzforum that he will add microglia to the vascularized organoids, and use the model to further investigate the effects of Aβ and other AD-related proteins.
Vascularization Boosts Neuronal Function
Initially, vascularized organoids grew more slowly, but they caught up by two months, when control organoids had stopped growing and were about four millimeters in diameter. Neurons in vascularized organoids stayed healthy for months, with almost no apoptosis. In contrast, 40 percent of cells in control organoids had died after four months.
Neurons in vascularized organoids seemed more mature. Transcriptional profiling placed their effective age at gestational week 16–19, compared with week 10–12 for neurons in control organoids. In keeping with this, neurons in vascularized organoids were more electrically active. Almost half of them began firing bursts of action potentials after three months in culture, a time at which nearly all neurons in control organoids remained silent. "This is important, because a major barrier to using organoids for modelling neurodegenerative disease is their relative immaturity," noted Selina Wray, Charlie Arber, and Christopher Lovejoy at University College London, in an email to Alzforum (full comment below). Previous research had suggested that endothelial cells spur neuronal birth and maturation, which may explain the activity in vascularized organoids (Jin et al., 2002; Shen et al., 2004; Paredes et al., 2018).
Researchers noted that challenges remain. Cortical organoids are notoriously variable from one to the next, making it difficult to replicate findings. A recent study reported that specific growth factors could push differentiation of developing organoids in a more uniform direction (Jun 2019 news). Whether that will work with the vascularized methodology needs to be determined. Likewise, it remains to be seen how mature the vasculature is, given that cortical organoids tend to model fetal brain. "Vasculature in adult brain is much more complex, including perivascular spaces that contribute to the clearance of toxic solutes such as Aβ," Axel Montagne and Mikko Huuskonen at the University of Southern California, Los Angeles, wrote to Alzforum (full comment below). They suggested that future studies examine whether vessels in cortical organoids can dilate and contract and whether neuronal activity can influence this, as it does in the brain. "The next few years of research using vascularized brain organoids will provide more answers," they noted.
Other researchers have taken different approaches to modeling the blood-brain barrier in vitro. Cheryl Wellington of the University of British Columbia in Vancouver, Canada, has generated artificial cerebral blood vessels in a reactor using tissue engineering on a tubular scaffold (Oct 2017 news; Apr 2019 conference news). Don Ingber and Kit Parker at Harvard used a series of interconnected polymer chips to model interactions between brain cells and blood vessels (Aug 2018 news).
Recently, Doo Yeon Kim, Se Hoon Choi, and Rudolph Tanzi at Harvard Medical School in Charlestown, Massachusetts, and Roger Kamm at MIT added a vascular component to their three-dimensional neural culture model (Oct 2014 news). They established the culture on a five-channel microfluidic plate, with the middle channel initially empty. On one side of it, Choi and co-first author Yoojin Shin at MIT grew a three-dimensional neuronal culture in a gel matrix. On the other side, they placed endothelial cells on a collagen scaffold. Once the cultures had matured, the authors added hydrogel to the middle channel to allow the cells to interact. The endothelial cells began expressing blood-brain barrier markers, formed tight junctions, and held back the passage of solutes to the neuronal chamber. When the cultured neurons carried AD mutations, Aβ40 and Aβ42 deposited on the endothelial cell layer, and solutes flowed more freely across it, mimicking the cerebral amyloid angiopathy and blood-brain barrier disruption seen in AD. The findings are described in the August 2019 Advanced Science.—Madolyn Bowman Rogers
References
News Citations
Paper Citations
Primary Papers
Cakir B, Xiang Y, Tanaka Y, Kural MH, Parent M, Kang YJ, Chapeton K, Patterson B, Yuan Y, He CS, Raredon MS, Dengelegi J, Kim KY, Sun P, Zhong M, Lee S, Patra P, Hyder F, Niklason LE, Lee SH, Yoon YS, Park IH. Engineering of human brain organoids with a functional vascular-like system.

Nat Methods

. 2019 Oct 7; PubMed.
Shin Y, Choi SH, Kim E, Bylykbashi E, Kim JA, Chung S, Kim DY, Kamm RD, Tanzi RE. Blood-Brain Barrier Dysfunction in a 3D In Vitro Model of Alzheimer's Disease.

Adv Sci (Weinh)

. 2019 Oct 16;6(20):1900962. Epub 2019 Aug 12 PubMed.