Mutations
APP V717I (London)
Overview
Pathogenicity: Alzheimer's Disease : Pathogenic
Clinical Phenotype: Alzheimer's Disease
Reference Assembly: GRCh37 (105)
Position: Chr21:27264096 G>A
dbSNP ID: rs63750264
Coding/Non-Coding: Coding
Mutation Type: Point, Missense
Codon Change: GTC to ATC
Reference Isoform: APP Isoform APP770 (770 aa)
Genomic Region: Exon 17
Research Models: 23

Findings
This mutation was one of the first described in APP. It was originally identified in 1991 in an English kindred with early onset Alzheimer's disease, identified as family F23. The average age of onset in this family was 57 ± 5 years and the diagnosis was confirmed by autopsy. In the same publication, an American family known as family 372 was also reported to carry this mutation (Goate et al., 1991; Hardy et al., 1991).
This mutation appears to be one of the most common APP mutations worldwide, with approximately 30 families identified from various countries of origin, including the United States, England, Japan, Thailand, Germany, France, Italy, Australia, Belgium, Iran, and China.
Neuropathology
The neuropathological phenotype associated with the London mutation is variable. For the original English family, neuropathological findings were available for one individual who had severe AD pathology along with mild amyloid angiopathy and cortical and brainstem Lewy bodies. In the American family, numerous β-amyloid plaques and neurofibrillary tangles were observed, but no amyoid angiopathy or Lewy bodies (Hardy et al., 1991).
Biological Effect
The effects of this mutation have been well-characterized. In many cells types, including primary mouse neurons, this mutation increases the Aβ42/Aβ40 ratio by increasing Aβ42 levels with little effect on Aβ40 levels (e.g. Eckman et al., 1997; De Jonghe et al., 2001; Theuns et al., 2006; Herl et al., 2009). This finding has also been observed in neurons generated from inducible pluripotent stem cells (iPSCs) derived from the skin fibroblasts of mutation carriers. The transcriptions factors Oct4, SOX2, cMYC, and KLF4 created the iPSCs, which were then directed to differentiate into forebrain neurons. In addition to increasing Aβ42 levels, the V717I mutation in these neurons altered APP subcellular localization, Aβ38 and sAPPβ generation, and tau expression and phosphorylation (Muratore et al., 2014).
References
Paper Citations
Further Reading
Learn More
Protein Diagram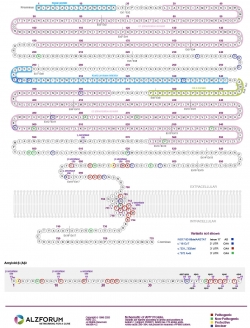 Primary Papers
Goate A, Chartier-Harlin MC, Mullan M, Brown J, Crawford F, Fidani L, Giuffra L, Haynes A, Irving N, James L. Segregation of a missense mutation in the amyloid precursor protein gene with familial Alzheimer's disease.

Nature

. 1991 Feb 21;349(6311):704-6. PubMed.
Other mutations at this position
Alzpedia
Disclaimer: Alzforum does not provide medical advice. The Content is for informational, educational, research and reference purposes only and is not intended to substitute for professional medical advice, diagnosis or treatment. Always seek advice from a qualified physician or health care professional about any medical concern, and do not disregard professional medical advice because of anything you may read on Alzforum.