CryoEM γ-Secretase Structures Nail APP, Notch Binding
Targeting the γ-secretase protease to prevent Alzheimer's disease would require surgical precision to shut down Aβ42 production while allowing the non-pathogenic processing of amyloid precursor protein (APP) and other important substrates to continue. Researchers just took two giant steps toward that effort with the publication of not one, but two, structures of the γ-secretase complex interacting with key substrates. In the January 11 Science, Yigong Shi, Tsinghua University, Beijing, and colleagues present a high-resolution cryo-electron microscopy structure of γ-secretase enfolding a fragment of APP. This follows their December 31 report in Nature of a γ-secretase-Notch structure. The two substrates engage the enzyme in broadly similar ways, but subtle differences may open the door for substrate-specific inhibitors. The majority of AD-causing mutations in presenilin, the catalytic subunit of γ-secretase, and those in APP that could be seen in the structure, cluster at the interface between enzyme and substrate, reinforcing the idea that altered substrate binding and processing are fundamental in the genesis of AD.
First structures of γ-secretase bound to APP reveal that transmembrane helices unwind before being cleaved.
Small differences in binding of APP and Notch hint at potential for specific inhibitors.
AD mutations cluster at interfaces between APP, presenilin.
Several commenters called the work a tour de force, with important implications for both familial (FAD) and late-onset AD. "The new structures provide a powerful platform for formulating specific models of normal enzyme function as well as pathological function in FAD that can be tested in biochemical experiments. Up to now, the field has been collectively operating blindfolded, generating models of substrate interaction and processing through use of chemical probes and mutagenesis. Now such experiments can be designed and interpreted with eyes wide open," wrote Michael Wolfe, University of Kansas, Lawrence, to Alzforum.
Because it controls the spigot on Aβ42 production, γ-secretase offers a prime therapeutic target. The enzyme takes a transmembrane fragment of the amyloid precursor protein (APP) and cleaves it to produce either Aβ48 or Aβ49. From there, additional sequential bites liberate Aβ45/42/38 or Aβ46/43/40. However, the enzyme processes more than 50 substrates, including Notch, an important cell signaling receptor. Early γ-secretase inhibitors made it to Phase 3 testing, but failed when they caused worsening cognition and other side effects, including skin cancer, possibly due to inhibition of Notch cleavage or disruption of APP function (Aug 2010 news; Oct 2017 news). Since then, researchers have turned their attention to γ-secretase modulators: compounds that can selectively inhibit Aβ42 production, while allowing non-amyloidogenic processing of APP, and other substrates (for example, see Wagner et al., 2017).
Three years ago, Shi and colleagues unveiled the first cryoEM structure of the multi-subunit γ-secretase, complete with the catalytic presenilin 1 (PS1) subunit, plus accessory proteins APH-1, PEN-2, and nicastrin (Aug 2015 news). However, enzyme-substrate complexes resisted purification. To get the flighty proteins to stick together, first authors Rui Zhou and Guanghui Yang introduced a chemical cross-link between the substrates and the extracellular loop 1 in PS1, which is thought to be involved in substrate binding. They also mutated the catalytic site to kill the protease activity, further stabilizing substrate binding. As model substrates, the researchers chose APP C83, the transmembrane fragment produced by α-secretase cleavage. Although it is not the precursor to Aβ—that would be the longer C99 product of β-secretase cleavage—C83 bound to the γ-secretase tightly and cross-linked more efficiently than C99. For Notch, they used a 100 amino acid fragment of that protein analogous to APP-C99. They were able to resolve the γ-secretase/C83 structure to an average resolution of 2.6 Å and γ-secretase/Notch-100 to 2.7 Å.
Sans substrate, γ-secretase assumes a rather loose comportment, likely existing in several conformations (Bai et al., 2015). The addition of substrate changed that, bringing order to several regions, including the highly flexible second transmembrane domain of PS.
More surprising were the contortions of APP-C83. As expected, the substrate traversed the plasma membrane in the central γ-secretase pore, surrounded by five PS1 transmembrane helices. Unexpectedly, binding caused unwinding of the final C-terminal turn of the C83 transmembrane helix, exposing the peptide bonds between APP amino acids 719/720 and 720/721 (see image above). The distal, unwound C83 residues 722-725 participated in an unusual β-sheet that contained one strand from APP and two from the cytoplasmic loop 2 of PS1. The β strand of APP also interacted with the Pro-Ala-Leu sequences at positions 433-435 of PS1. This PAL motif, previously implicated in substrate binding, helped stabilize the APP β-sheet and orient the scissile peptide bonds near the PS1 catalytic site.
The same hybrid β-sheet formed with Notch-100.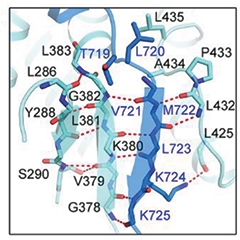 "This structure provides a long-sought answer to the question of how the α-helix structure of the transmembrane domain is cleaved," wrote Taisuke Tomita, University of Tokyo, to Alzforum. "We now confirm that the helix of APP/Notch is unwound in the enzyme. Dynamic conformational changes in both enzyme and substrate are critical to the intramembrane proteolysis," he wrote.
The ability to form the hybrid β-sheet was indeed critical to enzyme activity. Deletion of residues encompassing either of the PS1 β-sheets, or disrupting the PS1 PAL sequence, destroyed PS activity toward APP-C3 or Notch-100 in vitro, the researchers showed. A key stabilizing residue for this structure, PS1 E280, is often mutated in people with early onset AD.
Yueming Li of Memorial Sloan Kettering Cancer Center in New York said that the hybrid β-sheet formation may explain why γ-secretase has so many substrates. "Any substrate with a transmembrane helix and an N-terminal flexible region could potentially be cleaved by γ-secretase," he told Alzforum.
The structure supports a previously proposed model for how γ-secretase sequentially trims Aβ48 or 49 to shorter species (Szaruga et al., 2017). The authors speculate that once the initial cleavage occurs, and the APP C-terminal residues are released, the next turn of the helix unwinds. The unwound tail then assumes the induced β-strand structure, exposing the next cleavage site. APP may be more susceptible to sequential processing because it has more helix-destabilizing residues in its transmembrane domain to promote unwinding, compared with Notch, which has more helix-stabilizing residues, the authors speculate.
With structure in hand, the researchers considered the effect of AD-associated mutations: The majority of PS FAD mutations appeared to interfere with substrate binding or cleavage, either directly or indirectly. Many occurred in regions that contact the APP transmembrane helix or participate in forming the β-strand structure. For APP, the researchers could discern the orientation of 11 of 17 known mutations: Nine sat clustered around the cleavage site, either in the carboxyl terminal of the transmembrane helix or in the β-strand region.
Based on the two structures, the design of substrate-specific inhibitors will be challenging, the authors wrote. APP-C83 and Notch-100 engage γ-secretase in the same location, and are stabilized by the same interactions. However, some differences emerged. In some places the APP transmembrane helix takes up less space in the PS pore than Notch, while in others places the opposite occurs. Close to the active site, bulkier APP residues might allow for APP-specific inhibitors (see image at left).
Even if medicinal chemists could turn those tiny differences into a Notch-sparing inhibitor, that may not be sufficient for an Alzheimer's therapeutic, said Eric Siemers, formerly of Lilly and now an independent consultant. "The science is really impressive, and the authors are very good about making suggestions about how to place small molecules that may inhibit Notch cleavage or APP, and leave the other alone. However, we don't know what caused the problems with γ-secretase inhibitors in the clinic. We don't know whether it was [inhibition of] Notch, or another of γ-secretase's many substrates."
More recently, several γ-secretase modulators have been shown to reduce the production of Aβ42 selectively. Their mechanism of action is unknown, but they appear to activate the trimming activity of the γ-secretase. Recent work suggests one modulator affects the structure of the extracellular loop and first transmembrane domain of PS1 (Jul 2014 news; Cai et al., 2017). Unfortunately, the cryoEM structure doesn't provide any additional insight. "Further structural investigations of γ-secretase with specific modulators may provide more information for design or optimization of modulators," Yang wrote to Alzforum. Manuel Hitzenberger, Technical University of Munich, noted that stabilizing substrate binding to the enzyme complex could promote production of shorter forms of Aβ (see comment below). Yang thinks the cryoEM structure will provide a basis for studying this idea. They're also planning to compare structures containing different presenilins and APH1 isoforms, he wrote.
Lastly, Lei Liu and Dennis Selkoe, Brigham and Women's Hospital, Boston, caution against assuming that the binding of the longer, amyloidogenic C99 substrate will be identical to C83, as the authors hypothesize. The considerably stronger binding of C83 and the known differential processing of these substrates suggests that the precise binding interfaces may differ, they write (Jun 2017 news). In addition, they noted that the chemical crosslink introduced to stabilize the enzyme-substrate complex falls in a hotspot for PS1 FAD mutations, and it remains to be seen if that alters the structure (see comment below).—Pat McCaffrey
References
News Citations
Mutation Position Table Citations
Paper Citations
Primary Papers
Zhou R, Yang G, Guo X, Zhou Q, Lei J, Shi Y. Recognition of the amyloid precursor protein by human γ-secretase.

Science

. 2019 Feb 15;363(6428) Epub 2019 Jan 10 PubMed.
Yang G, Zhou R, Zhou Q, Guo X, Yan C, Ke M, Lei J, Shi Y. Structural basis of Notch recognition by human γ-secretase.

Nature

. 2019 Jan;565(7738):192-197. Epub 2018 Dec 31 PubMed.