Patricidal Protein? Aβ42 said to Inhibit Its Parent, γ-Secretase
Neuritic plaques, tau phosphorylation, microgliosis—of all the ways Aβ42 could doom the brain, few scientists might have suspected that it cripples γ-secretase, the very enzyme that creates it. Yet that is just what monomers do, according to a manuscript uploaded to bioRxiv. In it, scientists led by Lucia Chávez-Guttiérez, VIB Leuven, Belgium, and William Mobley, University of California, San Diego, report that human Aβ42, though not the mouse version or smaller amyloidogenic peptides, impede processing both of amyloid precursor protein (APP) and other γ-secretase substrates, including Notch, p75, and cadherins.
In endosomes, Aβ42 can reach micromolar concentrations.
This inhibits γ-secretase cleavage of APP, p75, and other substrates.
Modulators could hold Aβ at the secretase active site for full processing.
One heads to Phase 2 next year.
"It is certainly an unexpected finding," Harald Steiner, Ludwig-Maximilians-University of Munich, told Alzforum.
Biochemists have studied enzyme inhibition by their products for decades, but whether the example reported here has physiological relevance is unknown. On one hand, it might keep Aβ42 levels from creeping inexorably higher. On the other, it might exacerbate dementia by scuppering the proteolysis of up to 50 different substrates. Colin Masters, The Florey Institute, University of Melbourne, called that a novel hypothesis. Chávez-Guttiérez acknowledged that this will be difficult to prove. "We will try to design experiments to investigate this in the brain," she told Alzforum. She hopes other scientists will be intrigued enough to investigate the question as well.
In a separate paper published October 18 in The EMBO Journal, Chávez-Guttiérez and colleagues offered a related twist, about γ-secretase's intramembraneous snipping of successive tripeptides from Aβ. The authors propose that the peptide itself dictates this well-known processivity, not the enzyme. They suggest a tug-of-war between Aβ's hydrophilic N terminal, which pulls the peptide out of the membrane, and ionic interactions at Aβ's hydrophobic C terminal, which pull it into the active site. When the former wins, it rips the substrate out of the membrane too soon, and longer Aβ peptides prevail (image below). When the latter is strengthened—either by way of mutation or small molecule—the substrate lingers longer in the membrane, enabling processing down to short peptides, such as Aβ37, Aβ38, even Aβ26.
"These findings assign a pivotal role to the substrate … in the sequential proteolysis by γ-secretases and suggest it as a sweet spot for the potential design of APP-targeting compounds selectively promoting its processing," wrote the authors.
Indeed, at this year's CTAD meeting, held Oct 24-27 in Boston, Agnes Portron of F. Hoffmann-La Roche, Basel, Switzerland, reported that RG6289 may work in just such a fashion. It reduced production of Aβ42 and Aβ40 in favor of Aβ37 and Aβ38, all without affecting the total production of Aβ peptides. Portron reviewed data from a Phase 1 trial of the GSM in healthy volunteers. Roche plans to begin a Phase 2 trial early next year (Nov 2023 conference news).
Aβ Tug o' War. In this model, inward and outward forces on Aβ48/49 dictate the extent of proteolytic processing happening inside the membrane. If hydrophilic forces yank the peptide out too soon, it retains more amino acids. Modulators that stabilize enzyme-substrate binding might support processivity, leading to shorter peptides. [Courtesy of Koch et al., EMBO J 2023.]
Product Inhibition
First, for readers who'd like a refresher on APP processing: C-terminal fragments (CTFs) are cleaved off APP by β-secretase, then processed by γ-secretase, first by endoproteolysis to release the APP intracellular domain, and then by sequential carboxypeptidase trimming of Aβ peptides from 48 or 49 amino acids to 37 or 38.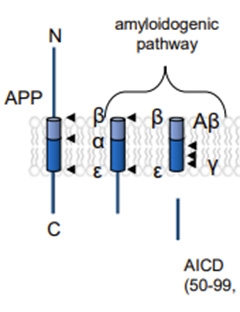 The idea that Aβ42 might stymie γ-secretase came from a prior work in Chávez-Guttiérez's lab. Maria Szaruga and colleagues had found that Aβ42 competes with APP C-terminal fragments for binding to γ-secretase (Szaruga et al., 2017). If Aβ42 competes with CTFs, might it prevent them from being processed? Mobley and Chávez-Guttiérez collaborated to find out. Katarzyna Marta Zoltowska in Leuven measured γ-secretase kinetics in cell-free systems and mouse primary neurons, while Utpal Das in San Diego looked for signs of inhibition in cultured human neurons.
Zoltowska found that human Aβ42 curtailed γ-secretase endoprotease activity, tanking production of AICD. Kinetic analysis pointed toward a competitive type of inhibition. The more APP CTF was available, the more Aβ42 was needed to prevent proteolysis. Das found that Aβ42 affected γ-secretase in human neuroblastoma and neural progenitor cells equally. Because of the competitive, and reversible, nature of this inhibition, Chávez-Guttiérez thinks it probably cycles on and off as Aβ42 waxes and wanes.
"We speculate that the alternating mechanism may desynchronize biology and contribute to neuronal toxicity," Chávez-Guttiérez said. She sees this as secondary to originating pathologies in familial or late-onset sporadic AD. "Those primary pathogenic changes in Aβ production and/or clearance would converge at this secondary mechanism to partially inhibit γ-secretase activity. Then, the latter could lead to altered γ-secretase-mediated signaling events," she said. Indeed, Zoltowska and colleague only saw inhibition at micromolar concentrations of Aβ.
The upshot of this would be a surplus of not only APP CTFs, but also some other γ-secretase substrates, of which there are at least 149 (Güner and Lichtenthaler, 2020). For example, in cells and cell-free assays, the Notch intracellular domain accumulated, as did neurexin, p75, and cadherin substrates.
In this respect, Aβ42 acted akin to γ-secretase inhibitors, paradoxical as that may sound. Mothballed years ago for having sped up rather than slowed cognitive decline in AD trials, GSIs can poison the human immune, intestinal, and neurological systems (Aug 2010 news; Aug 2011 news; Dec 2012 news).
Much of that was initially attributed to interference with Notch signaling, but scientists now think many other substrates got hit, too. Indeed, Chávez-Guttiérez linked the death of cholinergic neurons to GSIs stalling p75 processing. Counterintuitively once again, this neurotrophin receptor causes cell death when it accumulates and oligomerizes on the cell surface (Franco et al., 2021). Zoltowska and colleagues found that Aβ42 mimics this GSI effect on p75 in rat neurons, causing apoptosis driven by caspase 3.
"These observations … are consistent with studies demonstrating that Aβ-induced neuronal degeneration is dependent on the presence of p75NTR," wrote Frank Longo, Stanford University, California. Longo has long studied this phenomenon and is trying to develop a drug based on it (see LM11A-31).
Besides limiting γ-secretase processing of a plethora of substrates, Aβ42 also led to a build-up of β-CTFs in human neuroblastoma and iPSC-derived neurons. Some scientists, most prominently Ralph Nixon at the Nathan Kline Institute, New York, call these peptides a bigger problem than Aβ42, saying they block vacuolar proton pumps in lysosomes and back up protein degradation.
Nixon's group wondered about the high concentration of Aβ needed to temper the secretase. "While we question the physiological relevance of the report's in vitro evidence …, we view contributions to APP β-CTF build-up in neurons by any means to be compatible with our findings," wrote Juhyun Lee, Ying Jiang, and Nixon (comment below).
Others echoed the concern about the concentration needed to see this effect. "We all know that Aβ can do strange things at micromolar concentrations," noted Masters. "I would have liked to see more data on specificity, using control peptides," he wrote. Chávez-Guttiérez believes micromolar concentrations are indeed reached in certain cellular compartments. Others have reported as much in endosomes, and in synapses where enough Aβ accumulates for it to oligomerize (Hu et al., 2009; Pickett et al., 2016). When Zoltowska and colleagues added 2.5 μM Aβ to mouse synaptosomes, β-CTFs accumulated there.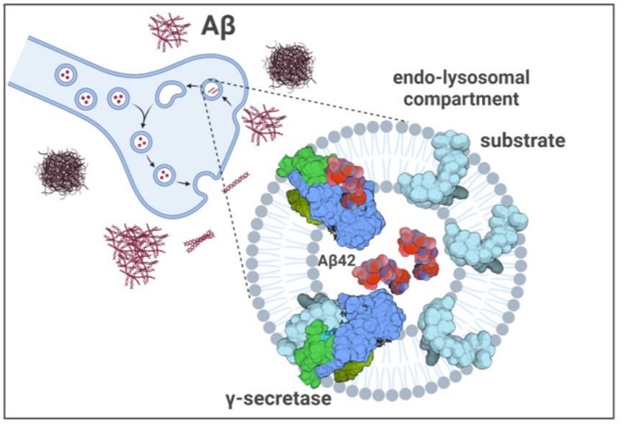 Poisoned Synapse? If Aβ42 (red) reaches micromolar concentrations in synapses, then γ-secretase (blue/green) processing of substrates (cyan) could collapse. [Courtesy of Zoltowska et al., bioRxiv, 2023.]
Tweak versus Block
For their paper in EMBO J, first author Matthias Koch and colleagues used mutagenesis to test if amino acids in the Aβ sequence influence how γ-secretase truncates it.
First, they messed with Aβ amino acids 17 to 32, which protrude just outside of the transmembrane domain. Lysine 28 lies at the membrane, glutamate 22 and aspartate 23 lie a little further upstream; all three seemed to wield particularly strong influence. Hydrophobic substitutions at these positions dramatically revved protease processivity in cells, boosting Aβ37 and Aβ38, at the expense of Aβ40 and Aβ42, by 15-fold. Hydrophobic substitutions at lysine 28 yielded shorter Aβ peptides even when the scientists raised the temperature or added detergent; this suggested to them that the additional hydrophobicity strengthened enzyme-substrate binding, which is typically weakened by such treatments.
What does this say about γ-secretase processing of Aβ? A clue came from making multiple amino acid changes simultaneously. As the number of hydrophobic changes grew, γ-secretase chopped Aβ into ever shorter pieces. For example, when Koch swapped in valine at positions 25-28, γ-secretase mostly churned out Aβ26, a peptide not typically seen under physiological conditions. In effect, Aβ was being sucked further and further into the membrane and into the maw of the enzyme.
These observations prompted the tug-of-war hypothesis—that the hydrophilic N-terminal tries to pull Aβ out of the membrane, while the secretase tries to pull it in by its carboxy terminal. Replacing hydrophilic amino acids there with hydrophobic ones lets the peptide slide further in, the data suggest.
Michael Wolfe, University of Kansas, Lawrence, is unconvinced. In his hands, a carboxyl group at the C-terminal end was not needed for snipping up Aβ. Incorporating an amide group at its position 49 did not impede processing (Fernandez et al., 2016). "As the Aβ49 C-amide at the C-terminus cannot be deprotonated at biological pH, this demonstrated that a C-terminal negative charge (i.e., carboxylate) plays no role in setting up tripeptide trimming," he wrote (comment below).
Still, if Chávez-Guttiérez's interpretation is true, it could explain how familial AD mutations in APP work. Those that add outward force in the tug of war would favor longer Aβ peptides. Indeed, Koch found that adding hydrophobic amino acids to Aβ's N terminal to weaken its outward pull rescued the effect of several FAD mutations (image below).
Wolfe called this result remarkable, but thinks it's because the active site becomes too mechanically stiff to work efficiently. His work suggests that FAD mutations in presenilin 1, the catalytic subunit of γ-secretase, paralyze the enzyme-substrate (E-S) complex, stalling proteolysis. On September 9, co-first authors Sujan Devkota and Vaishnavi Nagarajan at University of Kansas, and Rui Zhou, Tsinghua University, Beijing, and colleagues uploaded a manuscript to bioRxiv. They had synthesized Aβ transmembrane domain mimetics that catch γ-secretase in the act of catalysis. CryoEM analysis of this transition state then allowed them to simulate proteolysis in silico. This predicted that six different PS1 FAD mutations limited the active site's conformational flexibility. The scientists' conclusions? First, catalysis, which requires conformational rearrangement, will slow. Second, the mutant enzyme binds substrate more, not less, tightly than does the wild type.
Chavez-Guttiérez disagrees, claiming that the in silico simulations do not directly assess E-S stability, and that the two labs do not even agree on the term. "It seems that our respective studies choose distinct semantics to define 'E-S stability' … hence we believe the two do not contradict each other," she wrote. For more detailed arguments on either side, see comments below.
The tug of war would explain a paradoxical finding about GSIs, namely that some mimic FAD mutations in allowing production of longer Aβ peptides. By competing for the active site, compounds such as semagacestat and DAPT end up giving Aβ the boot before γ-secretase has had time to chop it down to its short forms. Some scientists believe this might have contributed to cognitive worsening in semagacestat trials (Oct 2017 news).
As a corollary, compounds that retain the peptide in the membrane should give the secretase more opportunity to process it. That is what GSM III, a potent imidazole-based γ-secretase modulator from Janssen, seems to do (Velter et al., 2014). Koch and colleagues found GSMIII nullified the effect of the GSI DAPT, shifting production to Aβ37 at the expense of Aβ40.
Speaking of clinical trials, GSMs appear to be making a cautious comeback. For more on Roche's GSM, see Part 7 of our CTAD series.—Tom Fagan
References
Therapeutics Citations
News Citations
Paper Citations
Primary Papers
Zoltowska KM, Das U, Lismont S, Enzlein T, Maesako M, Houser MC, Franco ML, Moreira DG, Karachentsev D, Becker A, Hopf C, Vilar M, Berezovska O, Mobley W, Chávez-Gutiérrez L. Alzheimer's disease linked Aβ42 exerts product feedback inhibition on γ-secretase impairing downstream cell signaling.

bioRxiv

. 2023 Oct 28; PubMed.
Koch M, Enzlein T, Chen SY, Petit D, Lismont S, Zacharias M, Hopf C, Chávez-Gutiérrez L. APP substrate ectodomain defines amyloid-β peptide length by restraining γ-secretase processivity and facilitating product release.

EMBO J

. 2023 Dec 1;42(23):e114372. Epub 2023 Oct 18 PubMed.
Devkota S, Zhou R, Nagarajan V, Maesako M, Do H, Noorani A, Overmeyer C, Bhattarai S, Douglas JT, Saraf A, Miao Y, Ackley BD, Shi Y, Wolfe MS. Alzheimer mutations stabilize synaptotoxic γ-secretase-substrate complexes. 10.1101/2023.09.08.556905 bioRxiv