Mutant Presenilin Knock-in Mice Mimic Knockouts, Stir Old Debate
Mutations in presenilin 1 (PS1) cause the majority of familial Alzheimer's disease cases, but researchers still don't quite agree on how the mutations do their dirty work. Most scientists accept that they partially inactivate PS1, which alters processing of amyloid precursor protein (APP) and leads to a build-up of toxic peptides such as Aβ42. Jie Shen of Brigham and Women's Hospital and Raymond Kelleher of Massachusetts General Hospital, both in Boston, maintain that at least some mutations render PS1 nonfunctional and unable to attend to its many substrates, wreaking havoc on the brain independently of Aβ. The researchers claim that their newest study, published March 5 in Neuron, supports their hypothesis. Not all commentators agree.
PS1 is the catalytic subunit of γ-secretase, a multi-subunit, transmembrane protease. While β-secretase snips off the extracelluar domain of APP, PS1 attacks what's left from within the membrane in two major steps (see Takagi-Niidome et al., 2015). The first cut, known as ε-cleavage, removes the intracellular domain of APP and frees the transmembrane stretch for further trimming. PS1 then kicks into a processive mode known as γ-cleavage, in which it munches off roughly three amino acids at a time and produces multiple Aβ fragments, ranging in size from 46 to 38 amino acids (see Gu et al., 2001). These fragments are then shed from the cell surface.
Biochemical studies have shown that PS1 mutations causing autosomal-dominant familial AD (FAD) reduce this processing activity, resulting in an overabundance of incompletely cleaved products, including Aβ42 (see Chavez-Gutierrez et al., 2012, and Fernandez et al., 2014). In support of this idea, PS1 mutation carriers reportedly have higher levels of Aβ42, and a greater ratio of Aβ42 to Aβ40 in their cerebrospinal fluid than do non-carriers (see Jun 2013 news). While researchers agree that, biochemically, PS1 mutations result in a partial loss of enzymatic function, some researchers have referred to the resulting phenotype of elevated Aβ42 as a toxic gain of function. This semantic argument was active a decade ago but has since faded.
Now, Shen, Kelleher, and colleagues report that new knock-in mice expressing mutant human PS1 have essentially the same phenotype as older PS1 knockout animals. First author Dan Xia and colleagues chose two known AD mutations—L435F and C410Y. In vitro, both mutations inactivated PS1 (see Heilig et al., 2013). Like PS1 knockouts, mice expressing two copies of either mutated gene had profound neurodevelopmental defects and died soon after birth. The γ-secretase Aβ40, Aβ42, and Notch intracellular domain were undetectable in embryonic brain extracts. This suggested to the authors that the homozygous mutations abolished γ-secretase activity.
Animals with one normal and one mutant copy of the gene lived normal lifespans. Though they had less Aβ in the brain than wild-type mice, the heterozygotes had deficits in long- and short-term synaptic plasticity and performed poorly in cognitive tests of spatial memory. The researchers propose that loss of PS1 stifled neuronal function independently of Aβ in these mice.
To zero in on why Aβ levels were reduced in the heterozygotes, the researchers used the APP fragment C100 as a substrate to measure γ-secretase processing. They report that production of Aβ40 and Aβ42 dropped by half in brain extracts from the heterozygous mice compared to extracts from normal mice, and conclude that the mutated PS1 was unable to produce Aβ. Steady-state levels of both Aβ species were reduced in the animals' brains; however, the ratio of Aβ42 to Aβ40 increased by about 15 percent.
How would the mutant PS1 affect amyloid deposition? To find out, the researchers crossed the L435F presenilin knock-in mice with J20 mice, which overexpress mutated human APP and start to develop plaques at around 5 months of age. Amounts of Aβ40 in insoluble brain extracts from 9-month-old crosses were slightly lower and the Aβ42/40 ratio slightly higher than in the J20 controls. The plaque burden in the cortex more than quadrupled in J20/PS1 mutant mice, as compared with J20 mice. The researchers attributed the elevated Aβ42/40 ratio and subsequent rise in plaque deposition to an alteration in the clearance, rather than the production, of Aβ42, though clearance rates were not measured.
Did expressing a mutant copy of presenilin affect neurons and cognition? The researchers measured this by comparing cognitive performance of L435F heterozygous mice to mice with two normal copies of PS1. They did these experiments on a presenilin 2 (PS2) knockout background, because PS2 has been reported to compensate for loss of PS1. Mice expressing L435F PS1 underperformed in the learning phase of the Morris water maze test and made more errors in finding hidden food in a radial-arm maze, suggesting that their hippocampal spatial memory was impaired. Hippocampal neurons in the heterozygous mice had reduced short- and long-term potentiation.
Shen and Kelleher proposed a model in which PS1 mutations prevent the enzyme from cleaving crucial substrates, triggering synaptic and cognitive impairment, and eventually neurodegeneration and dementia. The study did not name the crucial substrates or characterize the effect of PS1 mutations on their processing. In a parallel pathway, PS1 dysfunction also reduced Aβ production and elevated the ratio of Aβ42 to Aβ40, which eventually promoted amyloid accumulation.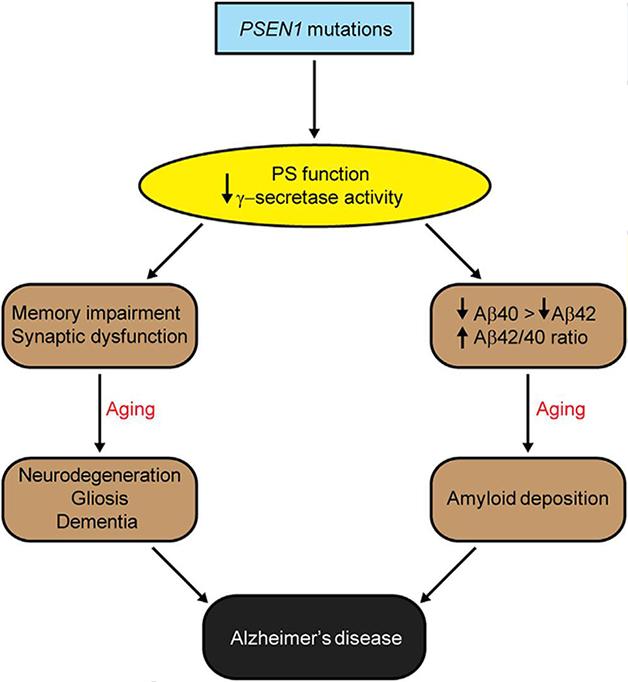 Loss of presenilin function could promote neurodegeneration and amyloid accumulation via two distinct pathways, according to Jie Shen and Raymond Kelleher. [Image courtesy of Xia et al., Neuron, 2015.]
Some commentators took issue with the conclusion that PS1 mutations completely inactivate the enzyme. Bart De Strooper of KU Leuven in Belgium and John Hardy of University College London wrote that the field has long accepted the idea that FAD-associated PS1 mutations diminish PS1 function (see Lewis et al., 2000, and De Strooper, 2007).
De Strooper commented that while known PS1 mutations vary in their ability to abolish ε-cleavage, they all have in common a malfunction in the processive γ-cleavage that produces Aβ peptides. He interpreted Kelleher and Shen's findings as evidence of residual PS1 activity in the mutated copy, though the researchers detected no Aβ40 or Aβ42 in the homozygous knock-in mice. Michael Wolfe at Brigham and Women's Hospital in Boston told Alzforum that the researchers might have detected longer Aβ peptides, such as Aβ43, if they had looked. Takaomi Saido's group at RIKEN Brain Institute in Wako, Japan, reported that a PS1 knock-in mouse with the R278I mutation produced an abundance of amyloidogenic Aβ43, but not Aβ40 or Aβ42 (see Jul 2011 news). De Strooper and Lucia Chavez-Gutierrez, also at KU Leuven, wrote that in their hands, the R278I mutation actually does make Aβ, noting that the contrasting results may reflect different sensitivities of γ-secretase assays (see full comment below). Kelleher said they are currently investigating how the PS1 mutations affect levels of the longer peptides.
If loss of PS1 function causes AD, as Xia and colleague suggest, then why, several commentators asked, don't people with acne inversa, a skin condition caused by mutations that wipe out γ-secretase expression, develop AD? The disorder is caused by heterozygous mutations that lead to haploinsufficiency of PS1 or other γ-secretase subunits (see Pink et al., 2013). Kelleher responded that, unlike the missense mutations that lead to AD, the acne inversa mutations ablate the γ-secretase complex. AD only happens, he proposed, when the single point mutations in PS1 that abolish protease activity leave the γ-secretase complex to fulfill other unknown roles that would alter the course of disease. PS1 has been touted as a calcium leak channel in the endoplasmic reticulum (see Jun 2010 news).
Kelleher and Shen pointed out that they chose two mutations that were particularly adept at derailing PS1 function. Of the 200 or so presenilin mutations linked to AD, it is possible that some promote partial loss of function while others wipe it out, they said. They conclude that the importance of their findings is that a complete loss of PS1 protease function in one copy of PS1 triggers deficits in cognitive and synaptic function in the heterozygous mice. They propose that the neuronal and cognitive deficits elicited by this loss of function were more proximal to the AD phenotype than the parallel rise in Aβ42/40 ratio. However, the relative contribution of Aβ accumulation to the AD phenotype could vary in humans and between different mutations, they say.—Jessica Shugart
References
Alzpedia Citations
News Citations
Mutations Citations
Research Models Citations
Paper Citations
Other Citations
Further Reading
No Available Further Reading