Paris: Semagacestat Autopsy and Other News of Trial Tribulations
Last August, Eli Lilly and Company halted Phase 3 clinical trials of semagacestat, its γ-secretase inhibitor, after its Data Safety Monitoring Board discovered that patients on the medication fared worse on cognitive symptoms than those on placebo (see ARF related news story). At the 11th annual Alzheimer's Association International Conference (AAIC, formerly ICAD), held 16-21 July 2011 in Paris, France, Eric Siemers of Lilly told a packed audience what went wrong.
During the first of the 76-week-long Phase 3 trials, which were dubbed IDENTITY and IDENTITY-2, cognitive symptoms of patients in the placebo group increased (or worsened) by 6.2 points on the Alzheimer's Disease Assessment Scale-cognitive (ADAS-cog) scale, compared to an increase of 7.8 points for patients receiving the highest dose of the drug, said Siemers. He put a positive spin on the findings in pointing out that, so far, other amyloid-β-lowering medications have not budged cognition at all. Semagacestat, on the other hand, "did have an effect," he said. "It was not the direction we wanted, but it is the only compound that has gone into Phase 3 trials that has had an effect on cognition."
Lilly promptly halted dosing in the two trials but continued to follow participants for 32 weeks after they received the last dose of the drug. At AAIC, Siemers presented data from the follow-up study of patients in the IDENTITY trial. During the 32-week follow-up, participants' cognition didn't continue getting worse, but neither did it return to baseline or catch up to the placebo group. "The lines did not continue to diverge after dosing stopped, but there was no reversal in worsening," said Siemers.
The results shed light onto the mechanism of action of the drug. If semagacestat had induced some kind of metabolic change to occur in the brains of people receiving the treatment, which was responsible for the drop in cognition, then removing the drug should have caused the cognition to go back to the same level as in the placebo group. It did not, said Siemers. On the other hand, the fact that the treatment group did not keep getting worse after the trial was stopped means that semagacestat did not set off some kind of pathogenic cascade that continued even in the absence of the drug.
The follow-up results also suggest that reducing the amount of Aβ in the brain is not, in itself, a bad thing, reasoned Siemers. Semagacestat decreases production of Aβ in the central nervous system of patients (see ARF related news story and ARF related news story). This effect, detected during Phase 1 and 2 trials, was thought to bode well for the drug's success in Phase 3. It is possible that lowering Aβ in the brain isn't beneficial to patients. Siemers, however, argued that the follow-up data go against that explanation. "The reduction in amyloid is immediate," he told ARF. "But you don't see the effects on cognition immediately." In addition, he said, if removing Aβ was the problem, stopping the drug treatment should cause patients to go back to the same level of cognition as those in the placebo group, which did not happen.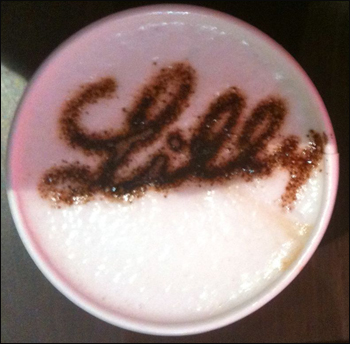 If the semagacestat trial was a downer, Lilly had an upper ready. Any disappointed, travel-weary scientists who were wont to forget about Lilly's AD program could avail themselves of free-flowing cappuccino and, upon taking the first fragrant sip, were promptly reminded whose pleasure it was. Judging by the long lines in the exhibit area, the strategy was a raging success. Image credit: Laura Bonetta
Another explanation is that the negative effects on cognition are due to some other effect of blocking γ-secretase, unrelated to it cleaving the amyloid precursor protein (APP). In addition to targeting APP, γ-secretase regulates the activity of Notch, a protein that is important for cell-to-cell communication in multiple processes and has also been implicated in cancer. But there are additional targets. "When we started the clinical development on semagacestat, the only other known substrate for γ-secretase was Notch," Siemers told ARF. "Now over 50 substrates are known. If you go through the list of those 50-odd substrates, several imply a plausible story that, if you inhibit γ-secretase, you do bad things." For example, one substrate, the ephrin type-A receptor 4, is involved in dendritic spine formation.
Aside from cognition, other side effects of the drug seemed to resolve by the end of the follow-up period. Lilly had previously disclosed that 5 percent of trial participants developed squamous or basal cell carcinoma; during the follow-up period, the rate of skin cancer in patients initially treated with semagacestat returned to the rate in placebo-treated patients.
Even though semagacestat failed, Lilly's approach of using biomarker data to determine that the drug got in the brain in sufficient doses to have the intended biological effect before moving to Phase 3 trials was a valid one, said Siemers. "We have enough biomarker data to say it got in and it hit the target. And we know it did because it is the first compound to go in the brain and change cognition. It did it in the wrong direction, but we think our Phase 2 strategy has potential," he told ARF.
Others agree. "The semagacestat study was extremely well done. The patients were well selected and followed, they had a good number of patients, they had information about different biomarkers. They did not have a positive result, but we have learned a lot from that trial," said Joel Menard, who chairs the scientific board that advises the French National Foundation on Alzheimer's disease and related disorders.
Perhaps the biggest change is that, while the results of AD trials are still negative, recent trials are gradually becoming of better quality than they were in the past decade, when trials failed without the redeeming factor of having taught the field much.
γ-Secretase Inhibition on Trial?
The door is still ajar on γ-secretase inhibitors. The one developed by Bristol-Myers Squibb, BMS-708163, is currently in Phase 2 trials (see ARF related news story and ARF news story). Data presented at AAIC identified a dose range with adequate safety and tolerability, and provided some evidence of γ-secretase engagement and biomarker effects. However, it also hinted that BMS-708163 may end up being more similar to semagacestat than originally anticipated.
Christopher van Dyck of Yale University School of Medicine in New Haven, Connecticut, presented data from a recently completed Phase 2 safety and tolerability study in mild to moderate AD. The two lower doses of 25 and 50 mg daily were well tolerated; the two higher doses of 100 and 125 mg daily were not. Importantly, the study also found a trend for cognitive worsening in patients receiving one of the two higher doses, whereas patients receiving the two lower doses showed no significant changes in cognition. None of the patients, regardless of treatment dose, had significant changes in brain volume. However, patients receiving the highest doses showed trends for changes in CSF Aβ concentrations, indicating an effect on the drug's intended target.
Twice as many patients receiving the two higher doses of the drug elected to discontinue treatment, compared to patients receiving the two lower doses or placebo; the most common reasons for discontinuing were gastrointestinal and dermatological side effects (see ARF related news story). Some patients receiving the drug developed squamous cell carcinoma or basal cell carcinoma, but no cases of melanoma. "The increase in skin cancer bears watching," said van Dyck. Another ongoing Phase 2 trial of BMS-708163 is testing the 50 mg daily dose against placebo in prodromal AD.
With results on the γ-secretase inhibitor front not looking overly promising, many researchers are hoping for positive results, at least for the group of patients with mild AD, from the Phase 3 results of two antibodies to Aβ: solanezumab by Lilly and bapineuzumab by Pfizer and Janssen Alzheimer Immunotherapy (a Johnson & Johnson affiliate). Both appear to lower the amounts of Aβ in the brains of AD patients (see ARF related news story and ARF news story on Rinne et al., 2010). If the Phase 3 results, expected in 2012, are negative, then this setback would likely spark intense debate about the validity of the amyloid hypothesis in AD.
No new efficacy data were presented at AAIC on either antibody, but Siemers told ARF of two hopeful signs. When the Data Monitoring Committee looked at the cognitive data for the Phase 3 trial of solanezumab at the analogous snapshot that stopped the semagacestat study, "they recommended that the study continue without modification." In addition, more than 95 percent of the people who completed the 18-month-long double-blind portion of the Phase 3 trials opted to continue on into the open-label extension trial, compared to less than 80 percent of patients electing to do so for semagacestat.
Bapineuzumab had raised concerns when some patients receiving treatment developed brain swelling and tiny brain hemorrhages (see ARF related news story), but data presented at AAIC suggest that these side effects, now called amyloid-related imaging abnormalities (ARIA), may be transient and manageable (see ARF related news story).
During this period of waiting, several presentations at AAIC focused on other potential treatments that do not directly target Aβ production or clearance, or that target AD before clinical symptoms develop. Some of those studies, currently ongoing or in the planning stages, are highlighted in Part 2 of this series.—Laura Bonetta.
This is Part 1 of a two-part series on clinical trial news. See also Part 2.
References
Therapeutics Citations
News Citations
Paper Citations
Rinne JO, Brooks DJ, Rossor MN, Fox NC, Bullock R, Klunk WE, Mathis CA, Blennow K, Barakos J, Okello AA, Rodriguez Martinez de Liano S, Liu E, Koller M, Gregg KM, Schenk D, Black R, Grundman M. 11C-PiB PET assessment of change in fibrillar amyloid-beta load in patients with Alzheimer's disease treated with bapineuzumab: a phase 2, double-blind, placebo-controlled, ascending-dose study.

Lancet Neurol

. 2010 Apr;9(4):363-72. Epub 2010 Feb 26 PubMed.
Other Citations
External Citations