Network Analysis Points to Distinct Effects of Amyloid, Tau
Amyloid plaques and tau tangles both characterize Alzheimer's, but how does each drive the disease? A new study in the February 3 Cell Reports aims to disentangle their relative contributions to AD pathology. Researchers led by Frances Edwards and John Hardy at University College London analyzed global gene expression in the cortex and hippocampus at different ages in several AD mouse models that develop either plaques alone or tangles alone. Amyloid plaques triggered immediate and dramatic neuroinflammation, but did not affect synaptic genes, the authors report. In tau models, inflammation lagged several months behind the appearance of tangles, while expression of synaptic proteins plummeted in the late stages of disease.
Both pathologies boosted many of the same immune genes, including several known AD risk factors, such as TREM2. In addition, network analysis flagged similar key genes as drivers of the immune response in both types of mice, although some intriguing differences between the models emerged as well. The dataset is publicly available online, and could provide a useful resource to other investigators, the authors suggest.
Commentators agreed, praising the depth and thoroughness of the investigation. "This was much more comprehensive than other [mouse] studies I have seen, and allows for the comparison of different models, which is critical," said Michael Sasner, who directs bioinformatics and model development at the Jackson Lab, Bar Harbor, Maine. Gerold Schmitt-Ulms at the University of Toronto wrote to Alzforum, "As a researcher undertaking conceptually similar proteomics analyses, I certainly look forward to using this resource to look up levels of gene products which we flagged in our own AD data sets." (See full comment below.) Greg Cole at the University of California, Los Angeles, noted, "It's the first time I've seen someone do a network analysis [in mice] similar to what has been done in humans."
Previously, researchers led by Valur Emilsson at the Icelandic Heart Association and Eric Schadt at Icahn School of Medicine at Mount Sinai, New York, reported that networks of immune genes go haywire in AD patients (see May 2013 webinar), while an analysis of human data by Mina Ryten and colleagues, including Hardy, at UCL likewise highlighted the linchpin role TREM2 plays in the brain's response to Alzheimer's (see Forabosco et al., 2013). In animal work, many studies have catalogued soaring levels of immune gene expression in AD mouse models (see, e.g., May 2004 news; Wu et al., 2006; Wirz et al., 2013), but no study had systematically compared amyloid to tau models.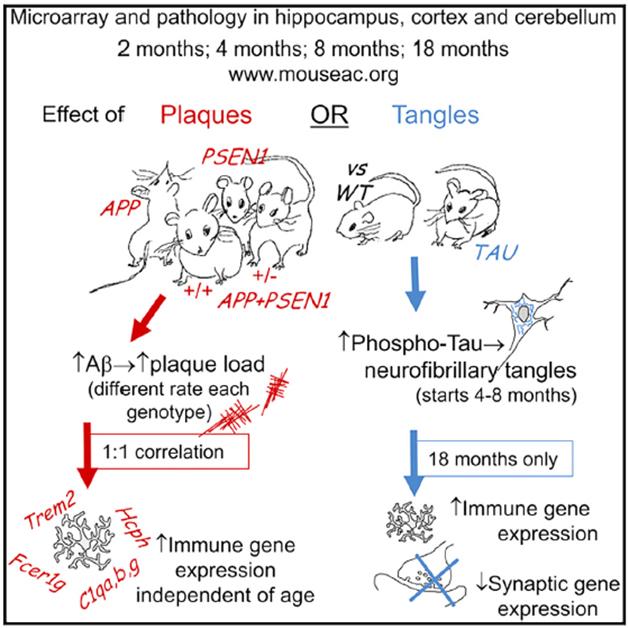 Amyloid vs. Tau. Amyloid mice develop inflammation, whereas tau mice lose synapses, according to gene-expression analyses of several models. [Image courtesy of Cell Reports, Matarin et al., 2015.]
Edwards and colleagues collaborated with the pharmaceutical company GlaxoSmithKline in Stevenage, U.K., to analyze five of the company's mouse models. The TAS10 model overexpresses APP with the Swedish mutation, while the TPM strain overexpresses human mutant presenilin 1. Crossing these strains yields heterozygous TASTPM hybrids; these mice can be bred to homozygosity at both alleles (TASTPM HO), resulting in more aggressive pathology. The fifth model, TAU, expresses human tau with the P301L mutation, driven by the CaMK-II promoter, and develops neurofibrillary tangles and neurodegeneration.
First author Mar Matarin compared microarrays of global gene expression from the hippocampus, cortex, and cerebellum from all five models and age-matched wild-type controls. The authors collected data from 2-, 4-, 8-, and 18-month-old mice, uncovering distinct early and late effects. At the youngest ages, both the amyloid and tau models had altered levels of synaptic genes in the hippocampus compared to controls, with some genes up and others down. Genes involved in calcium signaling were suppressed in the hippocampus in both amyloid and tau mice, in line with other studies fingering calcium dysregulation as an early culprit in AD (see, e.g., Dec 2014 conference news; May 2014 news; April 2014 news). These synaptic and calcium disruptions normalized to control levels by 8 months of age, however.
A different picture emerged in aged mice, in which immune gene expression ran rampant in the cortex and hippocampus of most models. Few genes changed in the cerebellum, which is largely spared in AD. The four amyloid models provided a varying time course of plaque development, with homozygous TASTPM animals accumulating plaques as early as 4 months, heterozygotes at 8 months, TAS10s at 18 months, and TPMs never getting them. The authors correlated plaque presence with the explosion of immune genes and found nearly a 1:1 relationship. "This was a surprise," Edwards told Alzforum. "The increase in immune gene expression goes hand-in-hand with plaques. It emphasizes that the immune response plays a key role in Alzheimer's." What remains unclear is whether this immune response helps the organism or does further harm, she added.
By contrast, the tau mice developed tangles at 8 months old, but immune genes did not peak until 18 months. At that age, synaptic gene expression crashed, while some cell-death genes rose. These changes likely reflect ongoing neurodegeneration and loss of synapses, the authors suggest. The results jibe with other studies linking tau pathology to synaptic loss and cognitive decline (see Nov 2013 conference news; Aug 2014 conference news).
Drilling down to specific genes, the authors found several AD risk factors elevated in both elderly tau and homozygous APP/PS1 (TASTPM) mice. These included TREM2, CD33, INPP5D, MS4A6D, and ApoE. TREM2 was the most amplified, up more than fivefold in the aged homozygous TASTPM mice.
The researchers then analyzed relationships between overexpressed immune genes to find those that correlated most strongly with the largest numbers of other genes. This network analysis pointed to just a handful of "hub genes" in amyloid mice: TREM2, C1q, FCER1G, and HCPH in the hippocampus, and TREM2, C1q, FCER1G, and TLR2 in the cortex. Similar hub genes cropped up in the hippocampus of tau mice (C1q, FCER1G, and HCPH). "It's quite remarkable how similar the immune system hub genes are between different brain regions and models," Edwards noted. On the other hand, the cortical network in tau mice was distinct, having only two genes (C1q and TLR2) in common with the others. Frontotemporal dementia, a common tauopathy modeled by the tau mice, mainly perturbs cortical cognitive processes.
What do these findings mean? Hub genes likely drive changes in other genes, Edwards said. TREM2 marks activated microglia, and its status as a hub gene in amyloid mice suggests that microglia activate in reaction to plaques. In tau mice, although TREM2 is elevated, it falls short of hub status. In these animals, microglia may play a less prominent role, Edwards suggested. Cole speculated that the inflammatory response in tau mice might relate more to neurodegeneration, rather than glial changes as in amyloid mice.
The roles of other hub genes are less clear. TLR2 (toll-like receptor 2) is a microglial receptor with a similar function to TREM2 that can interact with the latter (see Paradowska-Gorycka and Jurkowska, 2013). The complement protein C1q has become a focus of AD research. It not only mediates phagocytosis of debris, but also pruning of synapses during development (see Nov 2007 conference news), and previously had been shown to turn on in response to both plaques and tangles (see Nov 1998 news). FCER1G codes for a subunit of an IgE Fc receptor, while HCPH codes for a phosphatase predominantly found in hematopoietic cell lines.
In future work, Edwards will manipulate levels of various hub genes in these mouse models and examine the effects on pathology in order to glean clues to the function of each gene. She will also do a comparative-expression analysis in an APP knock-in mouse model (see April 2014 webinar), which expresses endogenous levels of protein. "If the data come out similarly, it will really support that these are the genes that matter," Edwards said.
Sasner suggested that it would be valuable to do similar gene expression analyses on other models, particularly one that includes both amyloid and tau pathology. The comparison might reveal an additive or synergistic effect from having both pathologies, he noted. The approach could also help validate animal models relative to patient populations, he added.
Piet Eikelenboom at Vrije University, Amsterdam, noted that the amyloid mice probably model the early stage of Alzheimer's pathology, which is dominated by plaque deposition but few tangles and little degeneration. "I found it very surprising to see in these models the interesting data about the involvement of immune system in the early stages of AD pathology. This fits with our findings obtained from human AD brains (see Hoozemans et al., 2006). These transgenic models seem very promising for deciphering and manipulating these immune system factors," he wrote to Alzforum.—Madolyn Bowman Rogers
References
Webinar Citations
News Citations
Research Models Citations
Paper Citations
Other Citations
External Citations
Further Reading
No Available Further Reading
Primary Papers
Matarin M, Salih DA, Yasvoina M, Cummings DM, Guelfi S, Liu W, Nahaboo Solim MA, Moens TG, Paublete RM, Ali SS, Perona M, Desai R, Smith KJ, Latcham J, Fulleylove M, Richardson JC, Hardy J, Edwards FA. A genome-wide gene-expression analysis and database in transgenic mice during development of amyloid or tau pathology.

Cell Rep

. 2015 Feb 3;10(4):633-44. Epub 2015 Jan 22 PubMed.