Calcium Disruptions Wreak Synaptic Havoc
In mouse models of Alzheimer's disease, before cognition fails, tau fibrillizes, or Aβ even begins to accumulate, calcium signaling goes awry in the brain as neurons release more of the cation from their intracellular stores than they should. At the Society for Neuroscience annual meeting, held November 15 to 19 in Washington, D.C., Grace (Beth) Stutzmann, Rosalind Franklin University, North Chicago, Illinois, revealed new data to explain how this calcium overload damages dendritic spines, diminishes synapses, and dampens their ability to release vesicles. Stutzman claimed that this imbalance impairs synaptic plasticity not only in single cells, but in the entire hippocampal network. She attributed the effects to excessive release of calcium through the ryandodine receptor (RyR) calcium channel. Stutzmann is developing drugs to restore normal ryanodine (RyR) receptor function, and introduced several compounds at the meeting.
The RyR receptor is a large, calcium-activated calcium channel that sits in the membrane of the endoplasmic reticulum (ER). People have three different isoforms. RyR1 predominates in skeletal muscle, while RyR2 and RyR3 are found in cardiac cells and neurons. Though inside cells, these receptors are sensitive to neurotransmission. During an action potential, calcium enters through ligand-gated channels on the plasma membrane and opens RyR receptors on the ER. The ER then releases some of its stored calcium through the RyR. Researchers, including Stutzmann, reported that RyR2 expression rises in AD mouse models and in people with the Alzheimer's (see Stutzmann et al., 2006; and Zhang et al., 2010). In 3xTg-AD mice, synaptic stimulation caused more calcium to flow through the RyR than in control mice (see image below) (see Aug 2009 news story on Chakroborty et al., 2009). In turn, the neurons were susceptible to synaptic depression (see Chakroborty et al., 2012). Stutzmann now finds that synapses begin to wither under this elevated calcium signaling, wearing down their ability to function.
Researchers in Stutzmann's lab compared 3- and 4-month-old wild-type to age-matched 3xTg-AD mice, before they developed AD-related pathology or cognitive deficits. Calcium irregularities had already begun (see Stutzmann et al., 2006). Using electron and confocal microscopy to examine synapses between the CA3 and CA1 area of the hippocampus, the researchers found that CA1 dendrites sported fewer mushroom spines, a type important for encoding long-term memories. CA1 and CA3 neurons formed fewer intact synapses with each other. The protein-rich region called the postsynaptic density, which is responsible for interaction with the presynaptic cell, became smaller. Presynaptically, the pool of neurotransmitter vesicles poised for release was drained.
The group found that last result particularly interesting. Could the depleted vesicles explain the synaptic depression Stutzmann's group had previously found in these neurons? In patch-clamp recordings, the group found that these CA3 neurons spontaneously released more neurotransmitter vesicles than wild-type CA3 neurons. Stutzmann believes this constant spitting out of vesicles depletes the store available for release when a stimulus arrives. Then, fewer vesicles are released, stimulating synaptic depression rather than potentiation.
Did all this happen because of the excess calcium from RyR2 receptors? To find out, the researchers treated 3xTg-AD mice with dantrolene, an allosteric modulator that dampens RyR activity. The compound normalized calcium signaling in 3xTg-AD and TASTPM mice (see Chakroborty et al., 2012). At SfN, Stutzmann showed that dantrolene returned to normal the number of spines, synapses, and spontaneous vesicle released.
Dantrolene reduced tau and Aβ pathology in the PS/APP transgenic mice (see image below). Reducing calcium in the cells may dial back the activity of tau kinases and BACE1, Stutzmann said. "The extent of the structural and functional changes due to calcium dysregulation was profound," she told Alzforum. "I was surprised that these were all reversed by stabilizing calcium signaling." While she has no behavioral data on these mice, other groups have reported that dantrolene prevents and reverses cognitive deficits (see Peng et al., 2012, and Oulès et al., 2012).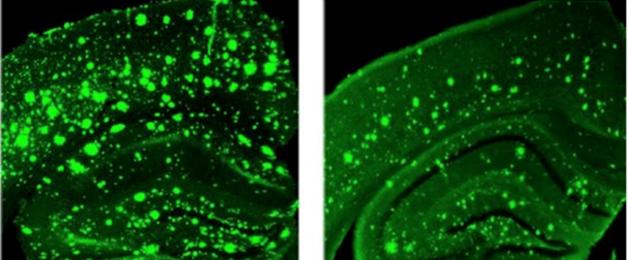 A Reduced Load: After four weeks of dantrolene treatment (right) in PS/APP mice, Aβ pathology falls by half in the hippocampus and overlying cortex compared to saline-treated controls (left). [Image courtesy of Grace (Beth) Stutzmann.]
Gregory Brewer, University of California Irvine, noted that synapse loss accounts for the lion's share of cognitive defects in the disease. "Any handle we can get on the reasons for synapse loss gets us closer to the cause of the disease, and is an obvious link to memory impairment," he said. Did the changes in spines, synapses, and vesicles in the 3xTg–AD mice correlate with Aβ and tau pathology? Stutzman plans to address this question in the future.
Network Trouble
To address whether the synaptic deficits affect transmission across neural networks, Stutzmann, with William Frost and Shreaya Chakroborty, incubated hippocampal slices with a lipid-soluble fluorescent dye that absorbs more light and then fluoresces more intensely when the voltage across the cell membrane becomes more positive. A high-speed camera taking more than 1,000 pictures per second visualized the voltage changes through the hippocampal network. In control slices, a first synapse-strengthening stimulus causes a subsequent pulse to propagate farther through the network and depolarize neurons for longer than the first; both the greater distance and time are evidence of potentiation. However, in slices from 3xTg-AD mice, the second pulse spread no farther and lasted no longer than the first. This suggests, for the first time, that with elevated calcium release, the propagation of signals through the hippocampus is blunted in space and time. "It means regions of the hippocampus are less effective in transmitting information and sustaining it as they should be," Stutzmann said. Next, she will test whether treatment with a RyR2 modulator restores network transmission.
"This is a great new method to image hippocampal networks," said Olivier Thibault, University of Kentucky, Lexington, noting that it visualizes depolarization across large areas of the brain.
Looking for drug candidates that enter the brain better and are more specific than dantrolene, Stutzmann worked with medicinal chemists at her university, who synthesized allosteric RyR2 modulators. Stutzmann introduced four of the compounds, CK013, CK017, RD14, and RD95. All four normalized calcium responses in hippocampal slices from 3xTg mice. They did not markedly change other calcium-dependent properties of neurons, such as maintenance of membrane potentials. Given to 3-month-old 3xTg mice over four weeks, CK013 and CK017 restored RyR-induced calcium release to control levels. CK013 reduced tau and Aβ pathology in the hippocampus by more than half when given to 6-month-old TgCRND8 mice. Ongoing studies are testing whether this treatment preserves synaptic function and structure, and cognition in mice, Stutzmann said.
"These new derivatives of dantrolene that are effective in the central nervous system have provided new and exciting possibilities of treating patients before symptoms are prominent," wrote Gary Gibson, Weill Cornell Medical College, New York, to Alzforum. "The remaining challenge is to show this approach is effective in human tissues and at non-toxic dosages." Dantrolene itself is used as a muscle relaxant and approved for the treatment of malignant hyperthermia, an inherited disease of rising body temperature and muscle spasms.—Gwyneth Dickey Zakaib
References
News Citations
Research Models Citations
Paper Citations
Further Reading
Papers
Chakroborty S, Briggs C, Miller MB, Goussakov I, Schneider C, Kim J, Wicks J, Richardson JC, Conklin V, Cameransi BG, Stutzmann GE. Stabilizing ER Ca2+ channel function as an early preventative strategy for Alzheimer's disease.

PLoS One

. 2012;7(12):e52056. PubMed.
Bruno AM, Huang JY, Bennett DA, Marr RA, Hastings ML, Stutzmann GE. Altered ryanodine receptor expression in mild cognitive impairment and Alzheimer's disease.

Neurobiol Aging

. 2012 May;33(5):1001.e1-6. PubMed.