From Near and Far, Aβ Beckons Tau to Tangle in the Cortex
Just as gravity explains how two distant objects can sway each other's movement in space, synaptic connections may explain how amyloid plaques coax distant tau tangles to spread in the brain. This is according to a study published in Neuron on April 19 and led by Joon-Kyung Seong at Korea University in Seoul and William Seeley at the University of California, San Francisco. The scientists report that synaptic connections between multiple neocortical areas, where amyloid aggregates, somehow entice tau tangles to go beyond the entorhinal cortex, where they first form. Then, tangles spread into connected, nearby regions in the medial temporal lobe. Later, once tangles push even farther, into neurons within the inferior temporal gyrus, the two pathologies mingle for the first time, and it is this direct encounter that accelerates propagation and spread of tangles throughout the brain. The findings suggest that a one-two punch of remote and local interactions between Aβ and tau link the two pathological hallmarks of AD, and that amyloid-targeted therapies will have the greatest impact before plaques and tangles meet "face to face."
Long-distance connections between tangle-bearing neurons and Aβ-burdened regions coax initial tau spreading.
Direct meeting of Aβ and tau in the inferior temporal gyrus sparks acceleration of tauopathy.
In preclinical AD, tau tangles can spread via different routes.
"The study is a major step forward in understanding the interaction between Aβ and tau pathology, which emphasizes the critical role of brain connectivity in the development of AD," wrote Nicolai Franzmeier of Ludwig-Maximilians University in Munich, Oskar Hansson and Rik Ossenkoppele of Lund University in Sweden, and Jacob Vogel of McGill University in Montreal, in a joint comment to Alzforum.
But it doesn't happen the same way in every person. While these findings explain the most commonly observed path of tangle progression in the brain—i.e., Braak's stages going from the medial temporal lobe (mTL) out into the neocortex—scientists also see alternate paths in some people. On April 18 in JAMA Neurology, Elizabeth Mormino at Stanford University and colleagues report that, at the preclinical stage of AD, about one in 10 people accumulate substantial tangles outside of the mTL. Curiously, they had no memory deficits, which usually accompany spread of tau beyond the mTL. On March 31 in Brain Communications, Tengfei Guo at the Shenzhen Bay Laboratory in China reported that in cognitively normal people whose amyloid PET scan is positive but CSF Aβ is normal, tangles accumulate broadly in the cortex, not the mTL. In all, the findings from all three papers hint that a person's structural connectome of the brain, as well as Aβ accumulation patterns, may steer the path of their tau tangles as they develop Alzheimer's disease.
A long-standing question in the field is how Aβ amyloidosis fuels the devastating spread of tau tangles throughout the brain. Amyloidosis first ignites in the neocortex, and is widely disseminated there before tau tangles creep out of the entorhinal cortex and into nearby temporal cortices. Despite this spatial separation of the two pathologies, multiple studies suggest that plaque accumulation in the neocortex is a requisite for the spread of tangles out of the EC, an event that heralds neurodegeneration and cognitive impairment (Mar 2016 news; Feb 2018 news; Adams et al., 2019).
First author Wha Jin Lee from Korea University and colleagues investigated this conundrum using a combination of amyloid-PET, tau-PET, and structural brain connectivity data. Before investigating how amyloid influenced tau's trajectory, they mapped how tau tangles proceed through the brain by examining their distribution on tau-PET scans from 283 participants in the Alzheimer's Disease Neuroimaging Initiative (ADNI), who spanned the clinical AD spectrum. In so doing, they approximated a "pseudo-longitudinal" trajectory of neurofibrillary tangle pathology. As expected, this identified the entorhinal cortex as the region to accumulate tangles first. Tangles were largely confined to this region in the preclinical stage of AD, and the brain-wide tau-PET signal was dramatically higher in people with late mild cognitive impairment (MCI).
To probe how neural circuitry plays into the propagation of tau tangles, the scientists used diffusion tensor imaging to construct a standard brain connectome, i.e., a matrix that describes how strongly each brain region is connected to each of 213 others. Integrating this matrix with the tau trajectory, the researchers modeled the most likely connections that explain tau's spread. One region—the inferior temporal gyrus—stood out as a propagation hub. Seeley likened the ITG to a train depot in a big city. The ITG had myriad connections with regions that would subsequently develop tau tangles, and tau's arrival at this hub heralded the acceleration phase of neurofibrillary tangle progression.
This route of tangle progression observed in the ADNI cohort matched up with data from a second, independent cohort in from Gangnam Severance Hospital in Korea, which included 304 participants spanning the clinical spectrum of AD.
So how does amyloid fit in? To gauge how plaques affect this progression, the researchers calculated an "amyloid influence metric" for each of the 213 regions. It reflects how strongly each region connects to regions with amyloid plaques. Multiplying a region's amyloid metric by its tangle burden offered a measure of remote Aβ-tau interactions. Intriguingly, the entorhinal cortex scored higher than any other region: Not only did it have abundant tau tangles, it was also tightly connected to multiple brain regions burdened by plaques.
The researchers next surveyed amyloid and tau PET scans for regions where Aβ plaques directly interact with tangle-bearing neurons. The ITG scored higher than any other brain region in this regard, because both Aβ plaques and tangles were abundant there. Similar findings from the Korean cohort supported the idea that a combination of remote and local interactions between Aβ and tau pathologies may steer the pathophysiological progression of AD.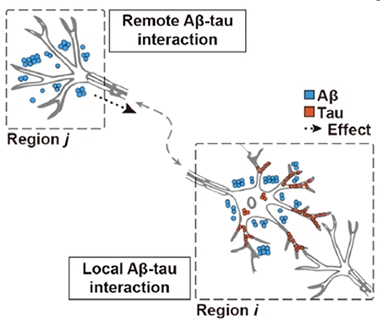 While these findings were pieced together using cross-sectional data, a subset of participants in both the ADNI and Korean cohorts had serial PET scans. This longitudinal data taught the researchers that people whose amyloid influence score in their EC was high at baseline were likelier to have tau spread beyond the EC into nearby connected regions on follow-up. Additionally, those who had both Aβ plaques and tau tangles in the ITG at follow-up had much more widespread tangle pathology throughout the brain than did people who only had plaques in the ITG at follow-up.
By combining longitudinal and cross-sectional data from both cohorts, the researchers pieced together a model of tangle accumulation over time, marked by two transition points. The first occurs when amyloid plaques accumulate in multiple neocortical areas that connect with tangle-bearing neurons in the EC. Something about this remote Aβ-tau interaction triggers tangles to invade nearby, connected regions of the hippocampus, amygdala, and temporal cortices. The second pivotal moment occurs when tau tangles and Aβ plaques convene in the ITG. This toxic duo catalyzes widespread tau propagation into the ITG's many connected regions, in what the researchers called the "acceleration phase" of AD (see image below).
"The study is of high interest for the field, as the authors propose an integrated framework for how Aβ and tau pathology may interact remotely via neuronal connections as well as locally to give rise to the brain-wide spreading pattern of tau pathology that is seen in AD," wrote Franzmeier and colleagues. They also noted important questions, including what molecular and cellular mechanisms underpin this Aβ-fueled tauopathy.
Seeley thinks the propagation phase aligns with what other researchers have dubbed the "ca-tau-strophe," which is when tangle pathology really begins to take off. "Our data suggest the ITG is the gateway to this cataustrophe," he said. Seeley believes amyloid-targeted therapies will be most effective if they can prevent tau propagation from reaching this point of no return.
However, the researchers noted that among Aβ-positive people with MCI—a group eligible for aducanumab (Aduhelm) treatment—only 14 percent were in this earlier phase of tangle spread, while the rest were already in the propagation phase.
"These findings raise the possibility that a molecular-anatomical definition of disease stage may outperform clinical labels in predicting clinical responsiveness to amyloid-lowering and other AD therapies," the authors wrote. Franzmeier and colleagues think stratifying patients based on their phase of tau spreading could be useful for clinical trials. They agree that removing Aβ before tau has spread may better prevent tau propagation than doing it afterward, and therefore is more likely to stave off neurodegeneration and cognitive decline.
Different Roads to Tauopathy
Much as the mind craves simplicity, these timed, anatomical stages of tau spreading may not apply to all people with AD. Scientists who study AD progression agree that Aβ accumulation instigates the spread of tangles from the entorhinal cortex into nearby regions in the mTL and eventually into the neocortex. However, according to Mormino's study, there are exceptions.
First author Christina Young and colleagues studied regional patterns of tau deposition among people at the preclinical stage of AD, who had yet to exhibit overt cognitive impairment. The scientists tapped baseline amyloid- and tau-PET imaging data from the A4 study, a secondary prevention trial testing solanezumab in people who were cognitively normal at baseline. Of the 447 participants enrolled, 392 were amyloid-positive. Among them, 152 also had begun to accumulate neurofibrillary tangles and for most, these tangles were confined to the mTL. However, 36 volunteers deviated from this; they had tangles in cortical regions as well. These outliers could be subdivided into three groups based on their preponderance of accumulation: asymmetrical left, precuneus-dominant, and asymmetrical right. Importantly, these three patterns cropped up with similar prevalence in ADNI, the Harvard Aging Brain Study, and the Wisconsin Alzheimer's Disease Research Center cohorts.
Although memory scores were similar between people with mTL versus cortical tau, those with cortical tau did worse on tests of executive function. Both people with mTL and those with cortical tangles had smaller hippocampi than controls. Among those with cortical deposits, the researchers spotted cortical thinning, though the thinning was not in regions with the most tangles. These amyloid-positive participants with cortical tangles tended to be younger than their counterparts with mTL tangles, suggesting that perhaps their disease was progressing faster.
In another mTL-sparing variation on this theme, Guo and colleagues reported that ADNI participants who were amyloid-positive by PET, but -negative by CSF, had significant tangle accumulation in outer cortical regions, but not in the mTL. In contrast, those who were amyloid-positive via CSF but not PET tended to have tau deposits only in the mTL. The findings imply that differences in Aβ accumulation may dictate where tau tangles accumulate in the preclinical stage of AD, and that mTL-tau measurements might miss the cortical tau tangles that accumulate among people with a "PET-first" Aβ pathway.
How do these different patterns of tau progression line up with those identified in the Korean/UCSF study? Young noted that not all participants with early Alzheimer's disease in that study conformed to the author's proposed spreading framework. "These non-conforming participants may indeed be the ones with divergent cortical tau patterns highlighted in our study," she wrote. "The same remote and local amyloid-tau interactions identified by Lee et al. may be occurring in those with divergent cortical tau, but the specific location of amyloid-tau interactions may vary outside of entorhinal cortex, leading to the spatial heterogeneity that we and others have described," Young added (full comment below; Apr 2021 news). This could explain the known heterogeneity observed in various clinical presentations of Alzheimer's disease (Ossenkoppele et al., 2016).
Franzmeier and colleagues made a similar point. "It will be crucial to test whether the proposed model of remote and local Aβ vs. tau interactions can also explain the heterogeneity in tau spreading, which may ultimately give rise to the clinically heterogeneous manifestation of AD, including 'atypical' AD phenotypes such as posterior cortical atrophy, dysexecutive, or language variant AD, all characterized by highly heterogeneous tau deposition patterns," they wrote.
That such heterogenous tau patterns already emerge in asymptomatic people is new and interesting, they added. "This finding does have important implications for clinical trials, because individual variation in tau patterning may be indicative of individual variation in treatment response or disease progression, potentially in a cognitive-domain specific manner."—Jessica Shugart
References
News Citations
Paper Citations
Adams JN, Maass A, Harrison TM, Baker SL, Jagust WJ. Cortical tau deposition follows patterns of entorhinal functional connectivity in aging.

Elife

. 2019 Sep 2;8 PubMed.
Ossenkoppele R, Schonhaut DR, Schöll M, Lockhart SN, Ayakta N, Baker SL, O'Neil JP, Janabi M, Lazaris A, Cantwell A, Vogel J, Santos M, Miller ZA, Bettcher BM, Vossel KA, Kramer JH, Gorno-Tempini ML, Miller BL, Jagust WJ, Rabinovici GD. Tau PET patterns mirror clinical and neuroanatomical variability in Alzheimer's disease.

Brain

. 2016 May;139(Pt 5):1551-67. Epub 2016 Mar 8 PubMed.
Primary Papers
Young CB, Winer JR, Younes K, Cody KA, Betthauser TJ, Johnson SC, Schultz A, Sperling RA, Greicius MD, Cobos I, Poston KL, Mormino EC, Alzheimer's Disease Neuroimaging Initiative and the Harvard Aging Brain Study. Divergent Cortical Tau Positron Emission Tomography Patterns Among Patients With Preclinical Alzheimer Disease.

JAMA Neurol

. 2022 Jun 1;79(6):592-603. PubMed.
Lee WJ, Brown JA, Kim HR, La Joie R, Cho H, Lyoo CH, Rabinovici GD, Seong JK, Seeley WW, Alzheimer's Disease Neuroimaging Initiative. Regional Aβ-tau interactions promote onset and acceleration of Alzheimer's disease tau spreading.

Neuron

. 2022 Jun 15;110(12):1932-1943.e5. Epub 2022 Apr 19 PubMed.
Jiang C, Wang Q, Xie S, Chen Z, Fu L, Peng Q, Liang Y, Guo H, Guo T, Alzheimer's Disease Neuroimaging Initiative. β-Amyloid discordance of cerebrospinal fluid and positron emission tomography imaging shows distinct spatial tau patterns.

Brain Commun

. 2022;4(2):fcac084. Epub 2022 Mar 31 PubMed.