Forget Typical Alzheimer's: AI Finds Four Types.
Is idiopathic Alzheimer's more than one disease? And is there even such a thing as "typical" AD? Given the heterogeneity in clinical presentation and pathology, some scientists have suggested as much for years, but with the exception of certain rare, atypical forms, no consensus has emerged on subtypes of AD. That might be about to change. In the April 29 Nature Medicine, researchers led by Oskar Hansson at Lund University, Sweden, describe their analysis of the largest set of tau PET data to date. Their machine learning approach—an unbiased wrangling of thousands of scans from 1,667 people—groups AD into four distinct subtypes. Each has a different progression of neurofibrillary tangle pathology from region to region over time. Each also encompasses a distinct clinical profile and speed of worsening.
Largest set of tau PET scans analyzed to date.
Machine learning algorithm predicts four subtypes of AD.
Diagnosis, prognosis, and monitoring of disease could change.
"Our data suggest the existence of multiple common AD subtypes, challenging the notion that there is such a pathological entity that can be described as 'typical' AD," write the authors. Notably, even atypical forms of AD, such as posterior cortical atrophy and logopenic primary progressive aphasia, fit into this model as extreme forms of posterior and lateral temporal subtypes, respectively. In effect, the authors propose a single, unified model of AD progression.
Others found the work extremely exciting. "This is the kind of paper that can change a field," Bernard Hanseeuw, Massachusetts General Hospital, told Alzforum. "We know that not all AD patients are equal and that they don't have exactly the same set of symptoms or trajectories, but the power of their model is that they can explain both the symptoms and the progression of the disease."
Ditto for Jonathan Schott, University College London. "It is a great paper with lots of important insights," he wrote to Alzforum. "From a purely clinical standpoint, they question the existence of 'typical' AD, reinforce the need for careful clinical phenotyping, and suggest that subtyping may in due course allow for more individualized approaches to patient care and prognostication," he wrote (comment below).
First author Jacob Vogel, working in Alan Evans' lab at McGill University, Montreal, capitalized on a machine learning algorithm previously developed by co-author Alexandra Young at King's College London. Young had used SuStaIn, short for Subtype and Stage Inference, to stitch together single MRI scans from almost 800 older volunteers. This identified three patterns of temporal and spatial atrophy in the brain, each with a different risk for developing AD (Oct 2018 news). In essence, SuStaIn extracted spatial patterns and longitudinal predictions from cross-sectional data.
"When I read Alexandra's paper, I thought 'Wow, if you have enough individuals to build a model, then you could just take one scan and find not only a person's subtype, but how far along they are in the disease trajectory,'" Vogel said. But to do this for tau PET, there was a snag: Where to get the massive number of scans needed to create the model? "This is where Oskar's diplomacy came in," Vogel quipped.
Hansson collaborated with the leaders of five different cohorts who shared their PET scans. Data came from BioFinder 1 at Lund; the Yonsei University College of Medicine, Seoul, South Korea; Avid Radiopharmaceuticals, Philadelphia; the University of California, San Francisco; and from ADNI (Ossenkoppele et al., 2018; Cho et al., 2018; Pontecorvo et al., 2019; La Joie et al., 2020).
For the discovery sample, Vogel collated a total of 1,143 individual flortaucipir scans. Of these, 700 were negative for tangles and were designated subtype 0. From the remaining, positive scans, SuStaIn predicted that four subtypes best described the spatiotemporal patterns of neurofibrillary tangle progression (see image above). It also assigned each scan to one of 30 progressive stages along their respective subtype trajectories. Perhaps counterintuitively, severity negatively correlated with age, meaning that younger people tended to have more advanced pathology. This relationship has been seen before and hints that when disease strikes young, it tends to be more severe (Whitwell et al., 2019; Jack et al., 2020).
About 12 percent of the scans could not be categorized. These were of people who had very low tau burden and are likely cognitively normal. "Once people become cognitively impaired and deposit more tau, it is easier to subtype them," said Vogel.
Of the remainder, about 33 percent of people were subtype 1. This might be closest to what researchers consider "typical" AD. S1 predicts a predominantly limbic pattern of tangle deposition with Braak-like spatial progression (see image below). Among the 18 percent of people categorized as S2, tangles predominantly emerge in the parietal lobe, with the medial temporal lobe being relatively spared. SuStaIn predicted 30 percent of individuals to be subtype 3. In them, tangles develop predominantly in the posterior occipital lobe and gradually expand toward the front of the brain. In 19 percent of the cohort who came out as subtype 4, tangles appear in the tempo-parietal cortices on the left side of the brain and gradually spread to parietal and frontal cortices.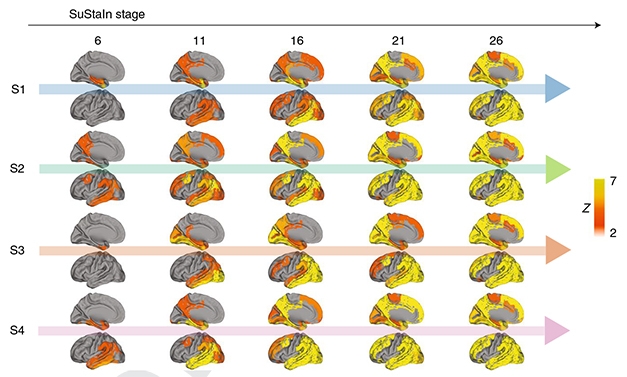 Subtypes and Stages. SuStaIn splits AD into four subtypes that progress over 30 stages. Each time point doublet shows the lateral and medial view of the left hemisphere. [Courtesy Vogel et al., 2021 Nature Medicine.]
Next, the authors ran SuStaIn on a replication sample comprising 469 people in BioFinder 2 who had been scanned with a different tau PET tracer, RO948. This time, they forced the machine learning algorithm to find four subtypes. Lo and behold, three of the four subtypes that it predicted highly resembled S1, S2, and S3. The spatiotemporal pattern of the fourth subtype looked like S4, but oddly, tangles were mostly in the right side of the brain, not the left. The authors believe the small sample size, not the tracer, drove this difference, and that the S4 subtype has a high propensity for either right or left dominance. This is a recognized feature of certain frontotemporal dementias, but not of Alzheimer's.
How Do Subtypes Present in the Clinic?
Each subtype bar S3 had a symptom or demographic profile that distinguished it from the others. People with the S1 limbic subtype scored relatively better on global cognition, but worse on memory. They had less tangle burden than the other subtypes, and were more likely to carry an APOE4 allele.
The medial-temporal-sparing S2s, on the other hand, were less likely to carry APOE4. They were younger, had more tangles, and their executive function was weaker. The left-side-only S4s also tended to have more overall tau pathology, unsurprisingly mostly on the left sides of their brains. Though their memory was relatively preserved, they scored lower on overall cognition and language than the other groups. Language is typically processed in the left side of the brain. Women were less likely to be S4.
A subset of 519 people from the initial five cohorts had follow-up scans. Among them, some subtype 0s had accumulated enough tangles between scans 1 and 2 to now be pinned as one of the four AD subtypes. Of the previously categorized S1-S4s, SuStaIn reclassified 84 percent the same way at their follow up, suggesting the staging was reproducible and stable. In support of this, those whose subtype did change had been categorized with low confidence on their first scan, underscoring the difficulty of assigning a subtype when a person's tau burden is still low.
As for clinical progression, MMSE scores for the S3s declined more slowly than for the other subtypes. This was true whether the person was cognitively normal at baseline or already had a diagnosis of mild cognitive impairment or AD. For S4s, it was the opposite. Their MMSE scores fell faster than any of the other subtypes.
SuStaIn stage also worsened faster in S4s, who declined about 1.73 stages per year. S1s and S3s declined at rates of 0.78 and 0.64 stages per year; for S2, it was a trend at 0.45 stages/year.
Could a clinician easily recognize any of these subtypes? "That would be tricky," said Hansson. "S2 is the more cortical- and limbic-sparing, and people in this subtype tend to be younger, more dysexecutive, not as amnestic, and quite less likely to be ApoE4-positive. So if you see all that in the clinic you might think 'S2,' but for the others it would be difficult to predict."
Why have these subtypes not popped out before? For one, the sheer number of scans this study analyzed is impressive, said Hanseeuw, and dwarfs the classic Braak pathological staging, which was based initially on 83 autopsy samples (Braak and Braak, 1991). For another, neuropathology is a patchy science. "Braak was limited in not being able to look at the whole brain, or use machine learning," said Hansson. Typically, only one hemisphere of a brain donated for autopsy is used for pathology, which means one-sided effects are missed. Pathology is also constrained by spatial sampling and semi-quantitation. Even so, neuropathologists had identified hippocampal-sparing and limbic-predominant forms of AD, which correlated with different rates of atrophy on MRI (Murray et al., 2011; Whitwell et al., 2012). SuStaIn newly adds an unbiased look at whole-brain spatial and temporal variation.
What Does It All Mean?
Researchers see many opportunities for this proposed staging scheme to change the field. For his part, Hansson said, "Much more work is needed. First it's important to find out how clinically relevant these subtypes are, for example to prognosis and progression rate. We need to study this in different cohorts."
More broadly, future studies need to establish how these tangle-based subtypes relate to the many other aspects of Alzheimer's pathophysiology the field is exploring. For Eric Reiman, Banner Health, Phoenix, questions include, "for instance, what accounts for the different patterns of tangle deposition? To what extent does it impact a person's phenotype, the relationship to CSF or plasma p-tau and to other biomarker measurements, their age at biomarker and clinical onset, their clinical course …" (see comment below).
What causes the different patterns is unclear. Could they be due to different conformations of toxic tau, i.e. seeds? Michel Goedert, Medical Research Council, Cambridge, U.K., suspects the seed is the same. Cryo-EM studies from his and other groups suggest that tau fibrils isolated from typical and atypical forms of AD are the same (Shi et al., 2021; July 2017 news; Falcon et al., 2018).
Or do the subtypes reflect how seeds propagate through the brain's connectome? On this idea, Hanseeuw thinks the subtypes may even depend on the way the brain has been wired from childhood. "It could be the same [tau] strain in each subtype, just on different tracks," he said. Indeed, Vogel and colleagues noted that people with PCA and logopenic PPA are more likely to have particular learning disabilities in childhood, perhaps because of developmental differences (Feb 2008 news; Aug 2015 news).
Regarding future clinical trials, this study will have an impact, Hanseeuw believes. "It adds complexity. This is never easy to handle, but it is better to be aware of it, take it into account, and conduct better trials," he said. Others agreed. "For clinical trialists, the fact that different subtypes may have different clinical presentations, rates of progression, patterns of spread, and perhaps subtly different pathophysiology may lead to more bespoke clinical studies targeting not just different stages but different subgroups of AD," Schott wrote. Reiman thinks this ability to recognize subtypes may affect the design and size of trials and boost the use of tau PET as an outcome measure.
Scientists might even reanalyze prior trials to learn how the four subtypes behaved. "If would be exciting, from a biological perspective, if a drug was more effective in one subtype," said Vogel, "but there is a lot of work to be done. We hope others in the field will see if they can replicate our data, and use methods such as singe-cell sequencing to look for an explanation for the patterns."—Tom Fagan
References
News Citations
Paper Citations
Further Reading
No Available Further Reading
Primary Papers
Vogel JW, Young AL, Oxtoby NP, Smith R, Ossenkoppele R, Strandberg OT, La Joie R, Aksman LM, Grothe MJ, Iturria-Medina Y, Alzheimer's Disease Neuroimaging Initiative, Pontecorvo MJ, Devous MD, Rabinovici GD, Alexander DC, Lyoo CH, Evans AC, Hansson O. Four distinct trajectories of tau deposition identified in Alzheimer's disease.

Nat Med

. 2021 May;27(5):871-881. Epub 2021 Apr 29 PubMed.