Tau PET Aligns Spread of Pathology with Alzheimer's Staging
Tau accumulates in the brain in Alzheimer's disease, but also during normal aging. Can PET scans tell the difference? Two recent papers say yes, and propose schemes for imaging-based staging that until now was possible only at autopsy. As reported in the March 2 Neuron, scientists led by Bill Jagust at the University of California, Berkeley, used the tau PET ligand AV1451 to reveal an age-related accumulation of tau in the medial temporal lobe in healthy older adults that tracks with weakening episodic memory. When amyloid enters the picture, however, things ramp up. Tau binding extends beyond the medial lobe and higher up into the cerebral cortex in AD, while cognition declines more broadly. Imaging enabled the scientists to stage disease severity in vivo, closely matching the stages predicted by neuropathology. A second group of scientists also reported that they have recapitulated disease staging with tau imaging in vivo. Led by Adam Schwarz at Eli Lilly and Company, Indianapolis, and Mark Mintun at Avid Pharmaceuticals, Philadelphia, that paper appeared in the March 2 issue of Brain.
"Imaging studies will help clarify the contribution of amyloid and tau pathology to cognition, normal aging, and Alzheimer's dementia," said Karen Duff, Columbia University, New York, who was not involved in the work. "I am happy to see how useful tau PET imaging is going to be in staging and monitoring of disease, which will contribute greatly to diagnosis and drug development."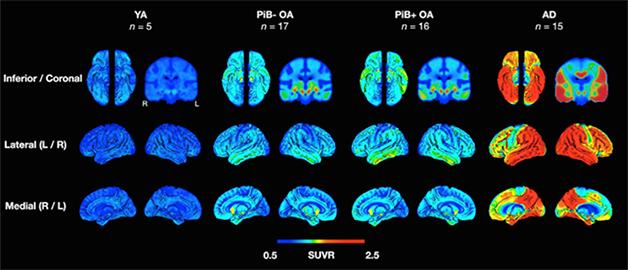 Tau Progression. In young adults (YA), older adults (OA) with and without amyloid, and people with AD, uptake patterns of a tau tracer match Braak staging. [Courtesy of Neuron, Schöll et al.]
Presented at two recent conferences (Aug 2015 conference news; Feb 2015 conference news), Jagust's findings corroborate histopathological and imaging data from other labs. Previous postmortem data suggested that tau collects in the medial temporal lobe (MTL) as people age, in what some call primary age-related tauopathy, or PART (Braak et al., 2011; Crary et al., 2014). Tau seems to branch outside of those areas only when amyloid enters the picture (Price and Morris, 1999). PET now bears that out, and it does so with the great advantage of allowing scientists to view the whole brain at once, in vivo, said Aaron Schultz, Massachusetts General Hospital, Boston. Schultz was among scientists in the lab of Keith Johnson, who recently reported an age-related uptake of AV1451 in the inferior temporal lobe (Johnson et al., 2016). Johnson's group found that AV1451 uptake in the neocortex coincided with higher Aβ burden, and that this predicted more severe clinical impairment.
In Jagust's lab, co-first authors Michael Schöll and Samuel Lockhart enrolled five healthy young adults between the ages of 20 and 26, another 33 cognitively healthy older adults aged 64 to 90, and 15 patients aged 53 to 77 with a diagnosis of probable AD (McKhann et al., 2011). All participants, except the young healthy adults, underwent PET with Pittsburgh compound B (PiB-PET) to detect brain amyloid, and AV1451 to measure tau. They also took tests of episodic memory, working memory, and executive function/processing speed. Many of the healthy older adults had sat these neuropsychological tests up to six years prior to their scans.
PET indicated that the young healthy adults had accumulated very little tau (see image above). Older people who were negative for amyloid had tau aggregates in the MTL that correlated with subtle deficits in episodic memory but not other forms. In older adults who did have brain amyloid, tau appeared in the inferior plus the lateral temporal lobe, as well as in some lateral and medial parietal regions. AD patients had tau pathology in most neocortical regions, particularly throughout temporal, parietal, and frontal lobes. Tau pathology outside the MTL correlated with a drop in global cognition, but only if amyloid was present. "It's a pretty clear story: As you get older, there's more tau in your medial temporal lobe, but as you get more amyloid, there's more tau in your lateral temporal lobe and your neocortex," Jagust told Alzforum.
Jagust said it will be difficult for imaging to determine whether amyloid causes tau to spread, or whether the spread of tau allows amyloid to deposit. Likewise, imaging will probably be unable to say whether PART and AD represent continuous or different processes, he said.
"Ultimately, by [therapeutically] targeting amyloid we may change what happens with tau," said Schultz. "Being able to image that in vivo will be immensely useful, allowing better sensitivity and earlier assessment than would be possible with behavioral measures alone." He noted that the current data is still cross-sectional. "One big hope is that new insights into disease will come from longitudinal data. A great many people are excited about that."
Taking the results a step further, Schöll worked out a method for in vivo Braak staging (see Braak and Braak, 1991). It defines seven stages of tau progression based on histopathology: no deposition in stage 0; the transentorhinal region in stage I; entorhinal cortex in stage II; fusiform and lingual gyri in stage III; neocortical association areas by IV. By stage V/VI, tangles have expanded widely into the outer layers of the cortex.
Schöll adapted this staging scheme for in vivo tau PET by defining three large regions of interest that matched Braak stages I/II, III/IV, and V/VI. He then used regression models to define standard uptake value ratio thresholds for each region that indicated whether a person was positive for tau (see image below) in that region. Those values classified all of the young adults and two older adults as stage 0, 25 older adults as I/II, two AD patients and six older adults as III/IV, and 13 AD patients as stage V/VI. As expected, higher Braak stage correlated with increasing, global amyloid burden.
Braak Stages Come to Life. Researchers can now classify people by Braak stages according to in vivo measurements of tau accumulation. [Courtesy of Neuron, Schöll et al.]
"Tau PET is offering the possibility of staging Alzheimer's disease in vivo," said Schöll. Now researchers can classify living people by cognitive, amyloid, and tau profiles. This will help them predict how close a person is to progressing to AD. In turn, this will be helpful in recruiting better-characterized participants for clinical trials, and eventually for diagnosis, he said.
Schwarz, Mintun, and colleagues took a slightly different approach to staging disease in people (Schwarz et al., 2016). They used AV1451 to scan 14 young controls and 42 cognitively normal older adults who were free of amyloid (according to a florbetapir scan), as well as 87 patients with mild cognitive impairment (MCI) and 44 with a clinical diagnosis of AD, 16 of whom tested negative for amyloid. Where Schöll defined three large ROIs to tau staging, Schwarz chose six, one for each individual Braak stage. He chose cutoffs for each region that exceeded the uptake level he saw in young healthy controls.
Schwarz found that his in vivo staging largely matched that expected for each person's clinical profile. Worse cognitive impairment, more advanced disease stage, and amyloid positivity associated with higher stages. However, fewer cognitively normal older adults were rated stage I/II than expected based on historical histopathology data. The researchers took this to mean that tau PET imaging is less sensitive than staining methods. They also found that 7 percent of their population did not show typical patterns of tau distribution—three older cognitively normal people, eight with MCI (four amyloid-positive), and one AD patient. Several retained no AV1451 in the medial and inferior temporal lobe but had strong signals in lateral temporal and/or occipital cortices, which could be related to a proposed hippocampal-sparing subtype of AD, the authors wrote (Murray et al., 2011). They suggested that the in vivo staging will eventually be refined by comparing in vivo PET imaging with postmortem neuropathology of the same study volunteers.—Gwyneth Dickey Zakaib
References
News Citations
Paper Citations
Primary Papers
Schöll M, Lockhart SN, Schonhaut DR, O'Neil JP, Janabi M, Ossenkoppele R, Baker SL, Vogel JW, Faria J, Schwimmer HD, Rabinovici GD, Jagust WJ. PET Imaging of Tau Deposition in the Aging Human Brain.

Neuron

. 2016 Mar 2;89(5):971-82. PubMed.
Schwarz AJ, Yu P, Miller BB, Shcherbinin S, Dickson J, Navitsky M, Joshi AD, Devous MD Sr, Mintun MS. Regional profiles of the candidate tau PET ligand 18F-AV-1451 recapitulate key features of Braak histopathological stages.

Brain

. 2016 May;139(Pt 5):1539-50. Epub 2016 Mar 2 PubMed.