FDA Approves a Second Amyloid Imaging Agent
The U.S. Food and Drug Administration on October 25 approved a second amyloid imaging agent. Flutemetamol, renamed Vizamyl, is an F18-labeled ligand developed by GE Healthcare. It joins florbetapir, or Amyvid, developed by Avid Pharmaceuticals/Eli Lilly and Company (see Apr 2012 news story). Vizamyl differs slightly from its cousin because it is approved to report the intensity of binding to amyloid plaques in false color. This could make scans easier to read, some experts agreed. The compound will be commercially available in early 2014, said a GE representative.
In regulatory terms, Vizamyl is much like Amyvid. Both are approved to indicate whether amyloid is present, and thereby support or refute an AD diagnosis. Neither is intended to diagnose AD on its own or replace other routine clinical tests for cognitive decline. As stipulated by the FDA, both require reader-training programs to instruct radiologists and other clinicians how to interpret the scans. In terms of their sensitivity and specificity, the two are roughly equivalent, said Stephen Salloway, Brown University, Providence, Rhode Island.
The main difference is that Vizamyl was approved to evaluate the density of plaques using a color-calibrated scale of signal intensity (see image below), whereas Amyvid was approved using a grayscale (see Feb 2012 news story). In reality, Salloway said, nuclear medicine physicians often use both formats to evaluate PET images. Patients and families may find it easier to appreciate abnormalities when reviewing scan results with color images with their doctor, he said. Philip Scheltens, VU University Medical Center in Amsterdam, agreed.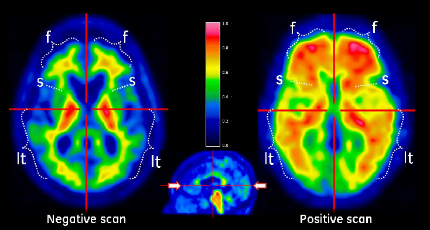 Vizamyl scans report the density of amyloid plaques using false color. Image courtesy of GE Healthcare.
Neither compound is approved to quantify amyloid plaques in the brain. That is something both companies are exploring.
Like Amyvid, Vizamyl will be made available to both neurologists and researchers. Who uses which tracer will depend on a number of factors, agreed scientists. In other countries, it may depend on which gains approval first. GE Healthcare has submitted an application for approval to the European Medicines Agency (EMA), and will apply in various other countries in the coming months and years, said the company's representative. Amyvid has already gotten EMA approval, and Lilly/Avid is seeking approval in other areas of the world. Which compound ends up being used at a given site may also depend on the proximity of production centers, said Scheltens. Both tracers rely on the F18 isotope, which has a half-life of 110 minutes and must be synthesized close to the site where it will be used. GE uses the FASTlab multitracer platform to synthetize a variety of PET ligands, including fluorodeoxyglucose. GE has 250 FASTlab sites globally. While Vizamyl is not yet approved for production on this platform, GE plans to make a Vizamyl synthesis cassette.
In recent Phase 3 brain autopsy and biopsy studies, Vizamyl showed sufficient sensitivity and specificity for Aβ brain pathology (see May 2012 conference story). Side effects were rare side and included flushing, elevated blood pressure, headache, nausea, and dizziness. A Phase 3 trial is underway for a third F18 imaging agent, florbetaben (see May 2010 news story). Agents that detect the other main pathology of Alzheimer's disease, neurofibrillary tangles, have entered Phase 1 human testing (see Sep 2013 news story), while Navidea Biopharmaceuticals is testing another amyloid ligand in a Phase 3 trial.
While clinicians and patients have expressed enthusiasm for amyloid imaging agents, limited insurance coverage hinders widespread adoption. The Centers for Medicare and Medicaid Services (CMS) decided against reimbursing for scans in general clinical use; it will only reimburse patients for a single scan used in a clinical trial that gathers evidence about health outcomes (see Oct 2013 news story). Investigators must write a separate grant proposal to the CMS for every trial for which they want coverage of amyloid scans. Private insurers usually follow the CMS's lead, meaning that for the time being, most patients seeking a scan will have to pay out of pocket. If evidence surfaces to suggest that the scans improve patient outcomes or disease management, the CMS will reconsider.—Gwyneth Dickey Zakaib
References
News Citations
Other Citations
External Citations