Proteins Backpedal, Spreading Neurodegeneration
Amyloid-β can kill neurons whose cell bodies lie far away, but researchers are unsure how. A study in the August 28 Cell from the lab of Ulrich Hengst, Columbia University, New York, suggests that the peptide triggers local synthesis of a protein messenger that travels back along axons to unleash death signals in otherwise healthy cell bodies. Hengst and colleagues finger the transcription factor ATF4 as the deadly harbinger. They found more ATF4 in AD brains than in control tissue, and eliminating the protein in mice reduced the neurodegenerative effects of Aβ.
"We establish intra-axonal protein synthesis as a pathway by which neurodegeneration is transmitted over long distances in the brain," said Hengst. Tao Ma of Wake Forest University School of Medicine, Winston-Salem, North Carolina, said that this study hints at a new neurotoxic mechanism for Aβ. "These results suggest a signaling pathway downstream of Aβ that explains how the peptide kick-starts neurodegeneration," Ma said.
For decades, protein synthesis in axons was thought to be restricted to development (for a review, see Piper and Holt, 2004). However, mounting evidence reports that well into adulthood, the axons of mature neurons routinely translate proteins, and that disturbing this process may contribute to diseases such as fragile X syndrome and spinal muscular atrophy (see Dubacq et al., 2009; Willis et al., 2011; and Wang et al., 2007). Protein synthesis may help neurons regenerate, as it ramps up in axons after injury (for a review see Rishal and Fainzilber, 2014).
Hengst and colleagues wondered if, like injury, neurodegenerative stimuli such as the presence of Aβ would spur protein translation, and if so, what role this played in neurodegenerative processes.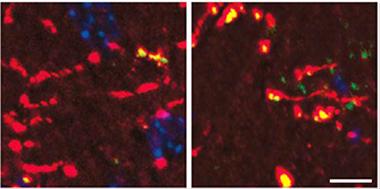 To find out, first author Jimena Baleriola and colleagues cultured rat embryonic hippocampal neurons in chambers that separate axons from soma. To axons, they applied synthetic Aβ oligomers to yield a concentration of 250nM in the axonal chamber, in the range reported for AD brain (see Wang et al., 1999). At 24 hours, molecular markers of protein synthesis rose in the axons. After 48 hours, about 40 percent more Aβ-treated neurons exhibited apoptotic markers than did controls, and 13 percent more died as judged by TUNEL staining. If the researchers inhibited protein synthesis or transport back to the cell body, the neurons lived despite the applied Aβ. This hinted that a protein synthesized in the axon traveled back to the soma to cause cell death.
Taking a closer look at the axonal translation, the authors found 151 and 210 mRNAs that were more or less abundant, respectively, when axons were treated with Aβ than in controls. Activating transcription factor 4 (ATF4) stood out as potentially important because it has been previously implicated in suppressing memory-related genes and activating apoptotic ones (see Ameri and Harris, 2008; Ron and Harding, 2012). The researchers found that ATF4 was indeed translated and that the protein traveled back to the cell body. When Baleriola used siRNA in the axon chamber to silence those local ATF4 transcripts, cells stopped dying as a result of Aβ. Inhibiting CHOP, one of the downstream targets of ATF4, also halted neuronal death. Previous studies reported that prolonged expression of CHOP kills cells (see Zinszner et al., 1998).
To see if this mechanism applied in vivo, the researchers next looked to a mouse model of amyloidopathy (see Sotthibundhu et al., 2008). They injected Aβ into the dentate gyrus of wild-type mice, and for a week observed cholinergic neurons that projected to it from the basal forebrain. Over seven days, protein translation revved up in basal forebrain cholinergic axons and ATF4 abounded. The cholinergic neurons expressed CHOP and apoptotic markers, and 20 percent of them died. As in cultured neurons, if the researchers injected the dentate gyrus with siRNA specific for AFT4, basal forebrain cholinergic cells lived.
To look for signs of this process in human disease, the authors analyzed postmortem brains from eight patients with Alzheimer's disease and eight age-matched controls from the New York Brain Bank at Columbia University. They found ATF4 mRNA and its protein more often in axons of the subiculum and entorhinal cortex of patients compared with controls. The entorhinal cortex is one of the first regions in the brain to accumulate Aβ, and neurons from the subiculum project there.

Proposed mechanism of ATF4 involvement in Aβ-induced cell death. Oligomeric Aβ (1) drives local translation of ATF4 (2), which travels (3) back to the soma to drive transcription (4). Activated genes, including CHOP, cause cell death (5). [Image courtesy of Cell, Baleriola et al., Fig. S6.]
According to these new findings, ATF4 and its transport from the axons to the cell body may help explain neurodegeneration in Alzheimer's that occurs remotely from Aβ, said Hengst (see Liu et al., 2008; Marcyniuk et al., 1986). Researchers should look beyond simple transcription to where mRNAs are translated to fully understand neuropathogenic pathways, he said. ATF4 might be a therapeutic target in AD, he added, pointing out that small molecules can inhibit upstream regulators of ATF4 translation (see Moreno et al., 2013). His group plans to study other mRNAs that turned up in Aβ-treated axons, which include known players in AD such as ApoE, APP, and Clu. The researchers are unsure what their axonal translation means for AD.
The study jibes with a paper that came out last year from the lab of Eric Klann of New York University. First author Tao Ma found that suppressing phosphorylation of eukaryotic initiation factor 2 α-subunit (eIF2α), which reduces translation of ATF4, restored synaptic plasticity and spatial memory in AD transgenic mice (see Ma et al., 2013). "The current study is very consistent with our findings," said Ma, who now heads his own lab at Wake Forest. He noted that behavioral studies in transgenic mice would be a logical next step to determine if quenching ATF4 translation rescues memory or other behavioral phenotypes.
Gunnar Gouras of Lund University, Sweden, cautioned that this mechanism does not yet point to a solid therapeutic route. ATF4 has a normal function in the neuron, and inhibiting it likely comes with unintended effects, he said. He noted that researchers need to work out how Aβ leads to an uptick in axonal ATF4. Nevertheless, he called Hengst's work elegant, praising the use of techniques that are relatively new for the Alzheimer's research field. —Gwyneth Dickey Zakaib
References
Paper Citations
External Citations