Paper Alert: Trafficking Variants Cause BACE Buildup in Axons
Does Aβ cause the axonal dystrophies found in the Alzheimer's disease brain, or do dystrophies cause the Aβ? In the November 18 Science Translational Medicine, researchers led by Giuseppina Tesco at Tufts University, Boston, claim it is the latter. They report that knocking out the transport protein GGA3 in mice disrupts BACE1 movement in neurons, causing axons to swell. When the researchers suppressed GGA3 in a model of amyloidosis, axon dystrophies bloomed before Aβ plaques could be detected, suggesting the atrophies come first. Inhibiting BACE soothed the dystrophies, and curiously, restored BACE trafficking. To cap it all off, the researchers uncovered a loss-of-function variant in GGA3 that associated with late-onset AD, suggesting this whole scenario might accelerate disease. Alzforum reported on some of this data previously (Oct 2016 conference news).
GGA3 variants stall BACE and cause axon swelling.
These dystrophies start to produce Aβ.
GGA3 loss-of-function mutation linked to familial AD.
GGA3, short for Golgi-localized γ-ear-containing ARF binding protein 3, recycles unwanted proteins, including BACE, by shuttling them to lysosomes (June 2007 news). Previously, Tesco found that knocking out GGA3 in neurons halted BACE transport, allowing the protease to accumulate in swollen axons that looked like dystrophic neurites, a hallmark of early stage AD (Tesco et al., 2007). GGA3 knockout also worsened plaque pathology (Oct 2016 conference news). Tesco and colleagues wondered if Aβ caused dystrophic neurites in AD by blocking GGA3 trafficking, or if trafficking problems led to the axonal dystrophies and then to ramped up cleavage of APP and Aβ production.
To find out, first author Selene Lomoio and colleagues turned to confocal microscopy to track the movement of BACE1 and GGA3. In cultured GGA3 knockout neurons that overexpressed BACE1, the protease accumulated in axons, never making it to lysosomes. These knockout neurons had fewer BACE1 vesicles moving either up or down axons, and the vesicles were sluggish. Stationary BACE1 vesicles also accumulated in swollen axons, resembling axonal dystrophies.
In vivo, immunofluorescence and immunohistochemistry revealed more BACE1 in the hippocampi of 4-month-old GGA3 knockout mice than in age-matched wild-type mice (see image below), particularly in the mossy fibers of the dentate gyrus.
"This exciting study provides compelling evidence that GGA3 deficiency causes BACE1-enriched axonal swelling," Riqiang Yan at the University of Connecticut Health, Farmington, told Alzforum. He wondered if other AD-related molecules, such as APP, gather at these swellings.
What if GGA3 was reduced in a mouse model of amyloidosis? Lomoio crossed 5xFAD mice with GGA3 knockouts, then examined 2-month-old offspring. At this age, 5xFAD mice have not yet developed cortical Aβ plaques (Oakley et al., 2006). Still, the animals had accumulated BACE1 in axons, which swelled. This suggests that BACE transport faltered and axonal dystrophies grew independently of plaque formation.
What happens when BACE is blocked? The researchers treated BACE1-overexpressing GGA3 knockout neurons with the β-secretase inhibitor C3. This restored BACE1 trafficking, preventing its accumulation in dystrophies (see image below). To test this in vivo, Lomoio treated 2-month-old GGA3 knockout mice with the brain penetrant BACE MBi-3. The highest dose of 30 mg/kg per day preserved hippocampal axon morphology and reduced Aβ40 levels by more than 75 percent. Taken together, the findings suggest that inhibiting BACE restored its trafficking and prevented axon swelling.
BACE Inhibitors to the Rescue. BACE transport along axons (top panel) falters in GGA3 knockout neurons, leading to axonal swellings (arrow, second panel). Adding GGA3 (third panel) or BACE inhibitors (fourth panel) rescued transport and abolished axon swelling. [Courtesy of Lomoio et al., Science Translational Medicine, 2020.]
Stefan Lichtenthaler at the German Center for Neurodegenerative Diseases (DZNE), Munich, was intrigued by these findings. "This suggests the local production of Aβ contributes to the axonal damage," he said (see full comment below). Cláudia Almeida at University of Lisbon, Portugal, was surprised the authors did not discuss the role of intracellular Aβ in more depth. "If BACE1 is stalled and accumulates in the axonal swellings, I predict that there will be more Aβ in these swellings even if in vivo extracellular Aβ is not changing," she wrote (see full comment below).
Since people carry two copies of GGA3, how does GGA3 knockout fit the dystrophies found in AD? In collaboration with Rudolph Tanzi's lab at Massachusetts General Hospital, Boston, Tesco now reports a GGA3 variant that associates with late-onset AD. Among 966 cases and 427 controls from the NIMH AD Genetics Initiative cohort, Lomoio and colleagues found a rare insertion mutation, Ins545T, in eight people from four AD families; six of those people had late-onset AD. In the AD Neuroimaging Initiative (ADNI) cohort, three carriers of this variant were identified, two of whom had mild cognitive impairment.
Could this variant be pathogenic? When Lomoio and colleagues overexpressed it in hippocampal neurons, it distributed normally throughout the cells, indicating it is normally made and transported. However, in GGA3 knockout neurons, adding the mutant did not rescue BACE1 trafficking or neuron swelling, suggesting the insertion is a loss-of-function mutation (see image below).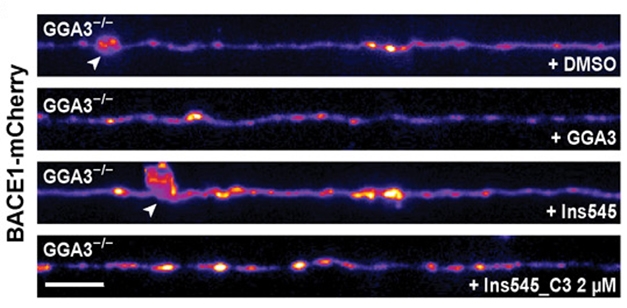 No Help from Mutant GGA3. In GGA3 knockout neurons, adding an AD-linked GGA3 mutant did not rescue axon swelling (third panel), indicating it is a loss-of-function mutation. [Courtesy of Lomoio et al., Science Translational Medicine, 2020.]
Edoardo Moretto and Marc Aurel Busche at University College London noted that this mutation is in the hinge region of GGA3, the portion thought to be responsible for summoning clathrin to vesicles. "Whether this GGA3 mutation could directly affect this unconventional sorting of BACE1, or how else it affects BACE1 degradation, remains to be clarified," they wrote (see full comment below). It also remains to be seen if BACE1 inhibitors can prevent any axonal dystrophies that might be caused by the loss-of-function variant.
If the axonal dystrophies in AD are related to GGA3 loss of function and BAC1 accumulation, then Lichtenthaler thinks tracking that axonal damage may be a way to measure BACE inhibitor effects in early stage disease. "Analyzing axonal damage may provide a straightforward assay to demonstrate that BACE inhibitors not only lower Aβ but also reduce an early form of neurotoxicity," he said. Scientists are still considering BACE inhibitors for early prevention trials.—Chelsea Weidman Burke
References
News Citations
Research Models Citations
Paper Citations
Tesco G, Koh YH, Kang EL, Cameron AN, Das S, Sena-Esteves M, Hiltunen M, Yang SH, Zhong Z, Shen Y, Simpkins JW, Tanzi RE. Depletion of GGA3 stabilizes BACE and enhances beta-secretase activity.

Neuron

. 2007 Jun 7;54(5):721-37. PubMed.
Oakley H, Cole SL, Logan S, Maus E, Shao P, Craft J, Guillozet-Bongaarts A, Ohno M, Disterhoft J, Van Eldik L, Berry R, Vassar R. Intraneuronal beta-amyloid aggregates, neurodegeneration, and neuron loss in transgenic mice with five familial Alzheimer's disease mutations: potential factors in amyloid plaque formation.

J Neurosci

. 2006 Oct 4;26(40):10129-40. PubMed.