TAPAS Anyone? PyroGlu-Aβ Vaccine Shrinks Plaques in Mice
Looking to donanemab, researchers want more ways to target the pyroglutamate form of Aβ onto which this antibody latches. At the 16th International Conference on Alzheimer's and Parkinson's Diseases held in Barcelona, Spain, and online, Thomas Bayer, University Medical Center Göttingen, Germany, described how the new antibody TAP01 binds a β-hairpin structure in soluble pyroGlu-Aβ. It does not bind plaques. The scientists made a vaccine called N-Truncated Amyloid Peptide Antibodies (TAPAS). It mimics the antigen. Mouse amyloidosis models treated with the antibody or the vaccine accumulated fewer plaques, lost fewer neurons, and better preserved brain glucose metabolism and memory than did controls. Bayer believes either could be an attractive option to treat AD. None of the immunotherapies being tested in trials bind this epitope.
Peptide dubbed TAPAS mimics a unique hairpin fold in pyroGlu-Aβ.
Antibody TAP01 binds the hairpin in soluble oligomers but not plaques.
Both vaccine and antibody reduced plaque load in mice.
No current immunotherapy binds this epitope.
Also at AD/PD, Marija Vukicevic of AC Immune, Lausanne, Switzerland, described an improved version the amyloid vaccine ACI-24, which also targets pyroglu-Aβ. The company is about to begin clinical testing.
"These new findings are relevant and important for what I see as the future of anti-amyloid immunotherapy—namely, the development of safe and effective active vaccines to prevent or lower cerebral plaque deposition and keep it at bay long-term," wrote Cynthia Lemere, Brigham and Women's Hospital, Boston (comment below).
Pyroglutamate-modified Aβ is a truncated, stickier, and toxic version of Aβ. It is highly prone to oligomerize and seed plaques (reviewed by Bayer, 2021; Mar 2013 conference news; Apr 2008 conference news). Eli Lilly's donanemab targets pyroGlu-Aβ within plaques, shrinking them and even slowing cognitive decline in the Phase 2 TRAILBLAZER-ALZ trial (Aug 2018 conference news; Jan 2021 news). The fly in the ointment? One in four treated people developed amyloid-related imaging abnormalities, aka ARIA, either as localized edema near blood vessels or mini hemorrhages.
To skirt these side effects, Bayer and colleagues looked for antibodies that target soluble amyloid rather than plaques. They found TAP01, which selectively bound oligomers of truncated forms, including pyroGlu-Aβ and Aβ4-42, but not aggregates (Antonios et al., 2015). At AD/PD, he reported that a humanized TAP01 also targets pyroGlu-Aβ oligomers but not plaques. Some of the findings were published last year (Bakrania et al., 2021).
To scrutinize how TAP01 embraces pyroGlu-Aβ, Gareth Hall, University of Leicester, U.K., used x-ray crystallography. He found that the antibody hugged the 10 N-terminal amino acids of the truncated Aβ, which had folded into a unique β-hairpin. Inspired by this conformation, the researchers synthesized TAPAS, a cyclic Aβ1-14 peptide that locked into an almost identical β-hairpin (see image at right). Indeed, TAP01 bound the TAPAS hairpin.
Because this epitope had not been reported, Bayer wondered if the current batch of antibodies in clinical trials recognized it. None did; not solanezumab, lecanemab, bapineuzumab, not even those specific for pyroGlu-Aβ, including donanemab, ProBioDrug 6-1-6, and ProBioDrug 24-2-3 (Piechotta et al., 2017).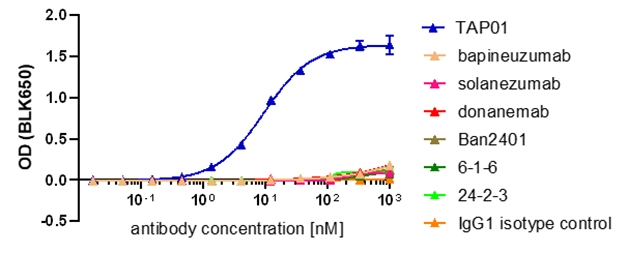 Unique Epitope. Only TAP01 (blue) bound to the TAPAS β-hairpin. [Bakrania et al., 2021, Molecular Psychiatry.]
Like TAP01, serum antibodies from mice injected with TAPAS bound the cyclic peptide in vitro, but not plaques in cortical slices from AD cases. "When pyroglutamate Aβ is soluble, we can detect the oligomers, but as soon as they aggregate into plaques, the hairpin epitope is either buried or no longer present for TAP01 or TAPAS antiserum to bind," Bayer told Alzforum.
With the TAP01 antibody and TAPAS peptide in hand, the researchers asked how they affect plaque pathology in vivo. Yvonne Bouter of UMC Göttingen injected TAP01 into five 1.5-month-old 5xFAD mice weekly for 12 weeks, and the TAPAS vaccine into five 2-month-old mice that received biweekly boosters for two months. She scanned the mice at 4.5 months using amyloid and FDG microPET. Compared to controls, passively immunized mice had less cortical and hippocampal plaque load. Vaccinated mice also had fewer plaques and their glucose metabolism was higher (see image below). "Even though 5xFAD mice do not have much pyroglutamate Aβ, neutralizing this minute amount contributed to reduced plaque load," Bayer said.
"It would be very interesting to know if his vaccine can clear existing plaques or if that's even relevant," noted Lemere. "It might be OK to just block the formation of N-terminally truncated Aβ oligomers, including pGlu3 and 4-X Aβ species," she wrote.
Less Plaque, More Activity. PET scans for amyloid (top) and FDG (bottom) of untreated (left) and treated 5xFAD mice (right) reveal that TAPAS tempers amyloid plaques and preserves glucose metabolism in the cortex (C), hippocampus (Hc), thalamus (T), hypothalamus (H), and amygdala (A). TAP01 had similar but weaker effects (not shown). [Courtesy of Yvonne Bouter, University Medical Center Göttingen.]
What about neurodegeneration and memory? The researchers turned to Tg4-42 mice, which Bayer engineered to express Aβ4-42. They injected five 3-month-old mice with TAP01 weekly for 12 weeks and five 2-month-old mice with the TAPAS vaccine biweekly for two months, then monthly for two months. Tg4-42 mice develop noticeable neuron loss and behavioral deficits between three to six months as neurotoxic Aβ aggregates build up. Stereological analysis of hippocampal slices revealed that mice given either treatment retained more neurons than did controls. Both sets of mice found a hidden platform in a water maze faster than did controls.
Bayer said TAP01 is ready to move into the clinic, and is now in the hands of Preeti Bakrania at LifeArc, Center for Therapeutics Discovery, Stevenage, England, who was co-first author on the Molecular Psychiatry paper with Hall and Bouter. If passive immunotherapy proves to be safe in people, Bayer said they would focus on the vaccine because it would be cheaper and easier to administer. Meanwhile, he is optimizing TAPAS for use in people and hopes a trial will start within two years.
A Better ACI-24 Goes After PyroGlu-Aβ
Another pyroglu-Aβ vaccine, AC Immune's ACI-24, uses an antigen from the N-terminal of Aβ. It has been tested in a Phase 2 trial in AD and a Phase 1 study in AD in Down's syndrome. A more antigenic formulation, debuted at a Down's syndrome forum last year (May 2021 news), uses non-Aβ peptides to rile up the immune system. "The peptide sequences originate from antigens to which humans are commonly exposed, such as tetanus, and provide T-cell help without engaging Aβ-specific T-cells to ensure a strong, boostable, and maintained anti-Aβ antibody response," AC Immune's Vukicevic wrote to Alzforum. The same strategy is being pursued for other Aβ vaccines (Aug 2021 conference news).
In Barcelona, Vukicevic elaborated on the new ACI-24's ability to generate antibodies against pyroGlu-Aβ and the full-length peptide, in mice and nonhuman primates. The findings were published last month (Vukicevic et al., 2022). In wild-type mice, the vaccine generated an anti-Aβ42 antibody titer 10-fold that of the version currently in trials. In mice and macaques, the antibodies recognized full-length Aβ, amyloid oligomers, and pyroGlu-Aβ. Monkeys that got the enhanced ACI-24 made 10 times the amount of anti-pyroGlu-Aβ antibodies as did primates who got the original Aβ peptide vaccine AN-1792, and 1,000-fold more than monkeys given the discontinued Aβ vaccine ACC-001. Antibodies generated by the older vaccines bound to N-terminal Aβ fragments, such as Aβ1-8, while ACI-24 antibodies preferred fragments lacking the first two to four amino acids, such as Aβ3-10 and Aβ4-11. This difference might explain why the ACI-24 antibodies bound so well to pyroGlu-Aβ.
Vukicevic said the company will test the updated ACI-24 in a Phase 1b/2 trial in prodromal AD, starting within the next few months, mostly to find a safe and immunogenic dose. The researchers will also measure effects on amyloid load via PET, and monitor phospho-tau181 and p-tau217 and clinical measures. Once the dose has been determined, a trial studying adults with Down's is next.—Chelsea Weidman Burke
References
Therapeutics Citations
News Citations
Research Models Citations
Paper Citations