Dale Schenk, 59, Pioneer of Alzheimer's Immunotherapy
Dale Schenk, a leader in the field of Alzheimer's disease immunotherapy passed away Friday, September 30, after a battle with pancreatic cancer that started in 2014. Schenk had been working until recently. He was 59.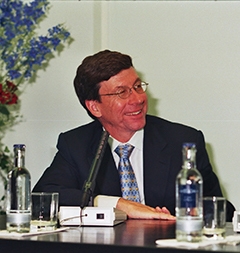 Colleagues remember Schenk for his pioneering work developing immunotherapy for Alzheimer's, Parkinson's, and other amyloidoses. While at Elan Pharmaceuticals, San Francisco, Schenk's seminal work showed that immunizing PDAPP transgenic mice with an experimental Aβ vaccine reduced the accumulation of amyloid plaques in their brains (see Jul 1999 news). This was the first high-profile paper raising hope that immunotherapy could potentially work in Alzheimer's. It landed Schenk on the MacNeil Lehrer News Hour and other national media programs at the time.
This work led the way to AN1792, the first immunotherapy against Aβ to enter clinical trials. While AN1792 was halted in Phase 2 due to inflammation in the brain, Schenk's vision galvanized the field and paved the way for dozens of active and passive immunotherapies that have since been tested in the clinic. He went on to develop therapeutic antibodies for AD (see Mar 2005 news), and, as co-founder and CEO of Prothena Biosciences, immunotherapies for other amyloidoses including Parkinson's disease. Schenk explained the extraordinary advances in immunotherapy for HBO's "The Alzheimer's Project" (see Films About Alzheimer's and click on the sixth icon at the bottom to load his interview). It is no accident that when Schenk won the American Academy of Neurology's Potamkin Prize in 2001, he was the first industry scientist to be recognized.
Alzforum writers remember Schenk for his wry humor and his generosity. Whenever asked, Schenk made time to explain evolving concepts and interpret new data. During a period of intensive focus at Alzforum on autosomal-dominant AD in 2006, Schenk was the industry researcher most willing and able to articulate the promise of secondary prevention trials of investigational therapies in genetic forms of disease. A decade ago, when many industry scientists dismissively said, "Nice idea, but here is why it can't be done ….," Schenk acknowledged the potential of the paradigm, seriously considered its challenges, and then called them all "surmountable." (See Early Onset Familial AD section, "Devil in the Details," "Drug Trials in Early Onset AD," and "Clinical Trials: Why Are eFAD Patients Excluded? Will That Change?"). As so often, he was right. Such trials are now up and running, and more being planned.
Alzforum will miss Dale. We invite friends and colleagues from years past and present to share memories, photos, anecdotes, thoughts to celebrate his life and work by emailing gstrobel@alzforum.org.—Tom Fagan, Gabrielle Strobel
References
Research Models Citations
News Citations
Basic page Citations
Book page Citations
Other Citations
Further Reading
No Available Further Reading