Overview
Pathogenicity: Alzheimer's Disease : Benign
Clinical Phenotype: Alzheimer's Disease, None
Reference Assembly: GRCh37/hg19
Position: Chr1:227071448 C>T
dbSNP ID: rs150400387
Coding/Non-Coding: Coding
Mutation Type: Point
Codon Change: CGC to TGC
Reference Isoform: PSEN2 Isoform 1 (448 aa)
Genomic Region: Exon 5

Findings
This variant has been identified in at least six individuals: one patient with AD (Brouwers et al., 2008), one healthy control from the Netherlands (Sleegers et al., 2004), one healthy first-degree relative of a patient with late-onset AD (Ertekin-Taner et al., 2008), one patient with AD whose brother also had AD (Frigerio et al., 2015), a Belgian patient with late-onset AD (Perrone et al., 2020), and a Han Chinese man also with late-onset AD (Mao et al., 2021).
The variant is present in the gnomAD variant database at a frequency of 0.0002195 and an allele count of 62 (gnomAD v2.1.1, Nov 2021). All carriers in gnomAD were heterozygotes, most of European ancestry (43).
Neuropathology
Neuropathological data are unavailable, but one carrier had reduced Aβ43 and Aβ42 levels in CSF, and increased Aβ40 levels, resulting in a decreased Aβ42/Aβ40 ratio (Perrone et al., 2020). This carrier also had decreased levels of sAPPα and sAPPβ.
Biological Effect
As described above, this variant was associated with reduced Aβ43 and Aβ42, and increased Aβ40, levels in the CSF of one carrier (Perrone et al., 2020). However, Aβ40 and Aβ42 secretion were unaffected in an experimental assay using transfected mouse neuroblastoma cells (Hsu et al., 2020). In silico algorithms predicted the R62C substitution is possibly damaging (PolyPhen) or damaging (SIFT) or neutral (LRT), and R62 is conserved between PSEN1 and PSEN2 (Hsu et al., 2020; Frigerio et al., 2015; Mao et al., 2021). Its PHRED-scaled CADD score, which integrates diverse information in silico, was above 20, suggesting a deleterious effect (CADD v.1.6, Oct 2021). Hsu and colleagues classified R62C as not pathogenic.
Last Updated: 01 Nov 2021
References
Paper Citations
Other Citations
Further Reading
No Available Further Reading
Protein Diagram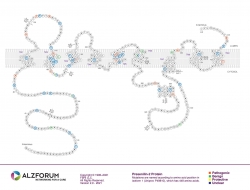 Primary Papers
Sleegers K, Roks G, Theuns J, Aulchenko YS, Rademakers R, Cruts M, van Gool WA, Van Broeckhoven C, Heutink P, Oostra BA, van Swieten JC, van Duijn CM. Familial clustering and genetic risk for dementia in a genetically isolated Dutch population.

Brain

. 2004 Jul;127(Pt 7):1641-9. Epub 2004 May 6 PubMed.
Ertekin-Taner N, Younkin LH, Yager DM, Parfitt F, Baker MC, Asthana S, Hutton ML, Younkin SG, Graff-Radford NR. Plasma amyloid beta protein is elevated in late-onset Alzheimer disease families.

Neurology

. 2008 Feb 19;70(8):596-606. Epub 2007 Oct 3 PubMed.
Brouwers N, Sleegers K, Van Broeckhoven C. Molecular genetics of Alzheimer's disease: an update.

Ann Med

. 2008;40(8):562-83. PubMed.
Other mutations at this position
Alzpedia
Disclaimer: Alzforum does not provide medical advice. The Content is for informational, educational, research and reference purposes only and is not intended to substitute for professional medical advice, diagnosis or treatment. Always seek advice from a qualified physician or health care professional about any medical concern, and do not disregard professional medical advice because of anything you may read on Alzforum.