Overview
Pathogenicity: Tauopathy consistent with Pick's Disease : Not Classified
Clinical Phenotype: Frontotemporal Dementia
Reference Assembly: GRCh37/hg19
Position: Chr1:227071509 AA>--
dbSNP ID: NA
Coding/Non-Coding: Coding
Mutation Type: Deletion
Codon Change: AAA to A--
Reference Isoform: PSEN2 Isoform 1 (448 aa)
Genomic Region: Exon 5

Findings
This mutation was identified in a Belgian patient with frontotemporal dementia (Perrone et al., 2018). It was absent from the gnomAD variant database (v2.1.1, Nov 2021).
Neuropathology
Neuropathology included neurofibrillary tangles consistent with Pick's disease.
Biological Effect
Compared with wild-type PSEN2 levels, those of the mutant protein were reduced in the frontal cortex and hippocampus.
Last Updated: 01 Nov 2021
Further Reading
No Available Further Reading
Protein Diagram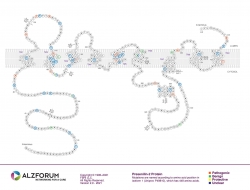 Primary Papers
Perrone F, Cacace R, Van Mossevelde S, Van den Bossche T, De Deyn PP, Cras P, Engelborghs S, van der Zee J, Van Broeckhoven C. Genetic screening in early-onset dementia patients with unclear phenotype: relevance for clinical diagnosis.

Neurobiol Aging

. 2018 Sep;69:292.e7-292.e14. Epub 2018 May 9 PubMed.
Other mutations at this position
Disclaimer: Alzforum does not provide medical advice. The Content is for informational, educational, research and reference purposes only and is not intended to substitute for professional medical advice, diagnosis or treatment. Always seek advice from a qualified physician or health care professional about any medical concern, and do not disregard professional medical advice because of anything you may read on Alzforum.