Overview
Pathogenicity: Alzheimer's Disease : Benign
Clinical Phenotype: Alzheimer's Disease
Reference Assembly: GRCh37/hg19
Position: Chr1:227069708 G>A
dbSNP ID: NA
Coding/Non-Coding: Coding
Mutation Type: Point
Codon Change: GGC to AGC
Reference Isoform: PSEN2 Isoform 1 (448 aa)
Genomic Region: Exon 4

Findings
This variant was first identified in a Caucasian patient from the Netherlands affected by probable late-onset Alzheimer's disease. It was reported as not segregating with disease in this family, but details were not provided (Sleegers et al., 2004).
The variant was subsequently found in three families of the Chinese Familial Alzheimer's Disease Network, including a total of 10 affected carriers, nine diagnosed with AD and one with mild cognitive impairment (MCI) (Jia et al., 2020). Ages at onset varied widely between and within families. For example, in a family with four affected carriers, they ranged from 46 to 69 years, and while in one family the mean age at onset was 56, in another it was 72. In none of the families were healthy, aged non-carriers identified to establish cosegregation with disease. Of note, the two carriers with the youngest ages at onset (46 and 48) were homozygous for the APOE4 allele. The age at onset of the single carrier with an APOE2 allele (APOE2/3 genotype), however, was on the early, rather than the late, end of the range (52 years).
An additional Chinese mutation carrier, a man diagnosed with Parkinson's disease, who developed memory loss at age 74 and spatial disorientation at 75, leading to a diagnosis of AD, was subsequently reported (Sun et al., 2021).
The variant was found in 133 heterozygotes in the gnomAD database (v2.1.1, Oct 2021). Except for two carriers, all others were of Asian, mostly East Asian, ancestry. The variant's global frequency is 0.0004710.
Neuropathology
Neuropathological data are unavailable, but a brain MRI scan of the Chinese patient with Parkinson's disease and AD showed multiple ischemic foci in the bilateral frontal-parietal lobe and brain atrophy (Sun et al., 2021).
Biological Effect
This variant does not appear to alter the ratio of Aβ42/Aβ40. A cellular assay using mouse neuroblastoma cells expressing the mutant protein showed secretion of similar amounts of Aβ42 and Aβ40 as cells expressing wild-type PSEN2 (Hsu et al., 2020), consistent with previous, unpublished observations (Sleegers et al., 2004).
In silico algorithms yielded mixed results, with only two of six algorithms (SIFT, Polyphen2, PANTHER, Mutpred2, PROVEAN, Mutation Taster) predicting a damaging effect (Jia et al., 2020, Hsu et al., 2020). The PHRED-CADD score (21.1), however, suggested the variant is deleterious.
Last Updated: 02 Nov 2021
References
Paper Citations
Further Reading
No Available Further Reading
Protein Diagram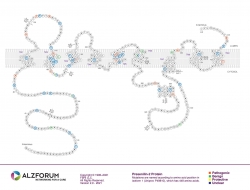 Primary Papers
Sleegers K, Roks G, Theuns J, Aulchenko YS, Rademakers R, Cruts M, van Gool WA, Van Broeckhoven C, Heutink P, Oostra BA, van Swieten JC, van Duijn CM. Familial clustering and genetic risk for dementia in a genetically isolated Dutch population.

Brain

. 2004 Jul;127(Pt 7):1641-9. Epub 2004 May 6 PubMed.
Alzpedia
Disclaimer: Alzforum does not provide medical advice. The Content is for informational, educational, research and reference purposes only and is not intended to substitute for professional medical advice, diagnosis or treatment. Always seek advice from a qualified physician or health care professional about any medical concern, and do not disregard professional medical advice because of anything you may read on Alzforum.