Overview
Pathogenicity: Alzheimer's Disease : Unclear Pathogenicity
Clinical Phenotype: Alzheimer's Disease
Reference Assembly: GRCh37 (105)
Position: Chr14:73640406 G>T
dbSNP ID: rs201617677
Coding/Non-Coding: Coding
Mutation Type: Point, Missense
Codon Change: AGG to AGT
Reference Isoform: PSEN1 isoform 1 (467 aa)
Genomic Region: Exon 5

Findings
This variant was found using whole-exome sequencing to screen 15 patients from Chinese families with familial AD (Jiang et al., 2019). The proband was 60 years old at disease onset. His initial symptom was memory loss which progressed slowly, with irritability developing two years later. His mother died at approximately 90 years of age with cognitive impairment. Because of limited access to family data, this variant was described as of "uncertain significance." It was found in three population-based, exome sequence databases: the 1000 Genomes Project (2E-04), ExAC (6.59E-05), and gnomAD (6.09E-05).
Neuropathology
Unknown
Biological Effect
In silico analyses predict the mutation is likely pathogenic. Polyphen 2 predicted it to be probably damaging and SIFT classified it as deleterious. The mutation's CADD score was 31.
Last Updated: 12 Apr 2019
Further Reading
No Available Further Reading
Protein Diagram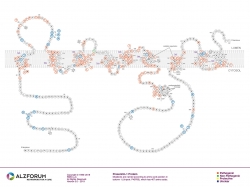 Primary Papers
Jiang B, Zhou J, Li HL, Chen YG, Cheng HR, Ye LQ, Liu DS, Chen DF, Tao QQ, Wu ZY. Mutation screening in Chinese patients with familial Alzheimer's disease by whole-exome sequencing.

Neurobiol Aging

. 2019 Apr;76:215.e15-215.e21. Epub 2018 Dec 6 PubMed.
Disclaimer: Alzforum does not provide medical advice. The Content is for informational, educational, research and reference purposes only and is not intended to substitute for professional medical advice, diagnosis or treatment. Always seek advice from a qualified physician or health care professional about any medical concern, and do not disregard professional medical advice because of anything you may read on Alzforum.