Overview
Pathogenicity: Frontotemporal Dementia : Benign
Clinical Phenotype: None
Reference Assembly: GRCh37/hg19
Position: Chr17:44073889 A>G
dbSNP ID: rs1052553
Coding/Non-Coding: Coding
DNA Change: Substitution
Expected RNA Consequence: Substitution
Expected Protein Consequence: Silent
Codon Change: GCA to GCG
Reference Isoform: Tau Isoform Tau-F (441 aa)
Genomic Region: Exon 9

Findings
The human MAPT gene resides within a region of chromosome 17 affected by a large inversion polymorphism of about 900 kb that generates a region of linkage disequilibrium defined by two extended haplotypes, referred to as H1 and H2, or HA and HB (see Pittman et al., 2006 for review). These haplotypes are defined by a series of polymorphisms, including several within the MAPT sequence. In the case of the synonymous variant that encodes A227A, the minor allele, "G", segregates with the H2 haplotype, whereas the "A" allele is associated with the more common, H1 haplotype. Both alleles have been found in healthy controls as well as patients with various neurodegenerative conditions (Poorkaj et al,. 2001).
The H1 haplotype strongly associates with increased risk of progresssive supranuclear palsy and corticobasal degeneration (e.g., Baker et al., 1999; Houlden et al., 2001; Pittman et al., 2005; Rademakers et al., 2005; Höglinger et al., 2011). The H1 haplotype also has been reported to be associated with risk of late-onset Alzheimer's disease (Myers et al., 2005; Myers et al., 2007; Laws et al., 2007; Abraham et al., 2009). Although this association has not been universally replicated (e.g., Russ et al., 2001; Mukherjee et al., 2007), a comprehensive, large-scale screening study of 9,814 late-onset AD cases and 11,550 controls supported the finding that the less common H2 haplotype is associated with decreased risk of late-onset AD (Allen et al., 2014).
In addition, although both alleles have been found in populations across the world, frequencies are related to ethnicity. The H2 haplotype has a frequency of about 20 percent in Europeans, but is rare in Africans, and almost absent in East Asians (Stefansson et al., 2005). In a large study of genetic variability, the minor allele was found in about 15 percent of those screened, including in people from Asia, Europe, the Middle East, North Africa, and Subsaharan Africa (Guerreiro et al., 2010).
Neuropathology
Unknown.
Biological Effect
Unknown. The H2 haplotype has been associated with lower MAPT levels in the cerebellum and temporal cortex of AD subjects (Allen et al., 2104).
Last Updated: 03 Nov 2013
References
Paper Citations
Other Citations
Further Reading
Learn More
Protein Diagram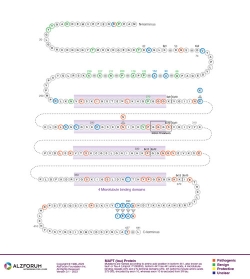 Primary Papers
Rizzu P, Van Swieten JC, Joosse M, Hasegawa M, Stevens M, Tibben A, Niermeijer MF, Hillebrand M, Ravid R, Oostra BA, Goedert M, van Duijn CM, Heutink P. High prevalence of mutations in the microtubule-associated protein tau in a population study of frontotemporal dementia in the Netherlands.

Am J Hum Genet

. 1999 Feb;64(2):414-21. PubMed.
Alzpedia
Disclaimer: Alzforum does not provide medical advice. The Content is for informational, educational, research and reference purposes only and is not intended to substitute for professional medical advice, diagnosis or treatment. Always seek advice from a qualified physician or health care professional about any medical concern, and do not disregard professional medical advice because of anything you may read on Alzforum.