Mutations
APP IVS17 83-88delAAGTAT
Overview
Pathogenicity: Alzheimer's Disease : Benign
ACMG/AMP Pathogenicity Criteria: PP1, BS1, BS2, BS3
Clinical Phenotype: Alzheimer's Disease, None
Reference Assembly: GRCh37/hg19
Position: Chr21:27263946 ATACTT>------
dbSNP ID: rs367709245
Coding/Non-Coding: Non-Coding
Mutation Type: Deletion
Genomic Region: Intron 17

Findings
This variant involves the deletion of six base pairs from intron 17 of the APP gene. The clinical significance of this deletion is unknown. It was first reported in 1992 in three people with AD and one cognitively healthy control (Kamino et al., 1992). Of the three affected mutation carriers, two were siblings in an FAD kindred, with onset at age 62 and 74. An unaffected sibling did not carry the mutation, suggesting segregation with disease. The third deletion carrier with AD developed symptoms at age 58 and was also considered to have familial AD, although the reported pedigree indicates just one additional affected individual, a sibling with onset at age 57 and an unknown mutation status. The deletion was also found in one out of 207 cognitively healthy controls.
This deletion variant has since been identified in Phase 3 of the 1000 Genomes Project. It was seen in one of 661 people of African ancestry and two of 346 people of Puerto Rican ancestry (1000 Genomes Project Consortium et al., 2012). In the gnomAD variant database, the variant was found at a frequency of 0.001466 with an allele count of 46 (gnomAD v2.1.1, Oct 2021). Most of these carriers were of European ancestry.
Most recently, a study from the United Kingdom reported this deletion in five out of 451 individuals with sporadic early onset AD, two out of 584 individuals with late-onset AD, and two out of 528 controls. All carriers were heterozygous for the deletion. One of the AD cases had neuropathologically confirmed AD; the others were diagnosed with probable AD based on clinical criteria. The observed minor allele frequency (MAF) in the sporadic early onset AD cohort (0.006) was non-significantly elevated compared with the frequencies seen in late-onset AD (0.002) and controls (0.002). However, many more samples would be needed to achieve sufficient power to determine if there is a real association between this rare variant and disease (Barber et al., 2015).
Neuropathology
Unknown. At least one deletion carrier with sporadic early onset AD had neuropathology consistent with AD at autopsy (Barber et al., 2015).
Biological Effect
This variant involves a hexanucleotide deletion (AAGTAT) from intron 17 of APP. The deletion is located 83 base pairs downstream of exon 17. Experiments in transfected cells did not find evidence that the deletion altered splicing of exon 17 in APP (Barber et al., 2015). Note, the APP IVS17 83-88delAAGTAT variant is named in reference to the transcript, which is transcribed from the reverse strand. However, the forward strand is the standard reference for the genomic sequence, thus the hexanucleotide deletion is written as the inverse of the complementary nucleotides (i.e., ATACTT).
Pathogenicity
Alzheimer's Disease : Benign*
*This variant's frequency was elevated in a sporadic early onset AD cohort compared with controls, but the difference did not reach statistical significance.
This variant fulfilled the following criteria based on the ACMG/AMP guidelines. See a full list of the criteria in the Methods page.
PP1-M
Co-segregation with disease in multiple affected family members in a gene definitively known to cause the disease: *Alzforum requires at least one affected carrier and one unaffected non-carrier from the same family to fulfill this criterion. IVS17 83-88delAAGTAT : At least one family with 2 affected carriers and >=1 unaffected noncarriers.
BS1-S
Allele frequency is greater than expected for disorder. *Alzforum uses the gnomAD variant database. IVS17 83-88delAAGTAT : Most carriers are of European ancestry.
BS2-S
Observed in a healthy adult individual for a recessive (homozygous), dominant (heterozygous), or X-linked (hemizygous) disorder with full penetrance expected at an early age.
BS3-S
Well-established in vitro or in vivo functional studies shows no damaging effect on protein function or splicing.
Pathogenic (PS, PM, PP)
Benign (BA, BS, BP)
Criteria Weighting
Strong (-S)
Moderate (-M)
Supporting (-P)
Supporting (-P)
Strong (-S)
Strongest (BA)
Last Updated: 22 Feb 2022
References
Paper Citations
Kamino K, Orr HT, Payami H, Wijsman EM, Alonso ME, Pulst SM, Anderson L, O'dahl S, Nemens E, White JA. Linkage and mutational analysis of familial Alzheimer disease kindreds for the APP gene region.

Am J Hum Genet

. 1992 Nov;51(5):998-1014. PubMed.
, Abecasis GR, Auton A, Brooks LD, DePristo MA, Durbin RM, Handsaker RE, Kang HM, Marth GT, McVean GA. An integrated map of genetic variation from 1,092 human genomes.

Nature

. 2012 Nov 1;491(7422):56-65. PubMed.
Barber IS, García-Cárdenas JM, Sakdapanichkul C, Deacon C, Zapata Erazo G, Guerreiro R, Bras J, Hernandez D, Singleton A, Guetta-Baranes T, Braae A, Clement N, Patel T, Brookes K, Medway C, Chappell S, Mann DM, ARUK Consortium, Morgan K. Screening exons 16 and 17 of the amyloid precursor protein gene in sporadic early-onset Alzheimer's disease.

Neurobiol Aging

. 2016 Mar;39:220.e1-7. Epub 2015 Dec 29 PubMed.
Further Reading
No Available Further Reading
Protein Diagram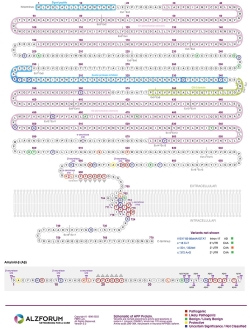 Primary Papers
Kamino K, Orr HT, Payami H, Wijsman EM, Alonso ME, Pulst SM, Anderson L, O'dahl S, Nemens E, White JA. Linkage and mutational analysis of familial Alzheimer disease kindreds for the APP gene region.

Am J Hum Genet

. 1992 Nov;51(5):998-1014. PubMed.
Alzpedia
Disclaimer: Alzforum does not provide medical advice. The Content is for informational, educational, research and reference purposes only and is not intended to substitute for professional medical advice, diagnosis or treatment. Always seek advice from a qualified physician or health care professional about any medical concern, and do not disregard professional medical advice because of anything you may read on Alzforum.