Is Klotho's Partner FGF23 a Cognition Protein?
The longevity gene klotho keeps memory keen, but how? New research raises the possibility that it might influence cognition through its signaling partners FGF23 and the fibroblast growth factor (FGF) receptor. In the March 7 eNeuro, Gwendalyn King and colleagues at the University of Alabama, Birmingham, reported that mice lacking FGF23 have memory problems similar to those seen in klotho knockouts. Meanwhile, researchers led by Emer McGrath at Brigham and Women's Hospital, Boston, and Sudha Seshadri at Boston University report that older people with high levels of FGF23 in their blood are at elevated risk of developing dementia. Those findings appeared in the March 4 PLoS One. However, changes in circulating FGF23 levels are also known to impair kidney function. Kidney disease by itself can harm cognition, leaving it unclear if FGF23 acts directly in the brain or indirectly in the periphery.
Mice lacking FGF23 have defective learning, memory.
Some people with high serum FGF23 are at risk of dementia.
This may be secondary to poor kidney health.
Klotho longevity variant protects against ApoE.
"Both these papers give some hints that the FGF-23/klotho axis may be important to normal cognition, but significant follow-up work is still needed to clarify their exact roles," noted David Drew at Tufts Medical Center in Boston. Drew also studies the relationship of FGF23 and klotho to cognitive function in humans, but was not involved in this research.
Klotho levels dwindle with age, and drop off steeply with disease progression in mouse models of amyloidosis (Dec 2007 conference news). Conversely, high levels of klotho boost cognitive performance in people, and memory in mice (May 2014 news; Aug 2017 news; Nov 2017 news).
FGF23 Linked to AD? People with the highest serum levels of the hormone (purple line) are twice as likely to develop AD over a dozen years as those with the lowest levels (blue line). [Courtesy of McGrath et al.]
A recent study in the March 13 Neurology adds genetic evidence for klotho's protective effect in the brain. Researchers led by Ozioma Okonkwo at the University of Wisconsin, Madison, found that the klotho variant associated with high expression and longevity seemed to negate some effects of the ApoE4 allele. Among 82 people with this protective klotho variant, ApoE4 carriers accumulated no more brain amyloid than noncarriers. The mechanism is unclear. "Replication of these findings in larger, more diverse cohorts is warranted … Still, the current results are promising," Argonde van Harten at VU University, Amsterdam, wrote in an accompanying editorial.
Researchers have elucidated at least one signaling pathway through which klotho acts. Klotho spans the cell membrane, where it binds FGF receptors to form a pocket that captures extracellular FGF, triggering intracellular signaling (Kurosu et al., 2006; Lee et al., 2018; Chen et al., 2018). It is unknown what effect this has on the brain. In the kidney, the binding of klotho and FGF23 stimulates excretion of phosphate and vitamin D, hence functions in their homeostasis (Shimada et al., 2004).
FGF23 levels appear to be tightly regulated. Mice with too much of it develop the vitamin-D-deficient bone disease rickets. Those with too little accumulate mineral deposits throughout their bodies (see image below) and age faster, as do klotho knockouts (Shimada et al., 2004; Sitara et al., 2004). FGFs form a large family and can regulate diverse cellular processes, however; hence FGF23 may play additional roles in other tissues.
King and colleagues investigated whether FGF23 knockout mice share the cognitive deficits of klotho knockouts. First author Ann Laszczyk found that 3-week-old FGF23 knockouts still performed like wild-type, but by 5 weeks of age, the knockouts had trouble remembering objects they had seen before, and forgot conditions that led to an electric shock. These hippocampal-dependent cognitive deficits matched those seen in klotho knockouts, but in other aspects the two mouse lines differed. Mice lacking klotho have enhanced synaptic plasticity and impaired neurogenesis, whereas mice lacking FGF23 were normal in both.
Were the learning defects of the FGF23 knockouts due to FGF23 in the brain? Probably not, King told Alzforum. The authors searched intensively for FGF23 mRNA or protein in wild-type mouse brain, but were unable to find significant expression. "That surprised us," King said. Because of this, she believes that brain klotho acts via other mechanisms, independent of FGF23.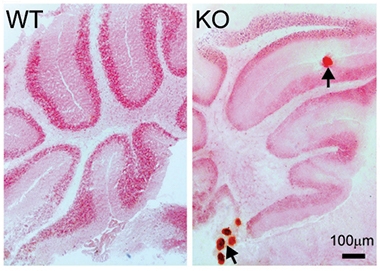 "We think the memory impairment we observed is most likely a matter of peripheral illness," King said. The FGF23 knockouts develop kidney disease, grow slowly, and die by 9 weeks of age. Kidney problems are linked to cognitive deficits (Slickers et al., 2007; Sarnak et al., 2013; Hartmann et al., 2015). In particular, high FGF23 levels predict progression of kidney disease and worse cognition (Fliser et al., 2007; Drew et al., 2014). In future work, King plans to test this hypothesis by feeding FGF23 knockouts a low-phosphate diet, and assessing whether that preserves cognition.
For their part, Seshadri and colleagues were intrigued by the association of FGF23 with poor cognition in dialysis patients. They wondered whether serum FGF23 could predict cognitive outcomes in the general population as well. McGrath analyzed data from 1,537 participants in the Framingham cohort whose average age was 69. All were free of dementia at baseline, but over 12 years of follow-up, 122 people, or 8 percent of the cohort, developed it. Three-fourths of those cases were deemed to be AD.
Higher serum FGF23 correlated with dementia risk, whereby people in the highest quartile had 1.75 times the risk of dementia, and 2.1 times the risk of AD, as those in the lowest quartile. The relationship held after adjusting for the usual confounders, including sex, age, education, ApoE genotype, blood pressure, and cardiovascular disease. However, FGF23 levels did not associate with baseline cognitive performance, and longitudinal data on cognitive change was not available.
"It is puzzling that FGF23 does not associate with other cognitive measures as it does with dementia," Jonas Mengel-From at the University of Southern Denmark, Odense, wrote to Alzforum (full comment below).
Were the cognitive problems simply a result of kidney disease? McGrath et al. noted that adjusting for kidney disease did not change risk, and suggested that FGF23 could be affecting klotho signaling in the brain. High serum FGF23 has been linked to low klotho (Hu et al., 2013; Shardell et al., 2016). However, the Framingham study did not measure serum klotho, so they could not determine if that relationship held here.
In addition, Drew noted that kidney function itself affects FGF23 levels. "I would not have waited until the final model to adjust for this likely confounder," he wrote to Alzforum. He believes there is not yet convincing data that FGF23 directly affects cognition.
So far, FGF23 has not popped up in screens as a cognitive biomarker. Johan Gobom at the University of Gothenburg, Sweden, has done a large exploratory study of proteins and peptides in cerebrospinal fluid that associate with Alzheimer's disease. He told Alzforum he does not see FGF23 in his dataset. Other AD fluid biomarker labs also noted that FGF23 has not come up in their work.
King believes the take-home message from these studies is the importance of kidney function for cognition. "You need to have a healthy body if you want the lowest risk of developing memory impairment," she wrote.—Madolyn Bowman Rogers
References
News Citations
Paper Citations