Extra Weight in Midlife Hastens Onset of Alzheimer's Disease
Carrying extra weight in midlife may bring on Alzheimer's disease earlier. According to a study published September 1 in Molecular Psychiatry, for every increment in body mass index (BMI) at age 50, AD arrives almost seven months earlier. This extra weight in midlife also correlated with more severe AD pathology in the subset of people who underwent brain scans or autopsy. The researchers, led by Madhav Thambisetty at the National Institute on Aging in Bethesda, Maryland, reported that these effects occurred independently of cardiovascular risk factors such as hypertension, stroke, or diabetes. The findings point to the importance of maintaining a healthy weight in midlife, hopefully long before dementia creeps in.
"The bottom line is that this is another piece of evidence that being overweight is associated with adverse cognitive outcomes, and this is particularly true for midlife," said Kristine Yaffe of the University of California, San Francisco, who was not involved in the study.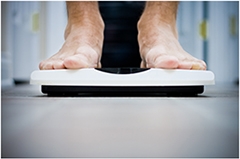 An existing body of evidence already deems midlife obesity a risk factor for dementia later on (e.g., Whitmer et al., 2005; Whitmer et al., 2008; Anstey et al., 2011). The relationship becomes murkier later in life, with some studies indicating that overweight people enjoy some protection from dementia, while underweight people are at a greater risk (see Fitzpatrick et al., 2009; Strand et al., 2013). Fanning the flames of confusion even more, a controversial study published earlier this year reported that obesity in mid- or late life protected against dementia, while being underweight boosted risk (see Apr 2015 news).
While the preponderance of evidence points to midlife obesity as increasing the risk of dementia, research has not examined whether being overweight in midlife affects the age at onset of AD. Such a relationship would be important, as delaying the onset of dementia by even a short time could dramatically reduce the overall burden of disease. First authors Yi-Fang Chuang and Yang An and colleagues set out to investigate this question using data from the Baltimore Longitudinal Study of Aging (BLSA), a health study spanning more than half a century. Its data reach back to 1958, though the researchers only considered participants who enrolled after 1978, when women were added.
The nearly 1,400 participants, who averaged 59 years of age at baseline, were assessed for BMI as well as cognition every two years for an average of 14 years follow-up. The researchers then measured the relationship between a person's BMI at age 50 with his or her age at onset of Alzheimer's disease, which was ultimately diagnosed in just over 10 percent (142) of the participants at an average age of 83 years. When a person entered the study after age 50, the researchers used all available BMI measurements to estimate what his or her BMI likely had been at age 50.
The researchers found that for each unit increment in BMI, the age at onset of AD decreased by 6.7 months. To arrive at this number, they used an accelerated failure rate (AFT) model, which measures how much a given covariate (in this case, BMI) affects the time it takes for a certain event (AD onset) to occur. The average age at onset for a person with a midlife BMI of 20 (considered healthy) was about 86, while an obese person with a BMI of 35 in middle age was diagnosed with AD at an average of 77 years of age. This BMI-dependent hastening of AD occurred independently of education and cardiovascular risk factors including hypertension, hypercholesterolemia, stroke, diabetes, and smoking.
The researchers found no significant association between age at onset and either gaining or losing weight after age 50. Maria Glymour of the University of California, San Francisco, found this result interesting. "There is a puzzle here: Why is BMI at one age associated with AD risk but losing weight does not predict later onset? We don't know the answer to that yet, but this study is a good step forward to addressing that critical next question," she wrote.
Thambisetty cautioned against drawing strong conclusions about the association between late-life BMI and age at onset, because confounding variables increase as a person gets closer to the age at onset. For example, being underweight in late life has been associated with increased dementia risk, but some researchers attribute this phenomenon to reverse causation, suggesting that weight loss is a consequence of incipient dementia (Suemoto et al., 2015). Alternatively, being underweight in old age could be a sign of other health problems that could hasten cognitive decline. "That is one reason why we chose to look at BMI in midlife," Thambisetty said. "It is a time point when the effect of other confounding factors on BMI are perhaps minimized."
Another factor that could have mitigated the influence of confounding factors in this study is the relatively high health and educational attainment of the BLSA cohort. The predominantly white group may not have been diverse enough to be affected by cardiovascular or educational variables. For example, Thambisetty noted that people with cardiovascular risk factors in this group were likely given the most up-to-date treatments, which would have lessened the contribution of these risk factors more than they would have been lessened in a diverse sample.
Could midlife obesity hasten AD by goading the disease's hallmark plaques and tangles? To find out, the researchers looked to autopsy data from a subset of 191 people in the study. They found that higher midlife BMI was significantly associated with a greater burden of neurofibrillary tangles, but not with a greater amyloid plaque load. A small subset of 75 cognitively normal people in the study underwent amyloid PET scans. The researchers found that midlife BMI was marginally associated with amyloid burden throughout the cortex as well as in the precuneus—a brain region afflicted by amyloid deposition early in preclinical AD (see Mintun et al., 2006).
Although neuropathology or brain-scan data was available on only a small subset of participants, this connection between midlife BMI and AD pathology was a key finding in the paper, commented Yaffe. "These results suggest that midlife BMI is not only associated with changes of a vascular nature, but also directly affects AD pathology. That is the most important contribution of the study," she said.
Yaffe noted that similar vascular-independent effects on AD pathology have recently been reported in the context of diabetes, where insulin plays a role in Aβ trafficking. While the researchers controlled for diabetes in the current study, Yaffe said that most obese people likely have some level of insulin resistance, which could cause metabolic changes that affect amyloid.
"Fat is not inert," Yaffe said. "It secretes inflammatory markers and factors that influence metabolism. Obesity may thus cause an unstable metabolic environment, inflammation, and real alterations of insulin resistance that converge on amyloid transport."
Thambisetty agreed that alterations in metabolism and systemic inflammation could precipitate AD pathology, and thus link midlife obesity with an earlier age at onset of AD. The obvious take-home message from this and other studies, Thambisetty noted, is that maintaining a healthy weight in midlife could have a lasting benefit many years down the road.—Jessica Shugart
References
News Citations
Paper Citations
Further Reading
Papers
Whitmer RA, Gunderson EP, Barrett-Connor E, Quesenberry CP, Yaffe K. Obesity in middle age and future risk of dementia: a 27 year longitudinal population based study.

BMJ

. 2005 Jun 11;330(7504):1360. PubMed.
Kivipelto M, Ngandu T, Fratiglioni L, Viitanen M, Kåreholt I, Winblad B, Helkala EL, Tuomilehto J, Soininen H, Nissinen A. Obesity and vascular risk factors at midlife and the risk of dementia and Alzheimer disease.

Arch Neurol

. 2005 Oct;62(10):1556-60. PubMed.
Xu WL, Atti AR, Gatz M, Pedersen NL, Johansson B, Fratiglioni L. Midlife overweight and obesity increase late-life dementia risk: a population-based twin study.

Neurology

. 2011 May 3;76(18):1568-74. PubMed.
Primary Papers
Chuang YF, An Y, Bilgel M, Wong DF, Troncoso JC, O'Brien RJ, Breitner JC, Ferruci L, Resnick SM, Thambisetty M. Midlife adiposity predicts earlier onset of Alzheimer's dementia, neuropathology and presymptomatic cerebral amyloid accumulation.

Mol Psychiatry

. 2015 Sep 1; PubMed.