Does Neural Activity Drive DNA Repair?
Unlike most cell types, which continuously divide, neurons have to last for the life of the organism. How do they do that? One way neurons stay healthy is by repairing their DNA as they transcribe it. That is the upshot of a paper in the February 15 Nature by Michael Greenberg at Harvard Medical School and colleagues. The researchers found that the neuronal transcription factor NPAS4 doubles as a recruiter of the DNA repair complex NuA4.
In active neurons, the transcription factor NPAS4 drives gene expression.
It also recruits repair machinery to stitch up double-strand DNA breaks.
Without it, damage in DNA piles up with age.
Importantly, NPAS4 binds promoters and enhancers of genes that are activated by synaptic transmission. These DNA regions are prone to double-strand breaks, the kind NuA4 can repair. In mice, knocking out NPAS4 allowed DNA damage to accumulate. It also halved their lifespan. Because all these mouse molecules are conserved in the human brain, Greenberg believes the same processes likely occur there.
Other researchers were intrigued by the implications for disease. "The results of the study … point to a potential link with neurodegenerative disorders, for which aging is the strongest risk factor," Ekaterina Rogaeva at the University of Toronto wrote to Alzforum. Bruce Yankner, also at Harvard, agreed. "It would be of interest to explore whether genetic variants in this [NPAS4-NuA4] pathway predispose to age-related neurodegeneration," he suggested (full comments below).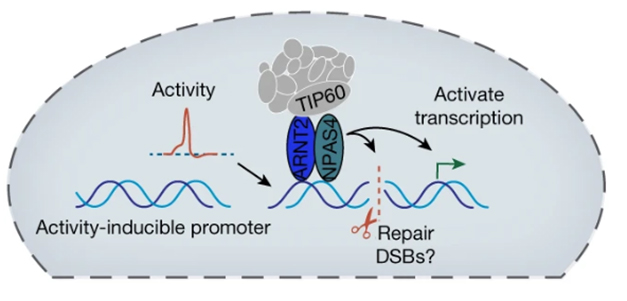 Cleanup Crew. NPAS4 (green) and its binding partner ARNT2 (blue) help recruit the NuA4 repair complex (gray) to genes activated by synaptic transmission, cleaning up DNA damage caused by transcription. [Courtesy of Pollina et al., Nature.]
Previously, Greenberg and others had identified NPAS4 as a gene switched on by neural activity that activates other genes and promotes memory formation (Lin et al., 2008; Jan 2012 news).
To learn more about how NPAS4 affects neurons, joint first authors Elizabeth Pollina and Daniel Gilliam injected kainic acid into the abdomens of transgenic mice that expressed labeled NPAS4. This induced seizures, forcing NPAS4 expression in the brain. The authors purified the labeled transcription factor from the mice's hippocampi and used mass spectrometry to identify proteins bound to it. They discovered the NuA4 complex, which is known to facilitate repair of dsDNA breaks (Ikura et al., 2000; Sun et al., 2009). This is especially important in neurons, because they cannot clean up their DNA during replication like dividing cells can.
So far so good, but was NPAS4, in fact, essential for DNA repair? The authors mapped the chromosomal sites where NPAS4 bound, finding it at the promoters and enhancers of highly inducible genes. As expected, when neurons were electrically stimulated, double-strand breaks spiked at these sites. Neuronal activity comes with this type of DNA damage, perhaps because the breaks help untangle DNA-RNA loops that form at active transcription sites (Suberbielle et al., 2013; Madabhushi et al., 2015; Delint-Ramirez et al., 2022). By 10 hours after stimulation, most of these breaks had been repaired. However, when the authors switched off NPAS4 using a conditional knockout, the damage lingered, with about 50 percent more dsDNA breaks remaining at 10 hours than in wild-type mice.
"The surprise was that NPAS4-NUA4 dually induced transcription in response to neuronal stimulation, and simultaneously protected those sites from DNA damage," Cynthia McMurray at Lawrence Berkeley National Laboratory, California, wrote to Alzforum. "This work provides a compelling mechanism by which cells work out an efficient way to maintain transcript stimulation and integrity during synaptic activity."
Since DNA damage accrues with age, the authors wondered if NPAS4 might counteract this in neurons. They isolated neuronal nuclei from the hippocampi of 3-month-old, 12-month-old, and 24-month-old wild-type mice. Promoter regions that do not bind NPAS4 accumulated dsDNA breaks, with old animals having about twice as many as did the young ones. At NPAS4 sites, however, the amount of DNA damage stayed constant across the lifespan, suggesting that these sites were protected.
This may affect overall longevity as well, since the NPAS4 knockout mice died at about 1 year old, half the normal lifespan. Greenberg noted that this could be due to accelerated aging, or some other consequence of NPAS4 depletion, such as excessive seizures.
Might this DNA repair mechanism go awry in neurodegenerative disease? Prior research hints at this possibility. For example, neuronal activity turns on amyloid precursor protein expression, and in different studies, either full-length APP or its AICD fragment binds to the Tip60 component of the NuA4 complex to promote DNA repair (Hass and Yankner, 2005; Mar 2009 news). These data suggest that high-octane cleavage of APP, as occurs in some familial Alzheimer's disease cases, might interfere. "An intriguing possibility is that APP, which is integral to the pathology and genetics of Alzheimer's disease, might modulate the activity or function of the NPAS4-NuA4-Tip60 complex," Yankner said.—Madolyn Bowman Rogers
References
News Citations
Paper Citations
Primary Papers
Pollina EA, Gilliam DT, Landau AT, Lin C, Pajarillo N, Davis CP, Harmin DA, Yap EL, Vogel IR, Griffith EC, Nagy MA, Ling E, Duffy EE, Sabatini BL, Weitz CJ, Greenberg ME. A NPAS4-NuA4 complex couples synaptic activity to DNA repair.

Nature

. 2023 Feb;614(7949):732-741. Epub 2023 Feb 15 PubMed.