Clotting Protein from Blood Incites Microglia, and Synapses Die
A damaged and leaky blood-brain barrier contributes to dementia, but just how has not been clear. Previous work implicated the clotting protein fibrinogen, which, when it penetrates the brain and coagulates, activates microglia and leads to inflammation and neurodegeneration. Now, Katerina Akassoglou's group at the Gladstone Institutes, University of California, San Francisco, shows that in a mouse model of amyloid deposition, fibrinogen deposits incite microglia to destroy synapses, leading to cognitive decline. Synapse loss did not require amyloid. Preventing fibrinogen binding to the CD11b receptor on microglia improved cognition in the mice. The work appeared February 5 in Neuron.
Once inside the brain, fibrinogen from blood induces synapse loss.
In AD transgenic mice, it causes cognitive decline.
Blocking interaction between fibrinogen and microglial receptor improves cognition.
"This interesting work shows that fibrinogen deposition is a mechanism linking microglia activation/neuroinflammation and neuronal dysfunction in mouse models of Alzheimer's disease. Importantly, the results suggest that targeting fibrinogen might be therapeutically beneficial in some cases of AD," said Sidney Strickland of Rockefeller University in New York.
In older people, damage to blood vessels in the brain and amyloid burden independently and additively predict cognitive decline (Jan 2019 news). Scientists know that Aβ oligomers cause synaptic pruning by microglia (Apr 2016 news). The new findings suggest fibrinogen and Aβ activate parallel immune responses that lead to synapse loss. "These findings are in harmony with a new recognition of Alzheimer's disease as a multifactorial disease with multiple contributors to its pathophysiology, including vascular dysfunction," wrote Axel Montagne, Keck School of Medicine, University of Southern California, Los Angeles (see comment below).
As the Akassoglou lab previously discovered, when blood leaks into the brain, cleavage of fibrinogen by thrombin uncovers a cryptic binding site for the CD11b receptor on microglia. Through that receptor, fibrinogen stimulates inflammation and the release of toxic free radicals. A monoclonal antibody that blocks the fibrinogen-CD11b interaction prevented neurodegeneration in mouse models of AD or multiple sclerosis, they showed (Oct 2018 news).
In the new study, authors Mario Merlini, Victoria Rafalski, and Pamela Rios Coronado took a closer look at brain fibrinogen in 5xFAD mice, a model of rapid amyloid accumulation, and in human AD brain. Using a polyclonal antibody to fibrinogen, they detected immunoreactivity in some cortical amyloid plaques, but not all. They also found amyloid-free fibrinogen deposits peppered throughout the mouse cortex. In human brain tissue, parenchymal deposits of fibrinogen were more frequent in samples from people with AD than in age-matched, nondemented controls, and appeared even in areas free of Aβ plaques.
Repeated two-photon imaging in living mice revealed progressive dendritic spine loss around Aβ plaques, as expected. The loss occurred whether fibrinogen was present or not. Surprisingly, spines were lost around fibrinogen-only deposits as well, even when they were far from Aβ plaques.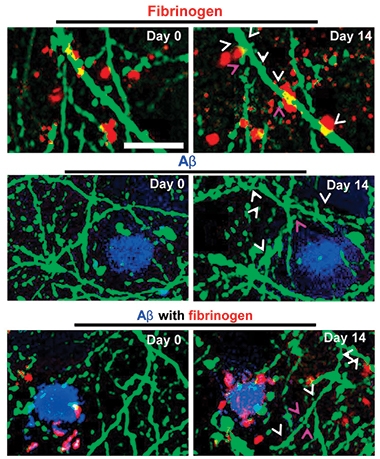 To determine whether fibrinogen alone could damage dendrites, the scientists injected purified human or mouse fibrinogen into the brains of healthy mice. Three days later, they detected localized dendrite and spine loss around the injection sites. Injecting whole plasma, a source of abundant fibrinogen, also caused spine loss, but plasma from fibrinogen-knockout mice did not. Spine loss induced by fibrinogen required CD11b, as injecting fibrinogen had no effect in CD11b-knockout mice. In the brain, microglia exposed to fibrinogen assumed an activated morphology and produced reactive oxygen species (ROS) that damaged neurons. An ROS inhibitor reduced spine loss and partially preserved dendrites in the mice.
"Our results suggest that cerebral extravasation of blood proteins causes neurite loss and that fibrinogen is a major mediator of this effect," said Akassoglou. "We can now start connecting the dots between blood leaks in the brain, activation of the immune system, and the elimination of neuronal connections that are important for memory and cognition," she said.
What about cognition in the mice that were losing spines? To find out, the investigators crossed the 5xFAD mice with mice expressing a mutated fibrinogen that did not bind CD11b. Whereas 10-month-old 5xFAD mice had severe trouble remembering and avoiding an unpleasant stimulus, the 5xFAD/mutant fibrinogen mice remembered almost as well as wild-type mice. They also showed little penchant for hyperactivity, another hallmark of 5xFAD mice.
The 5xFAD/fibrinogen mutant mice had up to 50 percent higher neuronal and synaptic markers in the dentate gyrus, and fewer hippocampal Aβ plaques. By zeroing in on CD11b binding as the critical interaction, the results expand previous work from the Strickland lab, indicating fibrinogen knockout in AD mice improved cognition by reducing dystrophic neurites, lowering amyloid plaque load, and preventing neurodegeneration (Cortes-Canteli et al., 2015; Cortes-Canteli et al., 2010).
"It would be of interest to elucidate at which stage of the disease process this mechanism is active. Is it a terminal event or an early driver of pathology and dysfunction?" asked Costantino Iadecola in a message to Alzforum. "Inasmuch as the blood-brain barrier permeability increase is an early event in AD, the data would suggest that targeting this mechanism may be beneficial, as suggested by the cognitive benefit observed in the mouse model," he added (see comment below).—Pat McCaffrey
References
News Citations
Research Models Citations
Paper Citations
Cortes-Canteli M, Mattei L, Richards AT, Norris EH, Strickland S. Fibrin deposited in the Alzheimer's disease brain promotes neuronal degeneration.

Neurobiol Aging

. 2015 Feb;36(2):608-17. Epub 2014 Oct 31 PubMed.
Cortes-Canteli M, Paul J, Norris EH, Bronstein R, Ahn HJ, Zamolodchikov D, Bhuvanendran S, Fenz KM, Strickland S. Fibrinogen and beta-amyloid association alters thrombosis and fibrinolysis: a possible contributing factor to Alzheimer's disease.

Neuron

. 2010 Jun 10;66(5):695-709. PubMed.
Further Reading
Papers
Sweeney MD, Montagne A, Sagare AP, Nation DA, Schneider LS, Chui HC, Harrington MG, Pa J, Law M, Wang DJ, Jacobs RE, Doubal FN, Ramirez J, Black SE, Nedergaard M, Benveniste H, Dichgans M, Iadecola C, Love S, Bath PM, Markus HS, Salman RA, Allan SM, Quinn TJ, Kalaria RN, Werring DJ, Carare RO, Touyz RM, Williams SC, Moskowitz MA, Katusic ZS, Lutz SE, Lazarov O, Minshall RD, Rehman J, Davis TP, Wellington CL, González HM, Yuan C, Lockhart SN, Hughes TM, Chen CL, Sachdev P, O'Brien JT, Skoog I, Pantoni L, Gustafson DR, Biessels GJ, Wallin A, Smith EE, Mok V, Wong A, Passmore P, Barkof F, Muller M, Breteler MM, Román GC, Hamel E, Seshadri S, Gottesman RF, van Buchem MA, Arvanitakis Z, Schneider JA, Drewes LR, Hachinski V, Finch CE, Toga AW, Wardlaw JM, Zlokovic BV. Vascular dysfunction-The disregarded partner of Alzheimer's disease.

Alzheimers Dement

. 2019 Jan;15(1):158-167. PubMed. Correction.
Petersen MA, Ryu JK, Akassoglou K. Fibrinogen in neurological diseases: mechanisms, imaging and therapeutics.

Nat Rev Neurosci

. 2018 May;19(5):283-301. Epub 2018 Apr 5 PubMed.
Primary Papers
Merlini M, Rafalski VA, Rios Coronado PE, Gill TM, Ellisman M, Muthukumar G, Subramanian KS, Ryu JK, Syme CA, Davalos D, Seeley WW, Mucke L, Nelson RB, Akassoglou K. Fibrinogen Induces Microglia-Mediated Spine Elimination and Cognitive Impairment in an Alzheimer's Disease Model.

Neuron

. 2019 Mar 20;101(6):1099-1108.e6. Epub 2019 Feb 5 PubMed.