Don't Be an Enrollment Loser: Throw Your Own Swab-a-Palooza!
The enormous challenges of recruitment loomed large at the 10th annual Clinical Trials on Amyloid Disease conference, held November 1–4 in Boston. Researchers are seeking new ways of identifying legions of eligible volunteers to enroll in clinical trials for Alzheimer's disease. Prevention trials in particular are seeking people who are cognitively healthy or have but the subtlest symptoms. They are difficult to identify and enlist. Several speakers at CTAD cited a paper in which Jeffrey Cummings of the Cleveland Clinic Lou Ruvo Center for Brain Health in Las Vegas had tallied the number of participants needed for existing clinical Alzheimer's trials at 55,000, not even counting future prevention trials (Cummings et al., 2017). Where will trialists find the right people? "It's all about recruitment now," Stephen Salloway of Brown University's Butler Hospital in Providence, Rhode Island, told Alzforum.
New Alzheimer's trials require scores of participants who have no symptoms. How to find them?
A project offering free genetic testing has identified thousands of potential candidates for prevention trials.
Online registries are becoming useful for engagement and recruiting.
One place to trawl is online. Recent initiatives use web-based platforms to assemble cohorts of trial-ready volunteers who can be referred to studies quickly and en masse. Two U.S.-based online registries, the Alzheimer's Prevention Registry (APR) and the Brain Health Registry (BHR), are redefining the art of recruitment and referral. Overseas, European scientists are building their own online platform with the European Prevention of Alzheimer's Disease Consortium (EPAD). All three updated the audience at CTAD. Tools such as desktop DNA analyzers come in handy, as well.
Jessica Langbaum of the Banner Alzheimer's Institute in Phoenix talked about GeneMatch. Part of the APR, GeneMatch supports prevention trials that enroll based on ApoE4 status. By joining the APR, the registry's 288,000 enrollees have expressed an interest in participating in Alzheimer's prevention studies. GeneMatch offers them ApoE genotyping via mail-in cheek swab kits (Dec 2015 news). Participants must be healthy, between 55 and 75, live in the U.S., and have never been diagnosed with MCI, AD, or dementia. A Clinical Laboratory Improvement Amendments (CLIA)-certified lab analyzes their DNA and stores the information in a secure database. GeneMatch does not disclose test results, but people may learn their status if they join a drug trial that discloses genotypes.
In the two years since it started, GeneMatch has screened more than 45,000 people, and identified just over 1,000 homozygote and 9,000 heterozygote ApoE4 carriers, Langbaum told Alzforum. The response rate is good: Two in three people who receive the swab kit mail it to the lab within 90 days.
Online enrollment as done by both APR and BHR complements local registries and other outreach efforts, but it does not replace them. "Online and local go hand in hand," said Langbaum. For example, GeneMatch sends kits to its 25 partner sites, including one in Hawaii, where the partners distribute and collect the kits locally.
"We hold local swabbing parties, where the GeneMatch sign-up rate is 95 percent," Pierre Tariot, co-director of the API at Banner, told Alzforum. "Jeffrey Cummings calls them Swab-a-Paloozas," said Tariot. Weiner founded the BHR at the University of California, San Francisco.
"I spend a lot of time in my community doing outreach. People are very interested and receptive," concurred Salloway, who hosted a swabbing party for GeneMatch recently. "At events, I ask everyone to tell five other people about what they learned, and to host swabbing parties themselves," Salloway told Alzforum.
Does this get people into trials? Last July, on the basis of GeneMatch results, the Alzheimer's Prevention Initiative emailed 1,068 people, inviting them to screen for the Generation prevention trials program (Jul 2014 conference news). Sponsored by Novartis, the Generation 1 and 2 trials are massive undertakings, aiming to enroll 3,340 E4 carriers or homozygotes. Most of the recipients opened the email, and 493 accepted the invitation. Langbaum said she does not know yet how many ultimately enrolled in a Generation trial, but she is tracking those numbers. As of October 2017, 39 of the trial sites had received referrals in this way. "GeneMatch is Novartis' leading recruitment tool for Generation in the U.S.," Langbaum said.
Another way to ramp up genotype-based recruitment is the Spartan Cube, an ApoE desktop analyzer made by Ottawa-based Spartan Bioscience, Inc. A sleek, 4-inch cubed device that looks like a little aluminum speaker, it renders an ApoE genotype result within the hour. This makes it well-suited for local outreach events, where hosts can line up cubes side by side so that multiple people can learn their ApoE genotype on the spot. No mailing, no waiting.
At CTAD, Sharon Cohen of the Toronto Memory Program and colleagues reported on a poster that the cube boosted standard recruitment strategies in a two-site study. For one, when the Toronto Memory Program added the cube to its annual booth offering memory screening at a "Walk for Memories" community event, uptake shot up eightfold. Many more people were interested in ApoE-cum-memory-testing than in memory testing alone, and those who learned their ApoE genotype were more inclined to then join a clinical trial. For another, when the Pacific Research Network in San Diego upgraded its weekly memory screening advertisements in a local newspaper by also offering on-site ApoE testing with the Spartan Cube, that site saw its response rate increase 4.6-fold.
However, Salloway and other investigators cautioned, this ApoE test remains research-grade at the moment because it is not CLIA-approved. This means that, at least in the U.S., Alzheimer's clinicians will not use it to formally disclose ApoE genotype to people. Anyone who learned his or her ApoE4 genotype by way of the cube would have to repeat the test CLIA-grade as part of screening for the Generation trial, for example. Even so, Novartis is supporting the use of the Spartan Cube in Canada as an outreach tool.
Where are the Guys?
A recurring concern with online recruiting is the overabundance of women who sign up. GeneMatch participants are 78 percent female, which reflects the makeup of the larger APR, and indeed other registries and natural history studies in the field. "It's not easy to get healthy individuals to join, and those who do are predominantly highly educated, white, and female," Langbaum said. "That's OK if the women are the health-info gatherers and send their men for trials, but it will be a problem if we cannot get men into studies," she added. To do that, APR will start running ads targeting men. To address a related problem—the under-representation of African-American and Latino minorities—Langbaum said APR is updating its language and content to widen the registry's reach, including translating the site into different languages.
So far, the registry has promoted 52 studies, Langbaum said. She wants to add more. In general, APR metrics such as open rates and click rates on its monthly newsletter exceed industry averages, indicating strong member engagement. Going forward, Langbaum will continue analyzing email subject line, content, and other parameters to figure out what works and what doesn't. "We are very interested in the science of recruitment," she said.
APR promotes the Brain Health Registry, and several thousand APR members have joined the BHR, as well.
At CTAD, Shannon Finley, UCSF, recapped recent work at the BHR, the online longitudinal research and trial referral site launched in 2014 (Jun 2014 news). Unlike APR, the BHR asks members to provide demographic and health data, and to complete an online cognitive testing battery. Registrants are prompted every six months to repeat the cognitive testing. Like the APR, BHR refers participants to outside clinical trials.
To date, BHR has 55,500 members, and as with APR, registrants are mostly white and female. More than half are over 65, and 48 percent report memory concerns.
The BHR currently recruits for 16 clinical trials. So far, the registry has sent referral invitations to 16,000 members, of whom 4,000 responded with interest. Of those, about 2,000 have been placed into observational studies, fewer than 50 into treatment trials. Approximately 1,700 have signed up for optional data sharing between BHR and the trial site.
Perhaps the biggest challenge for the BHR is retention, Finley said. The registry has a committed cohort of more than 2,000 returnees who have faithfully completed cognitive testing every six months for 42 months. However, the six- month drop-off rate is 50 percent, Finley told Alzforum. One reason may be that BHR does not share cognitive results with its members. In a survey done this year, most respondents said they wanted to know how they did on the tests. More than half said they joined BHR to "learn more about [their] own brain health by taking cognitive tests and getting scores," Finley said in her talk.
"Many of our registrants are the worried well—they are cognitively normal but concerned about memory. They want reassurance they are doing OK," Finley told Alzforum. Because BHR is a research study, releasing data to participants is complicated. The tests are not diagnostic, and the investigators worry about potential harm to subjects from learning their cognitive status. Providing test results might confound future data collection. Monica Camacho, also at UCSF, told Alzforum the BHR team is working on some kind of data release, but has no timeline for implementation.
Finley emphasized that the BHR is adapting to the needs of its population and study partners in other ways, as well. For example, BHR's original referral model involved looking at inclusion/exclusion criteria from trials and referring only prescreened BHR members to a given trial. Alas, BHR staff found that the trial sites preferred larger numbers of referrals without preselection, so BHR now offers direct-to-site referrals. In this model, BHR provides customized landing pages for trials, where people can sign up for studies directly, without enrolling in BHR. For ADNI3, for example, the BHR hosts an online recruiting site where 1,116 people so far have completed a brief series of screening questions and 296 have been provided local ADNI3 study site contact information. This model simplifies regulatory issues, too, as it does away with data sharing or online monitoring of a trial cohort through BHR.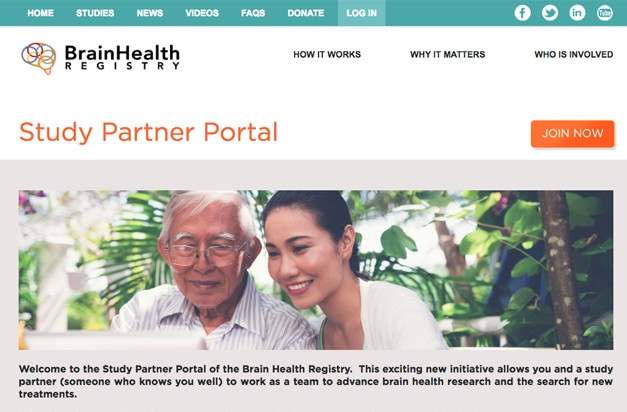 Pairing Up. The Brain Health Registry now invites members to recruit spouses, family members, or trusted friends as study partners, as is also required by many clinical trials. [Image courtesy of BHR.]
In another new initiative, the BHR has started enrolling caregiver/study partners. AD research has established that informants such as spouses or adult children often describe early stages of decline more accurately than the affected person, who may lose insight or deny. So far, the BHR has 4,286 registered pairs, of whom approximately 80 percent are spouses and 85 percent live together. At CTAD, Rachel Nosheny of the BHR presented data from 2,000 of those dyads. She reported that, among registrants with a diagnosis of MCI or AD, study partners outperformed self-reporting at picking up cognitive decline, suggesting that informants may help identify candidates for MCI or dementia trials.
The UCSF scientists have started a co-enrollment program. This means participants in outside research studies also join BHR, which then contributes online longitudinal cognitive data. So far, BHR has co-enrolled 900 participants from three imaging studies, including ADNI and IDEAS. In addition, BHR offers Software as a Service (SaaS), which provides BHR tools for other research sites to use, without control by BHR. Sites can use a copy of the BHR, or can format a new custom-programmed interface. Two studies are currently using this service, a Parkinson's disease study at UCSF and a dementia study in the Netherlands.
"The reason for so many different offers is that we are trying to help the field as best we can. Originally, we thought our referral model was what the field needed, but since starting, we have learned a lot. We want to meet people where they are, to get people into trials as fast as we can," Finley told Alzforum.
Across the pond in Europe, registry building is continuing apace, as well. At CTAD, Craig Ritchie of the University of Edinburgh gave a progress update on the work of the European Prevention of Alzheimer's Project (Aug 2016 conference news). EPAD is a large, multipronged initiative to mine observational aging studies, aka "parent cohorts," across European countries for suitable participants in a virtual AD prevention trial registry. The participants are then characterized extensively, both on cognition and biomarkers, to form a standing cohort of deeply phenotyped people in the preclinical and earliest symptomatic stages of AD. These people can feed an envisioned platform of continuous Phase 2, proof-of-concept, adaptive secondary prevention trials.
At CTAD, Ritchie said that three years into this ambitious effort, EPAD has built the requisite components and is getting ready for the first trials to start in 2018. EPAD sites—called Trial Delivery Centres, or TDCs in EPAD-speak—started opening in May 2016. As of November 2017, around 380 participants had enrolled across 10 sites, and six more sites were due to open by the end of the year, Ritchie said.
A first look at this nascent baseline population shows that, unlike APR and BHR, EPAD thus far is enrolling men and women in equal numbers. Participants tend to be highly educated, have a family history of AD, and 85 percent have a CDR of zero, with the rest CDR 0.5. About 28 percent are amyloid-positive, especially those who are older, carry ApoE4, and have a family history, Ritchie said.
In general once a given registry cohort is in place, researchers can evaluate various screens to learn which best select trial participants from among them. Geraint Price, Imperial College London, explored ways of doing that in an older registry, the Cognitive Health in Ageing Register: Investigational, Observational and Trial. CHARIOT contains contact information for 28,000 adults between 55 and 80 without dementia, who were recruited from primary care practices in the United Kingdom (Larsen et al., 2015).
Price selected 711 registrants with subjectively reported cognitive decline who had a reliable informant and no significant comorbidities. For a brief screening pass, he used the informant AD-8 screening test (Galvin et al., 2007; Nov 2010 webinar) and the memory part of the Rey Auditory Verbal Learning Trials (RAVLT). With this combination, only 5 percent were eligible for referral for MCI trials. Next, Geraint tried the full RAVLT, the Montreal Cognitive Assessment, and the Informant Questionnaire on Cognitive Decline (IDCODE). That combination sent more participants into an expert adjudication process and increased referral eligibility to 19 percent. Such data suggests that brief prescreening tools including a delayed recall/recognition component, along with a clinical adjudication procedure, can increase the screening sensitivity for MCI, while self-reported cognitive difficulties do not.
What about mining electronic health records, aka EHR? After all, they hold a wealth of information on millions of people. Could they offer recruitment opportunities? Unfortunately, no, said Peter Schueler of the clinical development research organization ICON in Langen, Germany. Schueler compared the BHR population and two clinical-data aggregation providers, TriNetX in the U.S. and InSite in the European Union. Together, the clinical data covered nearly 50 million people, 135,000 of whom were diagnosed with AD. However, the EHR populations were far sicker than Brain Health participants, with high levels of heart disease, hypertension, diabetes, cancer, and stroke. In addition, both quality and completeness of the data in the EHRs fell short of what is needed to prescreen for trials, Schueler found. Only registries and study-sponsored web pages can pre-identify trial candidates, he concluded.
These entities need to boost incentives for people to participate, by providing feedback on ongoing testing or enabling members to interact and share data with other members of a given online community. As a success story, Schueler cited PatientsLikeMe, which has grown to 600,000 members and at present attracts about 10,000 new sign-ups per month. "We need a patient-centered ecosystem of AD-specific EHRs, where the participant owns their data and puts them in the registry. It would be a moving, living system. The tech is in place to do that, we just need to establish it," Schueler said.—Pat McCaffrey and Gabrielle Strobel.
References
News Citations
Webinar Citations
Paper Citations
Cummings J, Lee G, Mortsdorf T, Ritter A, Zhong K. Alzheimer's disease drug development pipeline: 2017.

Alzheimers Dement (N Y)

. 2017 Sep;3(3):367-384. Epub 2017 May 24 PubMed.
Larsen ME, Curry L, Mastellos N, Robb C, Car J, Middleton LT. Development of the CHARIOT Research Register for the Prevention of Alzheimer's Dementia and Other Late Onset Neurodegenerative Diseases.

PLoS One

. 2015;10(11):e0141806. Epub 2015 Nov 23 PubMed.
Galvin JE, Roe CM, Coats MA, Morris JC. Patient's rating of cognitive ability: using the AD8, a brief informant interview, as a self-rating tool to detect dementia.

Arch Neurol

. 2007 May;64(5):725-30. PubMed.
External Citations
Further Reading
No Available Further Reading