CONFERENCE COVERAGE SERIES
Alzheimer's Disease Research Summit 2019
Bethesda, Maryland, U.S.A.
14 – 15 March 2019
NIH Summit Sets Agenda for AD-Related Dementias
A busy hub of subcommittee meetings and brainstorming sessions, the Alzheimer's Disease-Related Dementias Summit 2019, held March 14–15 at the National Institutes of Health, Bethesda, Maryland, articulated research priorities for the next three to10 years. The summit followed on from the 2013 and 2016 events on the same theme, all of which are mandated by the National Alzheimer's Project Act (NAPA). It covered seven major topics, split into 20 focus areas that yielded 47 research recommendations each given a priority ranking of one to four. A draft can be found at the NIH website.
Based on feedback, Roderick Corriveau, National Institute of Neurological Disorders and Stroke (NINDS), Bethesda, who co-organized the summit with Julie Schneider from Rush University, Chicago, will submit final recommendations to the NINDS National Advisory Council for review in September, then to the NAPA Advisory council in November. Corriveau told Alzforum he expects the recommendations to become milestones in the national plan to address AD and related dementia in early 2020. These research priorities will help the NIH steer research funding and formulate annual bypass budget proposals for Congress.
What might those milestone look like? They will focus on the seven major topics of this summit:
Multiple Etiology Dementias—Diagnosing Dementia in the 21st Century
Health Disparities in AD/ADRD
Lewy Body Dementia
Dementia Nomenclature
Vascular Contributions to Cognitive Impairment and Dementia
Frontotemporal Lobar Degeneration
Emerging Scientific Topics
The mixed causes of dementia continue to vex scientists, and many of the summit's recommendations grappled with how to study, characterize, diagnose, track, and ultimately treat the different underlying pathologies. New at the 2019 summit, an emerging-topics session addressed the contribution of TDP-43 pathology and traumatic brain injury to dementias. Schneider and Kristen Dams-O'Connor, Icahn School of Medicine, Mount Sinai, New York, ran this session, and Corriveau believes this new topic reflects a strength of the summit process. "We don't know everything we need to know about dementia so it is important that our planning is flexible enough to review and embrace new concepts," he told Alzforum. Schneider noted how TDP-43 pathology crops up in more than half of people with AD pathology, 90 percent of those with hippocampal sclerosis, and many with frontotemporal degeneration. It correlates with worse CDR and MMSE scores. Building on this, Peter Nelson, University of Kentucky, Lexington, introduced the concept of a new disease entity he called limbic-predominant age-related TDP-43 encephalopathy, or LATE. As its name suggests, it differs from FTLD and AD in having TDP-43 inclusions restricted mostly to limbic regions. One summit recommendation calls for scientists to better grasp the molecular, pathological, and phenotypical differences among TDP-43 proteinopathies.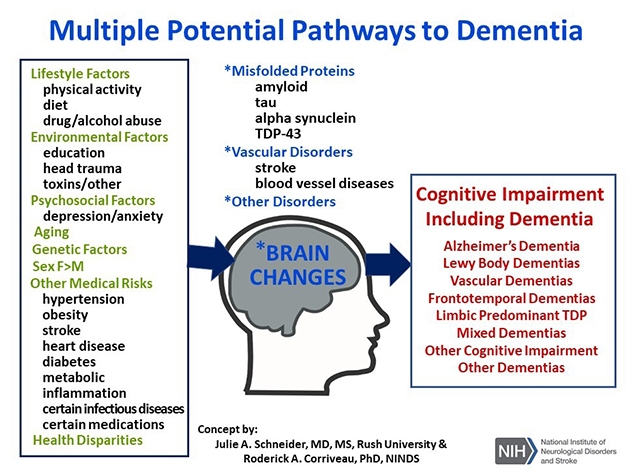 Mixed Etiology. An overarching theme at the ADRD summit. [Courtesy of Julie Schneider and Roderick Corriveau.]
In the multiple-etiology diagnosis session, chairs David Knopman, Mayo Clinic, Rochester, Minnesota, and Kate Possin, University of California, San Francisco, outlined eight recommendations, many carried over from the 2016 summit. New was a call to capitalize on research findings to develop care programs that help patients and caregivers. Also new since 2016 is that dementia nomenclature has been elevated to a priority in its own right. Under the guidance of co-chairs Ron Petersen, Mayo Rochester, and Angela Taylor, Lewy Body Dementia Association, Lilburn, Georgia, the nomenclature subcommittee proposed to establish three working groups. A research group will develop, refine, and clarify medical nomenclature of diseases in the AD/ADRD spectrum; a second group will adapt the research nomenclature for clinical practice; and a public stakeholder group will develop a nomenclature for general use that is scientifically accurate, clinically useful, but not stigmatizing. The three working groups are expected to propose new ideas within two years. Corriveau stressed that they will be integrated from the start, with representatives from the public stakeholder group in the research group and vice versa, and likewise for the clinical practice and other groups. This cross-representation will help integrate the findings of the three groups into a nomenclature that works across the board. Corriveau said the goal is to break down the diagnosis of dementia into well-defined subtypes, as is done for cancer. "Right now, when we hear the term 'AD,' for example, even the experts don't know whether this is someone with dementia or someone who tests positive for AD biomarkers," he said.
Translating basic science emerged as another emphasis at the summit. The Lewy Body Dementia subcommittee chaired by Bradley Boeve, Mayo Rochester, and Carol Lippa, Drexel University College of Medicine, Philadelphia, articulated eight recommendations in clinical and basic science. The former challenges researchers to initiate more clinical research, including treatment trials, natural history, imaging, and pathology studies. On basic science, biomarker development; genetics, epigenetics, and environment; α-synuclein biology; and transmission among different brain areas were prioritized. For FTLD, co-chairs Len Petrucelli, Mayo Clinic, Jacksonville, Florida, and Adam Boxer, University of California, San Francisco, gave equal billing to clinical science, pathogenesis, and toxicity. For the former, they prioritized developing biomarkers, advancing trial design, genotyping and epigenetics, phenotypic heterogeneity, and natural history. Pathogenesis and toxicity recommendations centered on the pathobiology of tau, C9ORF72, and progranulin, emphasizing cellular and pathological mechanisms, bioinformatics, and modelling.
The Vascular Contributions to Cognitive Impairment and Dementia (VCID) committee was led by Donna Wilcock, University of Kentucky, and Jeff Williamson at Wake Forest School of Medicine, Winston-Salem, North Carolina. It introduced two new translational priorities. One is to test research hypotheses using biospecimens, genomics, and imaging data derived from large human studies. The second is to incorporate potential VCID mechanisms into the design of human trials.
Last, but not least, Lisa Barnes from Rush and Hector Gonzalez, University of California, San Diego, co-chaired the health disparities session. They introduced these new goals: Increase policy-relevant research on disparities in access to care, awareness, and stigma, and costs of care for persons living with AD/ADRD and their families and caregivers; and improve and increase training, including for underrepresented minorities, of scholars of different career levels who conduct health disparities research in AD/ADRD.—Tom Fagan
References
External Citations
Further Reading
No Available Further Reading