CONFERENCE COVERAGE SERIES
PSP & CBD International Research Symposium 2018
London, England, U.K.
25 – 26 October 2018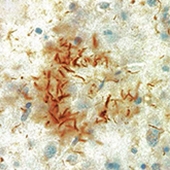 Tufted astrocytes? Astrocytic plaques? These tau pathologies mark progressive supranuclear palsy and corticobasal degeneration, respectively. The science of these difficult-to-diagnose diseases may finally be taking off. Read Tom Fagan's coverage of the first PSP & CBD International Research Symposium held in London. Learn how genetics are yielding clues toward pathways, and natural history cohorts and therapeutic trials are getting underway.