X Marks the Spot? Nucleus Basalis for DBS in Alzheimer's
In a trial of deep-brain stimulation in patients with Alzheimer's disease, the nucleus basalis of Meynert—a major source of cholinergic input up into the cortex—was shown to be a safe target, according to research published May 6 in Molecular Psychiatry. Scientists led by Hans-Joachim Freund, University of Düsseldorf, and Volker Sturm, University of Cologne, both in Germany, tested this approach in a pilot trial with six patients. While cognitive outcomes cannot be interpreted from such a small study, it lays the groundwork for larger trials, the authors wrote. "We want to show that deep-brain stimulation, which is so effective in Parkinson's disease, is also relatively safe and feasible in Alzheimer's dementia," said first author Jens Kuhn of Cologne. "We hope that stimulating this structure can bring about neuroprotective effects that prevent the dementia from progressing so fast."
The nucleus basalis of Meynert (NBM) is a small bundle of neurons in the basal forebrain that contains a high concentration of cholinergic neurons /9see image below). It is among the structures that shrink early on in AD (see Grothe et al., 2013). While other researchers are examining the fornix as a target for deep-brain stimulation (DBS) in AD (see Aug 2010 news story), some think the NBM could be a better spot. Because it is a fiber bundle emanating from the hippocampus, the fornix may have a more memory-specific effect, explained James Gratwicke, University College London. "The nucleus basalis connects to all parts of the brain, so if you can upregulate its output, you might be able to affect more than just memory," he said. Stimulating the NBM might also be useful in other diseases, such as dementia with Lewy bodies, in which this area degenerates earlier and more extensively than it does in AD, he said.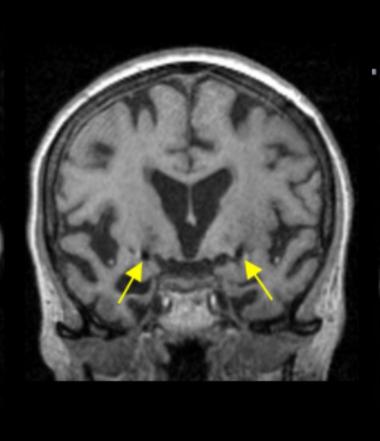 In a previous case study, Kuhn and colleagues planted electrodes in the NBM of a patient with Parkinson's disease dementia (PDD) who was already receiving DBS in other locations. The researchers observed marked improvement in verbal memory, clock drawing, and the Trail Making Test Part A when stimulating the NBM, and immediate reversal to baseline after the electrodes were shut off (see Freund et al., 2009).
To test whether DBS of the NBM is safe for people with Alzheimer's, Kuhn and colleagues implanted electrodes into it bilaterally in four women and two men, aged 57 to 79, who had mild to moderate disease. All were taking acetylcholinesterase inhibitors and showed an AD cerebrospinal fluid marker profile. Due to degenerative or vascular conditions, the scientists rarely got the electrodes into the most densely packed area of the NBM, which is called the intermediate subdivision, showing how hard it is to target precise spots in the structure in people with dementia.
Medical ethics do not allow sham operations to mimic implantation of electrodes in people's brains, so the scientists conducted a double-blind, sham-controlled stimulation as a placebo. For the first month after the surgical implantation of the electrodes, three patients received low-frequency current for two weeks followed by a two-week off period, and vice versa for the other three patients. The overseeing ethical board prevented this double-blind portion from being any longer. Because of the clear and rapid differences seen previously in the PDD patient, the researchers thought they might see changes within these two weeks. For the next 11 months, all subjects received stimulation of their electrodes.
The primary endpoint was performance on the Alzheimer's Disease Assessment Scale—cognitive subscale (ADAS-cog), while a range of other cognitive tests, electroencephalography, and 18F-fluoro-deoxyglucose positron emission tomography (FDG-PET) formed secondary outcome measures.
Two hardware problems occurred that the scientists fixed, and one patient became restless at high stimulation intensities. Other than that, the patients reported no side effects and all completed the one-year follow-up. Six patients are too few to make conclusions about whether the therapy worked, agreed scientists interviewed for this article. Even so, the authors could not help but note that the DBS appeared to stabilize AD symptoms. Stimulation correlated with a 0.8-point improvement in MMSE for the double-blind two weeks, and only a 0.5-point deterioration after one year. The average ADAS-cog scores worsened by three points, which the scientists claim beats the average 4.5-point decline observed in AD patients who take acetylcholinesterase inhibitors (see Gillette-Guyonnet et al., 2011). In addition, glucose metabolism increased 2 to 5 percent in the cortex (see image below), as opposed to a 5.2 percent per year decline expected for AD patients (see Lo et al., 2011). EEG patterns remained the same as well, in contrast to changing patterns observed in patients with AD (see Coben et al., 1985).
The group will continue to follow these six patients and hopes to add at least another 20 with milder symptoms, Kuhn said.
"This is a pioneering and well-designed study," Asem Salma, University of Illinois at Chicago, wrote to Alzforum in an email. "The preliminary results are promising, and will have a significant contribution to the growing body of research that aims to explore new applications for DBS in AD." He said he would have liked to see more objective data about whether functional connectivity or brain structure changed with DBS.
Gratwicke said the surgical procedure, electrode placement, and stimulation details all need fine-tuning. Nevertheless, "this trial gives encouraging results that support a much bigger study," he told Alzforum.
Meanwhile, a Phase 2 trial of DBS targeting the fornix is underway in the United States and Canada.—Gwyneth Dickey Zakaib
References
News Citations
Paper Citations
External Citations
Primary Papers
Kuhn J, Hardenacke K, Lenartz D, Gruendler T, Ullsperger M, Bartsch C, Mai JK, Zilles K, Bauer A, Matusch A, Schulz RJ, Noreik M, Bührle CP, Maintz D, Woopen C, Häussermann P, Hellmich M, Klosterkötter J, Wiltfang J, Maarouf M, Freund HJ, Sturm V. Deep brain stimulation of the nucleus basalis of Meynert in Alzheimer's dementia.

Mol Psychiatry

. 2014 May 6; PubMed.