Is a Woman's Brain More Susceptible to Tau Pathology?
Some studies of cerebrospinal fluid biomarkers suggest that women accumulate more tau pathology early in Alzheimer's disease than do men. In the February 4 JAMA Neurology, researchers led by Rachel Buckley and Reisa Sperling at Massachusetts General Hospital, Boston, add tau PET data that supports this. In two aging cohorts, the researchers spotted more tangles in the entorhinal cortices (ERCs) of cognitively healthy, amyloid-positive women than in the ERCs of men.
In cognitively healthy people with amyloid plaques, women have more tau tangles in the entorhinal cortex than do men.
This sex difference was slightly more pronounced in ApoE4 carriers.
It is unclear if women are more susceptible or more resilient to tau than men.
But what does this mean? That tau accumulates faster in women? Or that women cope better with tau pathology, remaining clinically normal while men decline? Or both? The jury is out, but clearly, there is a sex difference in tau pathology, Buckley told Alzforum. She previously discussed some of these data at the 2018 AAIC in Chicago (Aug 2018 conference news).
Buckley noted that this sex difference is small, and probably insufficient to explain why more women than men develop the disease. That said, it does hint at biological underpinnings of AD risk in women, and could affect treatment efficacy. "Researchers running clinical trials might want to stratify by sex for their primary analysis," she suggested.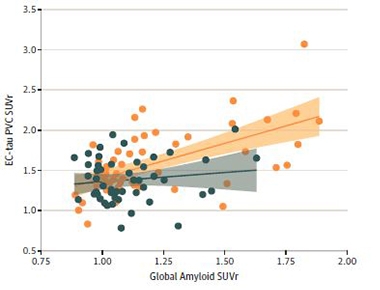 Denise Park at the University of Texas, Dallas, emphasized the importance of understanding the basis for this difference. "This study adds to growing evidence that there are subtle differences between men and women's brains in both health and disease. A challenge is to understand the developmental trajectory of these differences, and whether they were preordained by biology or emerged as a result of differences in environment and behavior," Park wrote to Alzforum.
Previous studies have reported more tau in CSF of women than in men, although primarily in people who carry the ApoE4 risk allele (Altmann et al., 2014; May 2018 news). It remains unclear how CSF tau relates to tangles in the brain.
To study the effect of gender and genotype on regional brain pathology, Buckley and colleagues focused on the ERC and inferior temporal cortex, two areas that accumulate tangles early in AD. The authors examined flortaucipir PET images from 103 ADNI participants and 193 people enrolled in the Harvard Aging Brain Study (HABS). All were cognitively healthy, with an average age of 74.
In the two cohorts, there was no consistent effect of sex on tau deposition. However, in the subgroup of 89 participants with positive amyloid PET scans, women had about 6 percent more tau in the ERC than did men, which was statistically significant. The higher the Aβ burden, the greater this difference. Unlike in prior studies, female ApoE4 carriers did not have significantly more tau pathology, but ERC tau did trend higher in them, suggesting a larger study might detect a sex/ApoE4 interaction. Disease stage may also be a factor. In preliminary PET data from an MCI cohort, Buckley did detect a larger effect of ApoE4 on ERC tau tangles in women than in men. In ongoing work, she is investigating whether the interaction of sex and ApoE4 becomes greater as disease advances.
Why might women have more tangles? One theory blames hormonal changes in the aging brain (Aug 2018 conference news). Buckley and colleagues are examining tau PET scans from the Framingham Study to determine if tangle progression in men and women diverges after women go through menopause.
However, it is equally possible that the apparent higher tau in women is an artifact of the study design, which included only cognitively healthy people. Perhaps women remain cognitively healthy at a tau level where men are already impaired.
One bit of evidence in favor of female resilience comes from a new study led by Manu Goyal and Andrei Vlassenko at Washington University in St. Louis. Using PET, they compared brain glucose metabolism in 205 cognitively healthy adults ages 20 to 82. They were able to measure brain aging by way of metabolism because, over time, the brain shifts from using glycolysis to a mainly oxidative metabolism (Goyal et al., 2014; Goyal et al., 2017). Across adulthood, women's brains remained about four years younger metabolically than men's. The finding hints that women could be more resilient to age-related changes and pathologies than men, the authors note (Goyal et al., 2019). Buckley agreed this might be the case.
Buckley plans to follow people with preclinical AD and measure whether cognition declines more slowly in women than men with the same levels of pathology. She is also examining brain regions beyond the ERC and inferior temporal cortex in tau scans from about 800 participants in ADNI, HABS, and the A4 secondary prevention trial, with preliminary evidence pointing to additional regions with sex differences in tangle load.—Madolyn Bowman Rogers
References
News Citations
Paper Citations
Primary Papers
Buckley RF, Mormino EC, Rabin JS, Hohman TJ, Landau S, Hanseeuw BJ, Jacobs HI, Papp KV, Amariglio RE, Properzi MJ, Schultz AP, Kirn D, Scott MR, Hedden T, Farrell M, Price J, Chhatwal J, Rentz DM, Villemagne VL, Johnson KA, Sperling RA. Sex Differences in the Association of Global Amyloid and Regional Tau Deposition Measured By Positron Emission Tomography in Clinically Normal Older Adults.

JAMA Neurol

. 2019 Feb 4; PubMed.