TREM2 Buoys Microglial Disaster Relief Efforts in AD and Stroke
When the going gets tough, microglia rely on TREM2 to get going. That was the common conclusion from two papers that investigated the role of the myeloid receptor in mouse models of Alzheimer's disease and stroke. One study, led by Marco Colonna at Washington University in St. Louis, reported that TREM2 promotes microglial survival and helps the cells clear plaques. The other, led by Midori Yenari at the University of California, San Francisco, found that TREM2 supports microglial cleanup of damaged tissue following stroke, which improves neurological recovery. Both groups also discovered potential TREM2 ligands—lipids and nucleic acids—that could trigger the receptor during AD and stroke, respectively. Overall, TREM2 emerged as a broad sensor of cellular damage that may provide crucial reinforcement for the brain's macrophages when they're needed most.
TREM2 took the neurodegenerative disease field by storm in 2012, when researchers discovered that a variant of the receptor triples AD risk (see Nov 2012 news). It has also been linked to frontotemporal dementia, Parkinson's, and amyotrophic lateral sclerosis (see Feb 2014 news). People completely lacking the receptor develop Nasu-Hakola disease, a lethal form of neurodegeneration accompanied with bone abnormalities. TREM2 is expressed on myeloid cells, including microglia in the brain, and reportedly promotes anti-inflammatory, phagocytic responses in those cells (see Hickman and El Khoury, 2014). The identification of this immune receptor as a risk factor for neurodegenerative disease underscores neuroinflammation's central role there (see Heneka et al., 2015), and researchers have been racing to understand how TREM2 fits in.
Colonna, who originally cloned the TREM2 gene, sought to explore how the receptor affected microglial function in a mouse model of AD. As reported at conferences and in previous papers, Colonna and other researchers had found that plaque burden either stayed the same or shrank in TREM2-deficient mice crossed with APP/PS1 mice (see Jun 2014 news and Dec 2014 conference coverage). For the current study, Colonna crossed TREM2 KO mice to 5xFAD mice instead, as this AD model develops plaques more slowly. He reported some of his findings, now also published on February 26 in Cell, at a recent Keystone meeting covered by Alzforum (see Feb 2015 conference coverage).
In summary, first author Yaming Wang and colleagues found that 5xFAD mice lacking TREM2 had a heavier plaque burden in the hippocampus than 5xFAD mice expressing the receptor. Microglia failed to gather around plaques or switch on activation genes in TREM2-deficient mice, and many of the cells that remained were apoptotic. The researchers determined that TREM2 signaling synergized with that from colony-stimulating factor receptor 1 (CSFR1), thus providing a survival signal that was necessary in situations where CSF levels were low. Colonna hypothesized that this would occur in the AD brain, where microglia proliferate and suck up copious amounts of CSF.

What turned on TREM2 survival signaling during this response? Colonna hypothesized that TREM2 may respond to anionic lipids, which are found in cell membranes, because previous reports suggested that the receptor recognized anionic macromolecules from bacteria, such as lipopolysaccharide and peptidoglygan, and cell-associated lipids (see Daws et al., 2003, and Cannon et al., 2012). The researchers confirmed that this was the case: TREM2 signaling switched on in response to phospholipids, which are exposed on apoptotic cells, and sphingolipids, which are released by damaged myelin. Interestingly, many of the lipids failed to activate TREM2 containing the AD-associated R47H mutation, suggesting the receptor may not switch on in people who carry this genetic variant. Overall, Colonna's study suggested that in response to lipids, TREM2 provides a microglial survival signal that encourages the cells to clean any nearby debris.
John Hardy of University College London, commented that Colonna's work added another layer of complexity to TREM2's role in AD. "When we found loss of function TREM2 mutations associated with Alzheimer's disease, we had assumed that it disrupted the interaction between Aβ and the microglia," he wrote. "This work confirms that this view, while generally accurate, is an oversimplification and that the interaction is with the lipids around the plaque rather than with Aβ itself."
Michael Heneka of the German Center for Neurodegenerative Diseases in Bonn commented that the study was the most in-depth analysis of microglial TREM2 function in an AD model to date. He was intrigued by the finding that lipids could trigger TREM2 and promote microglial survival. "TREM2 expression at Aβ plaque sites can be interpreted as an attempt to survive the local inflammatory and toxic milieu, a prerequisite to restrict Aβ accumulation by phagocytosis or release of degrading proteases," Heneka wrote.
Yenari's findings, published February 25 in the Journal of Neuroscience, dovetailed with Colonna's. First author Masahito Kawabori and colleagues investigated the role of TREM2 in a middle cerebral artery occlusion model of stroke—a far more drastic and acute setting of cell death than AD. Immediately following the stroke, both normal and TREM2-deficient mice performed poorly on tests of neurological function. For example, they walked in circles and missed rungs as they scrambled across a horizontal ladder. However, while normal mice started to regain some of these skills after only one day and performed at nearly pre-stroke levels on the ladder task after two weeks, TREM2-deficient mice recovered more slowly and never got close to their pre-stroke performance levels.
Two weeks after the stroke, the researchers found that while about 70 percent of the damaged tissue had been cleared from the brains of normal mice, nearly 90 percent of it remained in TREM2-deficient brains. It is possible that the clean-up failure could have prevented synaptic repairing and rebuilding of damaged axons, which could account for the animals' dismal recovery, Yenari told Alzforum.
What prevented the TREM2-deficient animals from cleaning up the damage? The researchers found that sub-par microglial recruitment and poor phagocytosis were likely to blame. Around the damaged area in normal mice, they observed an influx of the microglia-expressing activation markers IB4 and CD68. They also noted a striking abundance of "foamy macrophages," which stained positive with Oil Red O due to their consumption of lipids, presumably derived from dead cells and debris. However, activated cells were present in far fewer numbers in TREM2-deficient mice, and foamy macrophages were virtually absent. Three-dimensional confocal imaging revealed that nearly 40 percent of the activated macrophages in normal mice were in direct contact with dying cells near the stroke site, whereas less than 4 percent of cells in TREM2-deficient mice made contact. All in all, the findings suggested that TREM2 expression on microglia facilitated the clearance of damaged tissue following stroke.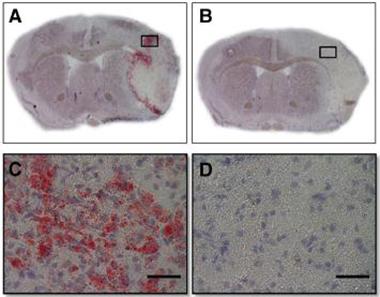 What triggered TREM2 during stroke? First, the researchers tested whether TREM2 and its mystery ligand were in the same place at the same time. They found that TREM2 expression ramped up around the infarct site, where it co-localized with CD11b+ macrophages and peaked in expression one week after stroke. In parallel experiments, the researchers stained the brains of mice with a TREM2-Fc fusion protein, which should bind to any potential TREM2 ligands. Expression of these ligands paralleled that of TREM2 itself, except the ligand co-localized with dying neurons near the infarct site.
Yenari had a hunch that nucleic acids could activate TREM2. After all, nucleic acids are known to bind other immune receptors, and spill out of necrotic neurons following stroke. To test this, the researchers used their TREM2 fusion protein as bait in a chromatin immunoprecipitation assay on whole-brain lysates from mice after stroke. Indeed, the TREM2 protein associated with nucleic acids in the lysate. The researchers next used a TREM2-expressing reporter cell line, which turns on GFP when TREM2 is triggered, to confirm that nucleic acids could stimulate the receptor. They detected GFP in response to purified nucleic acids, or to conditioned media from dying neurons that had been starved of oxygen and glucose.
Colonna commented that while both his and Yenari's identification of TREM2 ligands will need to be confirmed with further assays, the results fit well together. It would make sense that TREM2 could bind both anionic lipids as well as nucleic acids, which are polyanions, Colonna said. Yenari agreed, and commented that nucleic acids may play a more important role in activating TREM2 during stroke, when bursting necrotic cells dump out nucleic acid entrails. In AD, in which cells tend to die more slowly, lipids could be the predominant TREM2 ligand.
Both Colonna and Yenari acknowledged that infiltrating macrophages, in addition to resident microglia, could contribute to plaque or debris clearance in their models. Neither study fully attempted to distinguish between the cells. However, for one experiment, Colonna crossed APP/PS1 mice with CX3CR1-GFP mice. In these mice, microglia, but not infiltrating macrophages, express GFP in the brain. In this scenario, Colonna reported that TREM2-deficiency resulted in a marked decrease in CX3CR1+ cells around plaques, suggesting that resident microglia were predominantly affected by loss of TREM2. However, neither researcher can rule out a contribution from infiltrating macrophages.
Both Yenari and Colonna agreed that the function of the cells and their role in protecting the brain are far more important than their origin.—Jessica Shugart
References
Alzpedia Citations
News Citations
Research Models Citations
Paper Citations
Further Reading
Papers
Cantoni C, Bollman B, Licastro D, Xie M, Mikesell R, Schmidt R, Yuede CM, Galimberti D, Olivecrona G, Klein RS, Cross AH, Otero K, Piccio L. TREM2 regulates microglial cell activation in response to demyelination in vivo.

Acta Neuropathol

. 2015 Mar;129(3):429-47. Epub 2015 Jan 29 PubMed.
Primary Papers
Wang Y, Cella M, Mallinson K, Ulrich JD, Young KL, Robinette ML, Gilfillan S, Krishnan GM, Sudhakar S, Zinselmeyer BH, Holtzman DM, Cirrito JR, Colonna M. TREM2 lipid sensing sustains the microglial response in an Alzheimer's disease model.

Cell

. 2015 Mar 12;160(6):1061-71. Epub 2015 Feb 26 PubMed.
Kawabori M, Kacimi R, Kauppinen T, Calosing C, Kim JY, Hsieh CL, Nakamura MC, Yenari MA. Triggering receptor expressed on myeloid cells 2 (TREM2) deficiency attenuates phagocytic activities of microglia and exacerbates ischemic damage in experimental stroke.

J Neurosci

. 2015 Feb 25;35(8):3384-96. PubMed.