Three's Company: Florbetaben Approved, Excludes AD Diagnosis
A third amyloid imaging agent has joined the ranks of those approved for clinical use. Piramal Imaging's PET tracer florbetaben, now rechristened Neuraceq, got the nod from the European Medicines Agency on February 20, and from the U.S. Food and Drug Administration on March 20. At the 66th annual meeting of the American Academy of Neurology, held 26 April to 3 May in Philadelphia, Marwan Sabbagh of Banner Sun Health Research Institute in Sun City, Arizona, presented the latest data from the Phase 3 trial that helped clinch florbetaben's approval. Previously, Sabbagh detailed early data from this trial at the 2012 AAN meeting (see May 2012 news story). The study suggests that a negative Neuraceq scan excludes a diagnosis of Alzheimer's disease.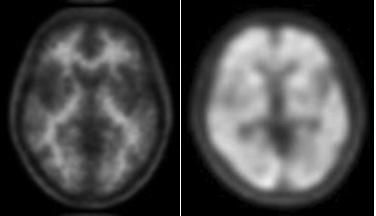 The Phase 3 florbetaben study enrolled 205 elderly patients with Alzheimer's or other dementias from Australia, France, Germany, Japan, and the United States. In 2012, Sabbagh reported autopsy data from 31 participants; that number has now grown to 74. Sabbagh noted that this is the largest autopsy study to date for any amyloid imaging agent and the only autopsy study to correlate tracer binding with amyloid load in specific brain regions. Neuraceq demonstrated a sensitivity of 98 percent and specificity of 89 percent for detecting amyloid deposits, similar to the efficacy of the other approved tracers. Because one of the most useful clinical applications for amyloid imaging may be to rule out a diagnosis of Alzheimer's disease, the researchers also analyzed the negative predictive value, which was 96 percent. This makes florbetaben a valuable tool for differential diagnosis, claimed Sabbagh.
The first approved amyloid tracer was Eli Lilly and Company's Amyvid (florbetapir) (see Apr 2012 news story), followed last fall by GE Healthcare's Vizamyl (flutemetamol) (see Nov 2013 news story). All three agents have the same label; they can determine whether amyloid is present in order to support or rule out a diagnosis of AD, but cannot diagnose Alzheimer's on their own. The FDA requires radiologists and clinicians to complete reader training programs before using any of the tracers. Only Vizamyl is approved to analyze plaque density using false-color brain scans; the other two must be read in black and white.—Madolyn Bowman Rogers
References
News Citations
External Citations