TAURIEL Phase 2 Data Published
In the June 13 JAMA Neurology, scientists led by Edmond Teng of Genentech, South San Francisco, California, published results of TAURIEL, a Phase 2 trial of semorinemab in people who had early stage AD. Though the N-terminal tau antibody seemed safe, it slowed neither tau accumulation in the brain nor cognitive decline. Alzforum previously reported on the data at AD/PD last year (Mar 2021 conference news).
During the trial, 422 adults aged 50 to 80 received a placebo or one of three semorinemab doses via monthly infusion for 73 weeks. Researchers collected blood, cerebrospinal fluid, tau PET scans, and structural MRI scans. The primary outcomes were safety and change in the Clinical Dementia Rating-Sum of Boxes. Secondary endpoints were changes in a slew of cognitive tests, while exploratory biomarkers included plasma and CSF tau, standardized uptake value ratios for tau PET, and whole-brain volume.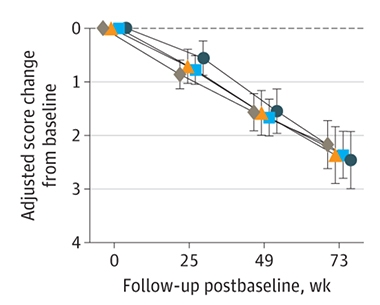 There was no difference between semorinemab and placebo groups in the rate of decline on the CDR-SB or any of the secondary cognitive tests. Total tau and phospho-tau181 did fall about 10 percent in treated participants, indicating that semorinemab altered tau processing, but this was not dose dependent (see image at left). Oddly, total tau in plasma rose with higher drug doses. The authors believe that this is because the antibodies stabilize tau in the blood.
Despite the modest effect on soluble tau, the antibody did not slow tau accumulation in the brain, as judged by tau PET scans at baseline and weeks 49 and 73 in a subset of 294 participants. Neither did it slow cerebral atrophy as seen by structural MRI.
Semorinemab seemed safe. Teng reported that adverse events were similar in the placebo and treatment groups, with the most common being infusion-related reactions, cold-like symptoms, and falls.
The antibody joins AbbVie's tilavonemab, Biogen's gosuranemab, and Eli Lilly's zagotenemab in falling short in Phase 2 for AD and progressive supranuclear palsy (Nov 2021 news; Jul 2019 news; Dec 2019 news). However, Semorinemab is still being tested in another Phase 2 study of people with moderate AD.
Other tau immunotherapies still in Phase 1 or 2 trials for AD include antibodies against mid-domain tau, such as Roche's bepranemab, Janssen's JNJ-63733657, Eisai's E2814, and Biogen/Neurimmune's BIIB076, and those targeting hyperphosphorylated tau, including Lundbeck's Lu AF87908 and Pinteon Therapeutics' PNT001.—Chelsea Weidman Burke
References
Therapeutics Citations
News Citations
External Citations
Primary Papers
Teng E, Manser PT, Pickthorn K, Brunstein F, Blendstrup M, Sanabria Bohorquez S, Wildsmith KR, Toth B, Dolton M, Ramakrishnan V, Bobbala A, Sikkes SA, Ward M, Fuji RN, Kerchner GA, Tauriel Investigators. Safety and Efficacy of Semorinemab in Individuals With Prodromal to Mild Alzheimer Disease: A Randomized Clinical Trial.

JAMA Neurol

. 2022 Jun 13; PubMed.