Tau, Speckle Wrecker, Disrupts the Nuclear Home
When tau forms aggregates, it yanks other proteins and even RNAs along for the ride. Among these unwitting captives are key components of the cell's splicing machinery, according to a study published April 7 in Neuron. Researchers led by Roy Parker, University of Colorado Boulder, detected small nuclear RNAs and RNA-binding proteins within tau fibrils in cultured cells and in the mouse brain. These components hail from nuclear speckles—the membraneless organelles that house the spliceosome. Tau fibrils not only disrupted speckle organization, but also snatched pieces from them and made off with the booty into the cytoplasm. These pickings were also found within the cytoplasm in postmortem brain samples from people with tauopathies. The researchers propose that tau's speckle-wrecking proclivities underlie splicing defects that are reportedly rampant in tauopathies, including Alzheimer's disease.
In cells and mice, tau aggregates interact with nuclear speckle components.
This disrupts mRNA splicing.
Small RNAs and their binding proteins rerouted to the cytoplasm in cells and in human brain.
"This rigorous study further reinforces that RNA-binding protein aggregation and splicing defects are a core feature of AD and potentially other tauopathies," commented Nicholas Seyfried of Emory University in Atlanta. He added that the study lends support to previous work showing that several core U1 spliceosome proteins and snRNAs co-aggregate with tau in AD.
Splicing—the ouster of introns and joining of exons—is a critical part of messenger RNA maturation. The splicing machinery, aka the spliceosome, comprises numerous RNA and protein components, held together within dynamic gel-like blobs that are the nuclear speckles. Some of the same spliceosome components have been spotted in aggregates in the AD brain, and in some cases they mingle with tau neurofibrillary tangles (Bai et al., 2013; Hales et al., 2014). Splicing deficits are seen throughout the AD brain as well, suggesting that a toxic relationship between speckle components and tau tangles could derail proper splicing (Oct 2018 news; Hsieh et al., 2019). Such a dangerous liaison would align with prior reports that tau flirts with RNA and RNA-binding proteins, and finds its way into membraneless organelles such as stress granules (Jul 2017 news; May 2016 news).
Against this backdrop, first author Evan Lester and colleagues took a step back and asked: When tau forms aggregates in a cell, does this promote its interaction with RNAs, and if so, which ones? They used a HEK293 biosensor cell line, which expresses truncated versions of tau comprising its four microtubule-binding repeat domains (4R) fused to either a fluorescent donor or acceptor molecule. Upon transfecting the cells with tau fibrils extracted from P301S transgenic mice, the 4R taus are pulled into aggregates, triggering green fluorescence as the donor and acceptor variants are drawn to each other. In their hands, the researchers observed both nuclear and cytoplasmic aggregates upon introduction of tau fibrils. Using fluorescent in situ hybridization, they also spotted RNA abundantly associating with aggregates in both cellular locales. This was also true in neurons in 6-month-old P301S-tau transgenic mice.
Tau Meets Speckle. In HEK cells expressing wild-type tau (top), no tau aggregates (green) form, and the speckle protein SRRM2 (red) stays in the nucleus (blue). In cells expressing P301S tau (bottom), tau aggregates form in the nucleus and cytoplasm (black background). Aggregates co-localize with SRRM2 in both locales (1 and 2, bottom right). [Courtesy of Lester et al., Neuron, 2021.]
Which species of RNA mingled with aggregated tau? By purifying aggregates and sequencing the associated RNA, the researchers found an abundance of noncoding small nuclear RNAs (snRNAs) and small nucleolar RNAs (snoRNAs). snRNAs are part of the spliceosome; snoRNAs help modify ribosomal RNAs and transfer RNAs in the nucleolus, which is the birthplace of ribosomes. To a lesser extent, mRNA transcripts also associated with tau, including those encoding a voltage-gated calcium channel complex, histone proteins, centrosome proteins, and proteins involved in splicing regulation. Transfer RNAs and even transposable elements were also detected. The authors found a similar profile of RNA species tussling with tau fibrils in the brains of P301S mice.
Using immunofluorescence, the scientists spotted tau aggregates embedded within speckles in the nucleus, as gauged by co-localization with SRRM2, an RNA-binding protein that resides in these organelles. Strikingly, they also found SRRM2, as well as several other speckle proteins, hooked up with tau aggregates in the cytoplasm. The scientists pegged the C-terminus of SRRM2, which contains an intrinsically disordered domain, as the tau interaction motif.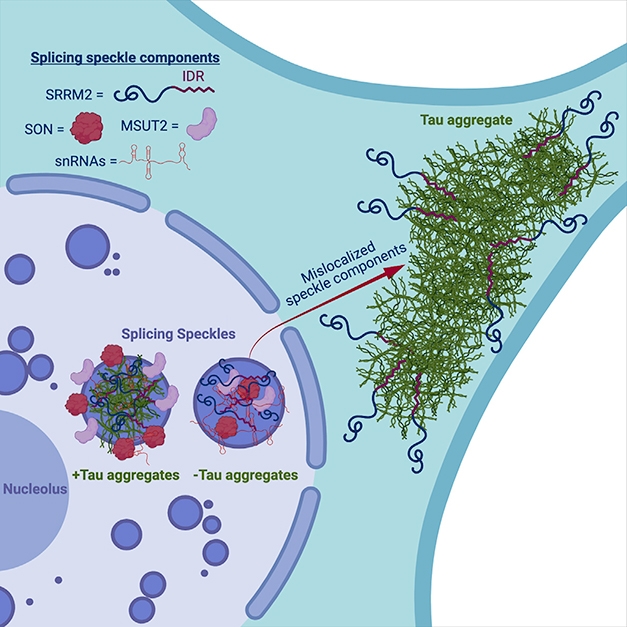 Speckle Wrecker. In this model, tangles (green) co-mingle with snRNAs and proteins that normally belong in nuclear speckles, including SRRM2 (black squiggles), disrupting their form and function. Tau aggregates pull speckle components into the cytoplasm. [Courtesy of Lester et al., Neuron, 2021.]
Did tau's dalliances with speckles interfere with the function of these membraneless organelles? In a nutshell, yes. Tau messed with all aspects of speckle life. Tau fibrils disrupted physical interactions between proteins within speckles. They altered the spatial organization of speckle components. And they rendered the typically dynamic speckles sluggish and immobile within the nucleus. These disruptions came with splicing defects in the biosensor cells. Among 226 genes known to undergo differential splicing, the researchers detected 305 splicing variations—most commonly intron retentions—upon tau aggregation.
Trapped in Tangles. In a brain sample from a control, SRRM2 (red) resided within speckles in the nucleus (top row). In the brain of a person with corticobasal disease, SRRM2 co-localized with tau tangles (green) in the cytoplasm (bottom row). [Courtesy of Lester et al., Neuron, 2021.]
Biosensor cells are nifty, but does any of this happen in real life? In the brains of P301S-tau mice, but not wild-type, the researchers spied SRRM2 rerouting from the nucleus to the cytosol. The speckle protein was also found mingling with tangles in the cytoplasm in postmortem samples of the left angular gyrus from three people who had had corticobasal degeneration, a primary tauopathy. In another set of samples, SRRM2 remained firmly rooted in the nucleus in four healthy controls, but had strayed into the cytoplasm in four people who had had frontotemporal lobar degeneration and in four who'd had Alzheimer's disease.
The findings indicate that tau fibrils work their way into nuclear speckles, disrupting their function in the nucleus and even sequestering some of their components in the cytoplasm. Parker's group is investigating the molecular basis for these shenanigans. For example, does tau join up with speckles by interacting with snRNAs, RNA-binding proteins such as SRRM2, or a combination of both?
Joshua Shulman of Baylor College of Medicine in Houston found the work highly interesting. "The nucleus is emerging as a major cellular target for tau toxicity, with prior work also establishing that tau dysregulates the nuclear lamin and chromatin domains," he wrote to Alzforum (Frost et al., 2016; Frost et al., 2014).
Benjamin Wolozin and Lulu Jiang of Boston University agreed. "The study adds to a growing body of evidence that tau influences nuclear function," they wrote to Alzforum. They added that the field needs to uncover how tau aggregates mosey from the cytosol into the nucleus, and how the snRNA, snoRNA, or speckle proteins wind up in the cytosol. Nuclear transport deficits are a predominant feature of tau-related neurodegenerative diseases, and these deficits have been linked to perturbation in the nuclear membrane. "Whether this mis-localization of tau in the nucleus links to nuclear membrane disruption remains an open question," Jiang and Wolozin wrote.
The study also raises fundamental questions about biology. Do speckle components shuttle in and out of the nucleus under physiological conditions in the human brain, or do they only wash up in the cytoplasm by way of tau? Parker noted that even in the absence of tau fibrils, minute amounts of speckle components trickled into the cytoplasm in HEK cells. Another intriguing question that arises from the study is whether tau might have an intrinsic function as an RNA-binding protein, he said.
Parker is also investigating if tau's interactions with nuclear speckles influences its fibrillization. "Is there something about the speckle environment that promotes tau fibrillization, or do speckles only recruit aggregates that are already formed?" he wondered.
"It will be important to understand the timing, mechanisms, and importance of tau-mediated nuclear changes relative to other cellular targets in tauopathies," Shulman added. "These insights may guide 'nuclear medicine' for AD in the near future," he wrote.—Jessica Shugart
References
News Citations
Paper Citations
Further Reading
Papers
Hales CM, Seyfried NT, Dammer EB, Duong D, Yi H, Gearing M, Troncoso JC, Mufson EJ, Thambisetty M, Levey AI, Lah JJ. U1 small nuclear ribonucleoproteins (snRNPs) aggregate in Alzheimer's disease due to autosomal dominant genetic mutations and trisomy 21.

Mol Neurodegener

. 2014 Apr 28;9:15. PubMed.