Synaptic Depression: The Missing Link between Aβ and Tau?
That Aβ begets tau pathology is the central premise of the amyloid cascade hypothesis of Alzheimer's disease. But how exactly does the begetting happen? A paper published August 31 in Cell Reports posits that a crisis of synaptic strength links the two pathologies. Researchers led by Alexander Jeans of the University of Oxford, U.K., report that in hippocampal slices, Aβ oligomers goad neurons into excessively spewing out the neurotransmitter glutamate. In response, post-synaptic neurons enter a state of synaptic long-term depression (LTD), which, in turn, instigates an AD-like hyperphosphorylation of tau. Though individual parts of this pathway have been reported previously, the new study links them together, providing a potential mechanism connecting the two pathological hallmarks of AD.
In hippocampal neurons, Aβ oligomers rev up glutamate release.
Excess glutamate deepens long-term depression in post-synaptic neurons.
LTD exacerbates tau phosphorylation in regions affected in Alzheimer's.
"This elegantly conducted paper provides valuable mechanistic insights that further reinforce growing evidence of synergy between the two hallmark proteins in Alzheimer's disease, Aβ and tau," wrote Samuel Harris and Marc Busche, of University College London, to Alzforum (comment below). "Notably, the authors present a novel mechanism that is potentially amenable to therapeutic targeting at very early stages of AD, before the tipping point at which tau pathology becomes established and, as a result of synergistic effects with Aβ, its effects prevail."
A plethora of studies published over the past two decades have described how Aβ affects synaptic function. In 2003, researchers led by Roberto Malinow of University of California, San Diego, reported that synaptic activity boosts production of Aβ, which depresses synaptic transmission via NMDA receptors (Mar 2003 news). Later, studies led by Dennis Selkoe of Brigham and Women's Hospital, Boston, found that Aβ oligomers prevented the uptake of glutamate, leading to an excess of the neurotransmitter and a subsequent squelching of synaptic signaling (Jun 2009 news). Other work supported the idea that Aβ aggregates boosts glutamate levels—a phenomenon that first led to hyperexcitability and then shut down synapses (May 2012 news and Aug 2019 news).
Could Aβ's synaptic exploits somehow set off tau hyperphosphorylation? This is the question first author Henry Taylor and colleagues addressed in the current study. Their hypothesis is rooted in the finding that synaptic LTD causes the phosphorylation of tau (Regan et al., 2015). They reasoned that excessive LTD caused by Aβ oligomers might push tau hyperphosphorylation into overdrive.
First, the researchers investigated how Aβ oligomers influenced glutamate release within the well-known Schaffer collateral circuit of the hippocampus. In hippocampal slice cultures, they stimulated the axons of CA3 neurons with electrical pulses, then monitored their release of glutamate-loaded synaptic vesicles onto CA1 neurons. Using a dye that becomes infused into synaptic vesicles as they are endocytosed by the post-synaptic cell, the researchers found that treating the slices with a preparation of Aβ oligomers boosted the probability of glutamate release from the stimulated neurons.
What would this glutamate glut do to LTD? To find out, the researchers stimulated CA3 neurons with low frequency electrical pulses—a standard way to provoke LTD. As expected, the post-synaptic CA1 neurons squelched synaptic signaling, by 22 percent. When Aβ oligomers were present, the LTD got bigger, snuffing synaptic currents by 58 percent. Aβ oligomers had no effect on LTD when the researchers blocked excessive glutamate release with a calcium channel blocker. So far, the findings suggested that Aβ oligomers enhance LTD in post-synaptic neurons by triggering a flood of glutamate from pre-synaptic neurons.
Now, for the big question: Would this extreme LTD exacerbate tau hyperphosphorylation? Indeed, incubating hippocampal slice cultures with Aβ oligomers triggered a boost in hyperphosphorylated and misfolded forms of tau, as measured by western blot with the AT8 antibody. Oligomers also stoked phosphorylation at threonine-231, a residue known to become phosphorylated early in AD. Importantly, these effects all but vanished when the researchers blocked excessive glutamate release with an inhibitor, or when they blocked NMDA receptors, which are required to start LTD. Finally, Taylor and colleagues found that they could instigate similar levels of tau hyperphosphorylation by inducing LTD chemically, with the inhibitor TBOA. This inhibitor is thought to cause LTD by engaging NMDA receptors that lie just outside of the synapse. They came to similar conclusions by inducing LTD using an optogenetic model. In all, the findings suggested that conditions that enhance LTD, including a rise in glutamate triggered by Aβ oligomers, lead to the pathological phosphorylation of tau.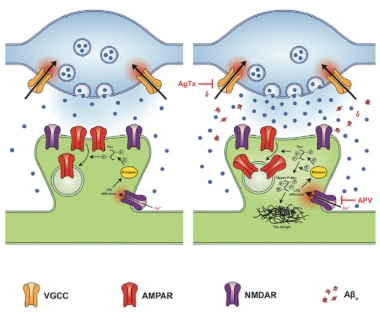 The findings illuminate the mechanisms by which Aβ's action at synapses may promote tau hyperphosphorylation, wrote Harris and Busche. Past studies have linked Aβ oligomers to tau phosphorylation via other mechanisms, including simulation of α2A-adrenergic receptors, or activation of the kinase Fyn within dendrites (Jan 2020 news and Jul 2017 conference news). Thickening the plot, Busche has reported that Aβ and tau aggregates exert opposing effects on synaptic transmission, implying a synaptic tug of war in the brain (Dec 2018 conference news and for review, Harris et al., 2020).
How might this Aβ-LTD-tau connection play out in the human brain? This remains an open question, Jeans told Alzforum. That said, the biology of the Schaffer collateral circuit is likely to apply to other regions of the brain, and Jean speculated that the relative vulnerability of different neurons to Aβ-induced LTD could dictate which cells develop tau pathology first.
Lindsay Welikovitch of Massachusetts General Hospital in Charlestown agreed that this cascade could be active in the AD brain. "It would be interesting to explore whether these effects are cell-autonomous, or whether neighboring glial cells, sensing changes in neurotransmission, may act as intermediaries," she wrote. "In the context of previous works, this study also supports the possibility that induction of tau phosphorylation may initially serve to counter the effects of Aβ oligomers on neuronal activity, but becomes a 'runaway train' if chronically sustained."
In support of the glia idea, a new human study analyzing networks of amyloid, tau, and activated microglia, all determined by PET, suggests that amyloid plaques prompt microglial activation, which in turn set tangle spread in motion (Sep 2021 news).—Jessica Shugart
References
News Citations
Paper Citations
Regan P, Piers T, Yi JH, Kim DH, Huh S, Park SJ, Ryu JH, Whitcomb DJ, Cho K. Tau Phosphorylation at Serine 396 Residue Is Required for Hippocampal LTD.

J Neurosci

. 2015 Mar 25;35(12):4804-12. PubMed.
Harris SS, Wolf F, De Strooper B, Busche MA. Tipping the Scales: Peptide-Dependent Dysregulation of Neural Circuit Dynamics in Alzheimer's Disease.

Neuron

. 2020 Aug 5;107(3):417-435. Epub 2020 Jun 23 PubMed.
Other Citations