SYK It To 'Em: Kinase Enables Microglia to Clear Plaques
Activating the cell surface receptor TREM2 rallies microglia to clear amyloid plaques. Can activating a kinase downstream of TREM2 do the same? Two groups of scientists say yes. In the October 26 Cell, researchers led by Marco Colonna, Washington University School of Medicine, St. Louis, reported that mouse microglia cannot phagocytose Aβ or condense plaques if their gene for SYK kinase is knocked out. Amyloid accumulation and memory loss accelerated. Meanwhile, in the October 17 Cell, John Lukens, University of Virginia, Charlottesville, and colleagues reported much the same. SYK knockout mice had fewer disease-associated microglia (DAMs), more plaques, and worse memory. In mouse models of multiple sclerosis (MS), knocking out microglial SYK worsened myelin loss and hind-limb paralysis. Activating the kinase in either amyloidosis or MS mice enhanced microglial responses to toxic debris.
Activated by TREM2, SYK kinase regulates microglial responses in mice.
Without SYK, they fail to compact plaques, exacerbating amyloidosis and memory loss.
In a multiple sclerosis model, demyelination and paralysis worsen.
Anti-CLEC7A activates SYK directly, rescuing TREM2 risk variants.
"Syk is an indispensable regulatory molecule for maintaining these [DAM] subsets in the degenerative milieu," wrote Josh Morganti of the University of Kentucky in Lexington. Ana Griciuc and Rudolph Tanzi, Massachusetts General Hospital, Boston, agreed. "Both papers suggest that, in addition to TREM2 signaling, the SYK pathway in microglia may represent a novel therapeutic target for AD," they wrote (comments below).
Activation of TREM2 signaling evokes the DAM signature, enabling these cells to surround and engulf amyloid plaques. Researchers typically gauge such microglial activation by measuring phosphorylation of SYK, which lies downstream of TREM2 and other cell surface signaling receptors, such as CLEC7A and CD33. What if SYK was knocked out?
To study this in the context of amyloidosis, both groups turned to 5xFAD mice, which develop amyloid plaques and gliosis by 2 months old. The scientists crossed them with conditional knockouts whose Syk expression can be turned off in their immune cells, including microglia. One-month-old crosses were fed tamoxifen for two to four weeks to silence Syk. Then, in the Lukens' lab, first author Hannah Ennerfelt studied the effects in 5-month-old mice, while first author Shoutang Wang of the Colonna Lab evaluated 9-month-olds.
Both groups found similar changes. Compared to 5xFAD controls, tamoxifen-fed animals had one-third fewer microglia in the cortex and hippocampus at 5 months old and three-quarters fewer at 9 months. Around plaques, the dearth was more pronounced. Ennerfelt found that 5-month-old knockouts had 60 percent fewer microglia surrounding amyloid plaques, while in 9-month-olds Wang found almost none (see image below). Furthermore, any Syk-negative microglia that had sidled up to plaques expressed less of the DAM markers CLEC7A, TREM2, and CD11c than did microglia in 5xFAD controls (Jun 2017 news). SYK knockouts also had more Tmem119-positive homeostatic microglia. To the scientists, all this data suggested that microglia need SYK to mount a DAM response to amyloid plaques.
Without microglial SYK, Aβ clearance and neuropathology worsened. The microglia engulfed three-quarters less Aβ than did control microglia in both 5- and 9-month-old mice. Knockout mice had twice as much soluble Aβ40 and Aβ42, half as much insoluble Aβ42, and more diffuse plaques in the cortex, a sign that the microglia poorly compacted amyloid. Near plaques, knockouts had more phospho-tau, dystrophic neurites, and dying neurons than did control animals. Knockouts at both ages also took longer to find a hidden platform in a water maze and spent more time exploring the open arm of an elevated maze than age-matched 5xFAD mice, suggesting worse memory and increased risk-taking behavior. Both research groups concluded that microglia need SYK for optimal protection against AD pathology.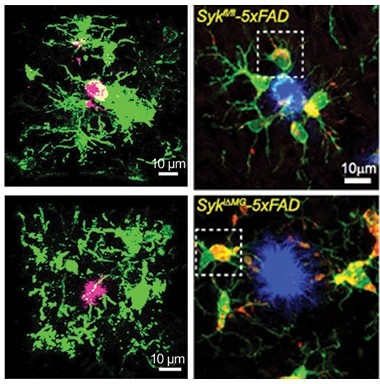 Notably, feeding tamoxifen to 1-month-old animals before AD pathology was present had the same effect as knocking out Syk in 4-month-old mice that already had extensive plaque pathology. Both sets of authors concluded that SYK drove microglial responses to amyloid during both disease onset and progression.
Knockout effects were not limited to AD models. Ennerfelt and colleagues found that it stymied microglial activation in two mouse models of multiple sclerosis, as well. Compared to control mice, the knockouts lost more spinal cord myelin, accumulated more toxic myelin fragments, and had worse hindlimb paralysis.
How does SYK regulate microglial activation? Scientists in both labs suspected this was through PI3K and AKT, which activates mTOR. This signaling trio controls many processes associated with microglial activation in AD (Chu et al., 2021). Indeed, compared to those from 5xFAD mice, SYK-negative microglia contained less phosphorylated AKT and less phosphorylated GSK3β, an AKT substrate. Wang and colleagues concluded that SYK deficiency ultimately dampens mTOR signaling, suppressing gene expression patterns (see image below).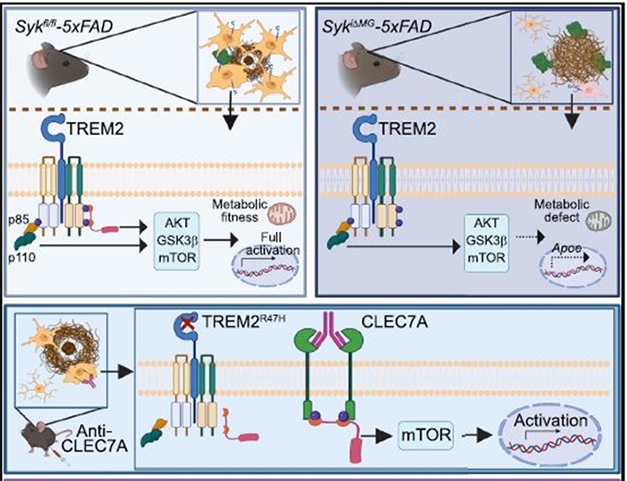 With and Without SYK. Microglia (orange) expressing SYK (pink) surround and compact amyloid plaques (top left), driven by activation of genes through TREM2 signaling and the mTOR pathway. Without SYK (top right), this signaling wanes and microglia struggle to mobilize, leading to filamentous plaques (brown) and more dystrophic neurites (green). Giving mice an antibody that activates CLEC7A (bottom) skirts defective TREM2 to activate SYK and mTOR. [Courtesy of Wang et al., Cell, 2022.]
Beyond Syk
How does TREM2 signaling factor in? This receptor binds to its co-receptor DAP12 to activate SYK. While knocking out TREM2 suppresses DAMs, Wang and colleagues noticed that SYK-negative microglia adopted an intermediate state, expressing both homeostatic and DAM genes. They think that TREM2 partially activates the microglia through SYK-independent signaling.
Wang suspected that DAP10, another TREM2 binding partner, may be involved. Indeed, just like microglia from SYK knockouts, those lacking DAP10 contained less phosphorylated AKT and GSK3β and phagocytosed less Aβ. It turns out that DAP10 activates PI3K directly, thus bypassing SYK, to activate AKT and mTOR (see image below). The scientists concluded that DAP10 signaling also plays a role in microglial responses to amyloidosis.
Moreover, both groups found a way to enhance microglial phagocytosis by skirting TREM2 and both its co-receptors. They activated CLEC7A. Expressed in DAM microglia, this cell surface receptor can directly signal through Syk without binding DAP10 or DAP12 (see graphical abstract above). Ennerfelt boosted this signaling by injecting 5xFAD hippocampus with pustulan, a β-D-glucan and natural ligand of CLEC7A. Wang targeted CLEC7A with an antibody delivered by systemic injection into 5xFAD mice that carried the R47H hypofunctional variant of TREM2. In both experiments, the mice had fewer filamentous plaques and more of the compacted type of plaques in their cortices than did untreated animals.
"Targeting the intracellular pathway downstream of TREM2 produces a potent effect not only in microglial response but also by changing the course of disease," wrote Renzo Mancuso, University of Antwerp, Belgium. Tyler Ulland of the University of Wisconsin, Madison, a co-author on the Luken manuscript, agreed. "These results show that Syk is an essential downstream regulator of the microglial response to [amyloid] and, excitingly, identifies Syk as a new target for possible therapeutic intervention," he wrote (comments below).
All told, both papers suggest that SYK is needed to spur microglial responses to toxic debris, such as amyloid and damaged myelin, ultimately protecting neurons from degeneration. Boosting SYK signaling, such as through immunotherapies that activate CLEC7A, may be an effective therapeutic strategy for multiple neurodegenerative diseases, say the authors.—Chelsea Weidman Burke
Further Reading
Papers
Schweig JE, Yao H, Coppola K, Jin C, Crawford F, Mullan M, Paris D. Spleen tyrosine kinase (SYK) blocks autophagic Tau degradation in vitro and in vivo.

J Biol Chem

. 2019 Sep 6;294(36):13378-13395. Epub 2019 Jul 19 PubMed.
Schweig JE, Yao H, Jin C, Crawford F, Mullan M, Paris D. Neuronal Spleen tyrosine kinase (SYK) mediates cytokine release in Transgenic Tau P301S mice organotypic brain slice cultures.

Neurosci Lett

. 2020 Jun 11;729:134992. Epub 2020 Apr 22 PubMed.
Schweig JE, Yao H, Beaulieu-Abdelahad D, Ait-Ghezala G, Mouzon B, Crawford F, Mullan M, Paris D. Alzheimer's disease pathological lesions activate the spleen tyrosine kinase.

Acta Neuropathol Commun

. 2017 Sep 6;5(1):69. PubMed.
Primary Papers
Ennerfelt H, Frost EL, Shapiro DA, Holliday C, Zengeler KE, Voithofer G, Bolte AC, Lammert CR, Kulas JA, Ulland TK, Lukens JR. SYK coordinates neuroprotective microglial responses in neurodegenerative disease.

Cell

. 2022 Oct 27;185(22):4135-4152.e22. Epub 2022 Oct 17 PubMed.
Wang S, Sudan R, Peng V, Zhou Y, Du S, Yuede CM, Lei T, Hou J, Cai Z, Cella M, Nguyen K, Poliani PL, Beatty WL, Chen Y, Cao S, Lin K, Rodrigues C, Ellebedy AH, Gilfillan S, Brown GD, Holtzman DM, Brioschi S, Colonna M. TREM2 drives microglia response to amyloid-β via SYK-dependent and -independent pathways.

Cell

. 2022 Oct 27;185(22):4153-4169.e19. PubMed.