Sticky Matrix Proteins Lead to Amyloid Accumulation, Slow Clearance
In late-onset Alzheimer's disease, Aβ clears slowly from the brain, leading to the buildup of amyloid plaque. Sticky extracellular proteins known as heparan sulfate proteoglycans (HSPGs) may be partially responsible for this, according to a new paper in the April 1 Science Translational Medicine. Researchers led by Guojun Bu at the Mayo Clinic in Jacksonville, Florida, repressed HSPG production in neurons of mouse models of AD. Without the sticky proteins, amyloid plaque levels plummeted, in line with previous in vitro data suggesting that HSPGs enhance Aβ aggregation. Moreover, soluble Aβ disappeared from interstitial fluid more rapidly in the mice that lacked proteoglycans. Meanwhile, more amyloid accumulated in blood vessels, which still contained HSPGs. Overall, the evidence suggests that proteoglycans trap Aβ, encouraging it to clump and persist in the mouse brain, the authors propose. In Alzheimer's brains as well, HSPGs crowd amyloid plaques, hinting that the same mechanism could be at work.
Other researchers expressed enthusiasm for the work. "This is an elegant study that demonstrates the importance of HSPGs in Alzheimer's," Marcel Verbeek at Radboud University Nijmegen Medical Centre, The Netherlands, told Alzforum. He noted that the study produced novel data on in-vivo clearance, as well as confirming, in a mouse model, previous hypotheses about HSPGs' role in plaque formation. Lars Nilsson at the University of Oslo, Norway, wrote to Alzforum, "This is an excellent study, and the results are convincing, as large animal cohorts and multiple techniques were used." Nilsson added that the mouse model developed here will enable further studies of HSPG biology.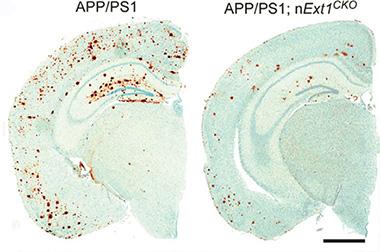 HSPGs consist of sulfated sugar chains attached to a protein backbone. The molecules are named for their protein cores and come in five classes, comprising membrane-bound syndecans and glypicans, as well as secreted agrin, perlecan, and type XVIII collagen. These large gummy molecules carpet cell surfaces and flood the extracellular space, and participate in numerous crucial processes such as molecular adhesion, cell signaling, and development.
Previous data linked these proteoglycans to AD, but it was unclear whether they helped or hindered. Several cellular studies found that HSPGs bound Aβ and promoted its aggregation, suggesting the latter (see Cotman et al., 2000; Watanabe et al., 2004; Cheng et al., 2013). However, Bu's group and others reported that membrane-bound HSPGs help internalize Aβ, which may allow the peptide to travel to lysosomes for degradation (see Sandwall et al., 2010; Kanekiyo et al., 2011). Recently, researchers led by Nilsson and Jin-Ping Li at Uppsala University, Sweden, overexpressed heparanase, an enzyme that chops up HSPGs, in the brains of mice that carried mutant Swedish APP. Amyloid load dropped roughly in half, hinting that the overall effect of HSPGs in AD might be detrimental (see Jendresen et al., 2015).
Bu wanted to investigate this question using a genetic model that would allow for more spatial and temporal control of HSPG expression. First author Chia-Chen Liu generated mice that lacked Ext1 in adult neurons. This enzyme lengthens heparan sulfate chains. At one year of age, these animals had about half as much heparan sulfate in the cortex and hippocampus as wild-types did, but otherwise they appeared normal. Liu and colleagues then crossed these mice with APPPS1 animals. The offspring accumulated about one-third as much plaque by one year of age as did APPPS1 littermates (see image above). Likewise, levels of insoluble Aβ40 and Aβ42 only reached one-third to one-half those of APPPS1 littermates. Inflammation, which typically accompanies plaques, was also lower. The authors saw one-third to one-half fewer activated astrocytes and microglia, and about half as much of several pro-inflammatory cytokines in the brain.
How might HSPGs promote plaque formation? In part, they seemed to encourage the peptide to clump. Without HSPGs, soluble oligomeric forms of Aβ dropped by more than half in hippocampus and cortex, as seen with an antibody specific for this conformation (see Feb 2009 news). Meanwhile, total soluble Aβ did not change, indicating no effect on production. HSPGs may capture Aβ and increase its local concentration, triggering oligomerization and aggregation, Bu suggested to Alzforum.
Other mechanisms may be at work as well. The authors collaborated with David Holtzman and John Cirrito at Washington University in St. Louis to measure interstitial fluid levels of Aβ via microdialysis in three- to four-month-old APPPS1 and APPS1/Ext1-negative mice, long before plaques form. The authors first infused a γ-secretase inhibitor to block production of the peptide, then recorded how quickly Aβ40 and Aβ42 levels fell. In the conditional Ext1 knockouts, Aβ vanished more rapidly, with a half-life about two-thirds of that in APPPS1 littermates. Curiously, amyloid deposits in blood vessels rose by two-thirds in Ext1-negative mice, suggesting that without the sticky HSPGs around, more of the peptide left the brain by this route and was captured by vascular HSPGs or other vascular structures. In addition, HSPGs may block cleavage sites on Aβ, shielding the peptide from proteases and allowing it to linger in APPPS1 brain, Bu suggested. A previous in-vitro study reported that HSPGs protected fibrillar amyloid from degradation (see Gupta-Bansal, 1995).
How closely do the mouse findings match what happens in human brain? While that is still unknown, Bu and colleagues compared postmortem HSPG levels in the temporal cortices of 20 AD cases to those in 20 age-matched controls. The AD brains contained significantly higher levels of several HSPGs, including syndecan-3, syndecan-4, glypican-3, agrin, and perlecan, particularly in insoluble brain fractions. The findings jibe with previous studies that reported high HSPG levels in amyloid plaques (see Snow et al., 1987; van Horssen et al., 2002; Zhang et al., 2014). "The data give us more confidence that targeting this pathway will be relevant in humans," Bu said.
However, Verbeek pointed out that while almost all amyloid plaques in AD brain contain HSPGs, only a third or less of the plaques in APPPS1 mice do. This suggests the mouse plaques have a somewhat different, perhaps looser, composition. The difference could mean that plaques in human brain will be harder to bust up, Verbeek suggested. He also noted that any potential therapy would have to target the Aβ-HSPG interaction very specifically, so as not to interfere with the normal functions of these molecules. Bu plans to look for compounds that bind Aβ and keep it from attaching to proteoglycans. Such compounds might be mimics of heparan sulfate. A previous study from Italy reported that the small heparin enoxaparin suppressed plaque formation in AD mice, supporting the idea that this strategy could work (see May 2004 news).
Bu also wants to use his mouse model to investigate other effects of HSPGs. Studies by Marc Diamond at the University of Texas Southwestern Medical Center in Dallas, as well as others, indicate that cell-surface HSPGs internalize pathological tau and α-synuclein, allowing these proteins to propagate from neuron to neuron (see Aug 2013 conference news; Apr 2015 news). Bu will test this by expressing toxic tau and α-synuclein in his conditional knockouts, either by crossing them with appropriate mice, or injecting lysate from brains with tauopathies or synucleinopathies. He will measure how quickly the proteins spread compared to the rate in control mice. —Madolyn Bowman Rogers
References
Research Models Citations
News Citations
Paper Citations