Skimping on Sleep Makes For More Aβ in the Brain
Mounting evidence suggests that the concentration of Aβ rises in people's cerebrospinal fluid if they don't sleep enough. However, scientists are unsure why that is. Do people make more of the peptide, or do they degrade less of it? A pilot study led by Brendan Lucey and Randall Bateman at the Washington University School of Medicine, St. Louis, now implies that enhanced production is to blame. As described in an Annals of Neurology paper published online December 8, volunteers who were kept awake overnight had a third more Aβ in their CSF by next day, compared with a relative dip seen in people who got a good night's rest. While the number of participants was small, the study lends new clues to how sleep disruption could hasten a person along the path toward Alzheimer's disease. "Chronic sleep deprivation or disruption could cause elevated concentrations of Aβ that, over time, increase risk of AD," Lucey told Alzforum.
In people who stay awake all night, CSF Aβ spikes by 30 percent.
This is likely due to elevated synthesis, not clearance, of Aβ.
Enhancing sleep with a drug didn't lower Aβ levels.
Previous studies have linked disrupted sleep to future chances of developing AD (Yaffe et al., 2011; Tranah et al., 2011). Researchers have also found a rise in CSF Aβ levels in people who spent a single night without sleep, or in whom deep sleep was interrupted (Ooms et al., 2014; Ju et al., 2017). But it was unclear whether more synthesis or less degradation underlay the uptick.
To address the question, Lucey and colleagues used the stable isotope labeling kinetics (SILK) method Bateman developed to continuously monitor Aβ production and clearance from human cerebrospinal fluid (Jun 2006 news). Volunteers receive infusions of 13C-labeled leucine, which makes its way into newly made Aβ. The researchers use an intrathecal lumbar catheter to monitor the labeled peptide as it is synthesized and then cleared.
Lucey measured Aβ dynamics in this way in cognitive healthy volunteers aged 30–60 who had neither a sleep disorder nor a low Aβ42:Aβ40 ratio that would suggest they had Aβ deposits in their brains. Each person spent two nights in the lab. The first was spent acclimating to the new sleep environment, the second was the time of the experiment.
After the first night, each person was hooked up to a lumbar catheter at 7 a.m. The researchers monitored total Aβ levels by mass spectrometry until bedtime to estimate each person's daily average. In general, Aβ concentrations started low in the morning and rose throughout the day, peaking at bedtime.
At 9 p.m., participants were infused with heavy leucine for the next nine hours. There were eight volunteers in total, and they all completed two or more sleep conditions, totaling 20 trials in all. At one time or another, seven people slept normally, six got a shot of sodium oxybate to enhance their deep, slow-wave sleep, and seven stayed awake by reading books, watching movies, or chatting with staff at the lab. Lucey monitored CSF C13 and total Aβ levels every two hours until 7 the next evening.
As expected, in all participants, the ratio of C13:C12 Aβ rose through the night and fell after the infusion was stopped. In people who slept, with or without sodium oxybate, total Aβ levels fell through the night (see image below). In people who stayed awake, total Aβ rose 30 percent above baseline, in keeping with previous reports of increased Aβ in sleep-deprived people.
However, the percentage of 13C-labeled Aβ throughout the measurement period did not differ between sleep conditions, as evidenced by coincident SILK curves (see image below). This suggests that overall clearance occurred at the same pace in all volunteers, regardless of their sleep quality, write the authors, who base their conclusion on previous modelling of SILK kinetics (Elbert et al., 2014). Hence, they reasoned, the uptick in total Aβ in those who missed sleep must come from more synthesis.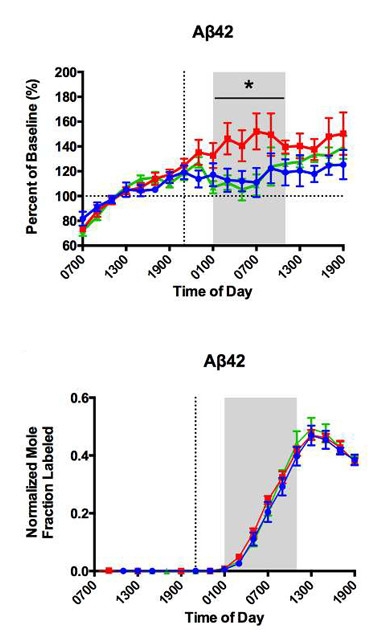 What could cause Aβ synthesis to speed up in a sleep-deprived person? Lucey said that, quite simply, increased neuronal activity is likely to blame. Neuronal activity has been linked previously to Aβ release into the interstitial fluid, which equilibrates with the CSF (Dec 2005 news; May 2011 news).
Lucey was surprised that sleep deprivation didn't affect clearance in this study, as other groups had found sleep to be necessary for glymphatic clearance of brain waste including, presumably, Aβ (Oct 2013 news on Xie et al., 2013). This pilot study does not explain why degradation of Aβ remains steady even if a person doesn't sleep for one night, he said.
Jeffrey Iliff, Oregon Health & Science University, Portland, said this study took a step in the direction of clarifying why people who sleep poorly have higher levels of Aβ in the brain. However, he noted that measurements taken low in the spinal column, as done here, may not capture glymphatic clearance occurring up in the brain, and Lucey agreed that clearance mechanisms could still be at work. Iliff also noted that the participants who were permitted to sleep normally achieved very little slow-wave sleep, the stage associated with reduced neuronal activity. That makes it more difficult to attribute sleep-wake changes in CSF Aβ in these people to changes in neuronal activity.
Barbara Bendlin, University of Wisconsin-Madison, wrote to Alzforum that it would be interesting to see how amyloid production and clearance differ with nighttime sleep or wakefulness in older people or in those who are already accumulating brain amyloid. The WashU group previously reported that these factors affect amyloid kinetics (Patterson et al., 2015).—Gwyneth Dickey Zakaib
References
News Citations
Paper Citations
Primary Papers
Lucey BP, Hicks TJ, McLeland JS, Toedebusch CD, Boyd J, Elbert DL, Patterson BW, Baty J, Morris JC, Ovod V, Mawuenyega KG, Bateman RJ. Effect of sleep on overnight cerebrospinal fluid amyloid β kinetics.

Ann Neurol

. 2018 Jan;83(1):197-204. PubMed.