In Side-by-Side Test of 8 Blood Aβ Assays, Mass Spec Shines
After decades of nonstarters, blood tests for Alzheimer's disease are finally here, enabling researchers to predict who may have amyloid plaques in their brain. Among the candidate tests jostling for attention, are some better than others? Researchers led by Shorena Janelidze and Oskar Hansson, Lund University, Sweden, corralled the main contenders to agree to a head-to-head comparison in the same plasma samples. In the September 20 JAMA Neurology, they reported how accurately each detected CSF or PET amyloid-positivity in the BioFINDER and ADNI study cohorts. The developers are all co-authors.
Wash U, Shimadzu IP MS plasma Aβ tests were most precise.
Araclon's MS and Roche's Elecsys immunoassay came close.
All tests appeared to have improved over the past few years.
Two immunoprecipitation-mass-spectrometry assays came out on top, accurately pegging people who had plaques 83 to 87 percent of the time. The other assays hovered between 64 to 80 percent. Correlations between CSF and plasma, and among the eight tests (see table), tightened over earlier comparisons, a sign that the tests have improved.
"This is consistent with what we expected, by confirming that immunoprecipitation mass-spec assays are superior," Ralph Martins, Edith Cowan University, Joondalup, Australia, told Alzforum. Martins was not involved in this study.
Side by Side. Two of four MS assays isolate plasma Aβ using immunoprecipitation. Two immunoassays use single-molecule optimized arrays (Simoa); the other two use the Elecsys platform or an enzyme-linked immunosorbent assay (ELISA).
"The results show that the field has reduced variation within each assay to create better tests," co-author Henrik Zetterberg, University of Gothenburg, Sweden, told Alzforum. "This is a step forward in the integration of blood-biomarker testing for patient stratification or diagnostic applications," wrote Hugo Vanderstichele, Biomarkable Consulting, Ghent, Belgium (full comment below).
Previous round-robin studies comparing these and other tests had found only weak correlations of absolute plasma Aβ values from the same sample between tests (Aug 2019 conference news). From this, Zetterberg concluded that the assays needed to improve before they were ready for standardization, and for the subsequent applied research that moves tests beyond research-grade toward clinical chemistry certification and from there to doctors' offices around the world.
For the current study, Janelidze and colleagues used blood samples from 182 cognitively normal and 104 mildly cognitively impaired participants in the Swedish BioFINDER cohort, who had amyloid PET scans and CSF Aβ42/Aβ40 ratios on record. People with positive PET scans have lower Aβ42/Aβ40 ratios in their blood and CSF, though amyloid levels vary by such a small margin in plasma that abnormality is harder to detect in blood than CSF (Aug 2019 conference news).
On the goal of detecting CSF and PET amyloid abnormality, the IP-coupled mass-spec assays from Wash U/C2N and Shimadzu led the pack with AUCs of 0.87 and 0.83. This is a bit lower than in previous studies on these assays, showing that differences in cohorts and sample handling influence test results. Third place went to Elecsys, the only immunoassay that came within striking distance of the two IP mass-spec tests, at an AUC of 0.80. Araclon's MS assay, Amsterdam U/ADx's N4PE Simoa, and Euroimmun's ELISA assay followed with AUCs of 0.76, 0.71, and 0.70, respectively. Finally, the U Gothenburg IP-MS assay and the Quanterix Simoa assay achieved AUCs of 0.68 and 0.64 (see image below).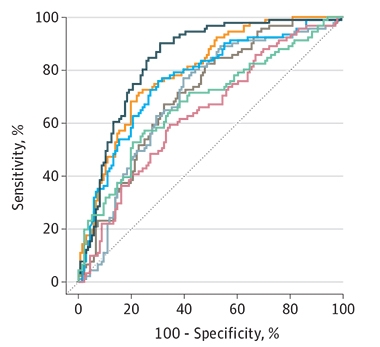 The assays ranked in the same order in a validation cohort of 51 cognitively normal, 51 MCI, and 20 AD dementia samples from the Alzheimer's Disease Neuroimaging Initiative. For all eight tests, adding APOE4 status upped their accuracy a tad.
The WashU test, made by C2N Diagnostics, combines Aβ42/40 ratio, age, and APOE status to give an amyloid-positivity score. So far, it is the only test to have U.S. CLIA certification for clinical use (Feb 2019 news; Nov 2020 news). According to Joel Braunstein of C2N, some clinical trials, hospitals, memory clinics, and primary clinics are using it to firm up AD diagnoses in people with memory problems, though the test's main users are neurologists with experience in biomarkers. The company expanded production capacity (press release), but has not disclosed when it will apply for FDA approval. "We are working through the remaining analytical and clinical validation steps to enable the submission," Braunstein told Alzforum.
The automated Elecsys plasma immunoassays are currently available in the U.S. and the EU for use in research only, Roche's Ivonne Suridjan wrote to Alzforum (comment below). Likewise, the Araclon MS test is being offered as a service for research use only through Araclon's ISO-certified central laboratory.
How did the eight tests perform overall? Janelidze and colleagues found tighter correlations among them, for example up to between 0.7 and 0.8 for Aβ40 versus 0.6 and 0.7 in the previous round-robin. Between-test correlations were stronger for Aβ40 than for Aβ42 and for the Aβ42/40 ratio. The scientists also saw a tightening between the Aβ values measured in a participant's blood versus CSF (see image below). "It is hard to pinpoint exactly why the correlations have improved, but the end result seems to be that the different methods now measure the target analytes Aβ40 and 42 with better trueness and less influence from confounding factors," Zetterberg wrote to Alzforum.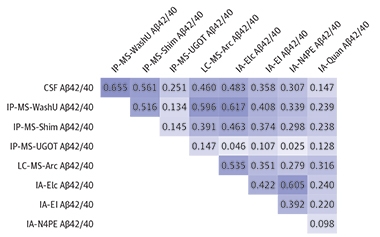 Even so, there is still room for improvement. "We were surprised to see such a large variability between assays," Janelidze told Alzforum. "It highlights the importance of knowing which test was used to measure blood Aβ, not just the results," Hansson added.
Regarding the low correlations between tests, co-author Charlotte Teunissen, Amsterdam UMC, wrote, "This may suggest that even though the tests measure different isoforms [of Aβ], these isoforms are all lowered, but not to the same extent, in every individual." Vanderstichele believes scientists still have much to learn about measuring plasma Aβ. "Samples that do not correlate between technologies are of higher interest than those that do, because they can yield information on the biology behind these discrepancies," he wrote (full comments below). Zetterberg said that having stringent preanalytical methods such as blood-sample handling, standardized reagents, and automated assays will drive variability down further.
Will these results change who uses which test? Martins doubts it. "Everyone knew the IP-MS methods are generally superior, though Simoas are becoming more accurate too," he said. Martins' center currently uses the Quanterix Simoa kit and plans to keep improving the method until it rivals the IP-MS methods. He likes Simoa's greater accessibility, lower price, and ease of use, though he is also interested in bringing the WashU test to Australia. Ditto for the North American Alzheimer's Clinical Trials Consortium. The ACTC currently uses the Quanterix Simoa assay but is looking at new mass-spectrometry assays for identifying AD biomarkers in asymptomatic AD populations, Robert Rissman, University of California, San Diego, wrote to Alzforum (comment below).
Teunissen's center uses the Amsterdam/ADx N4PE Simoa. Her group co-developed it, and she likes that it measures neurofilament light and GFAP along with Aβ in a tiny sample. "Combining these markers gives an AUC of 0.88, which is comparable to the best-performing mass-spec assays reported here," she wrote.
Last but not least, the scientists asked how an entirely different analyte might fare relative to the eight Aβ tests. They threw in a plasma test for p-tau217 and, lo and behold, it posted an overall accuracy of 0.79. "It is notable that, in a subset of individuals where these techniques were compared directly, mass-spectrometry measurement of Aβ42/40 numerically but not statistically outperformed plasma p-tau217 for detecting amyloid positivity," wrote Jonathan Schott of University College London (comment below).
Zetterberg believes several assays could be ready for clinical chemistry use within five years.—Chelsea Weidman Burke
References
News Citations
External Citations
Primary Papers
Janelidze S, Teunissen CE, Zetterberg H, Allué JA, Sarasa L, Eichenlaub U, Bittner T, Ovod V, Verberk IM, Toba K, Nakamura A, Bateman RJ, Blennow K, Hansson O. Head-to-Head Comparison of 8 Plasma Amyloid-β 42/40 Assays in Alzheimer Disease.

JAMA Neurol

. 2021 Nov 1;78(11):1375-1382. PubMed.