Shape Your Microbiome. You'll Live Longer, Scientists Say
There's a new reason to "trust your gut," according to a study published February 18 in Nature Metabolism. Researchers led by Nathan Price at the Institute for Systems Biology, a nonprofit biomedical research organization in Seattle, found that the trillions of bacteria, viruses, fungi, and other microorganisms that make up the human gut microbiome change as we age. Curiously, they report, the more idiosyncratic the digestive system's microbiome becomes to a given person, the longer that person lives, and the better his or her health.
Gut flora changes as people get older.
A person's microbiome becomes more individualized starting in the 40s and 50s.
In people over 84, this uniqueness appears linked to a longer lifespan.
"This is a fascinating study of gut microbiome in older adulthood," wrote Barbara Bendlin from the University of Wisconsin, Madison. "While the investigators did not look at brain health or cognitive outcomes, it's interesting to see that they found that healthy aging was accompanied by gut microbiomes that became increasingly more unique to each person starting in middle age. This type of divergence is also observed in brain aging." (Full comment below.)
Past studies have shown that the gut microbiome undergoes rapid changes in the first three years of life, followed by a longer period of relative stability, then more change once again in later years (Yatsunenko et al., 2012; O'Toole and Jeffery, 2015). Research has also found that centenarians have fewer of the gut microbes commonly seen in younger, healthy people. Instead, they live with an increasingly rarefied microbiota (Kim et al., 2019). This suggests that gut microbiomes become increasingly personalized as people get older, but little is known about how these gut profiles affect the aging process or longevity.
To find out, first author Tomasz Wilmanski and colleagues analyzed gut microbiomes, personal traits, and clinical data from more than 9,000 people 18 to 101 years old. They came from three independent cohorts. One was a group of 3,653 people aged 18 to 87 who had signed up with Arivale, a now-defunct scientific wellness company co-founded by systems biology pioneer Leroy Hood and Price. Arivale provided personalized wellness coaching by collecting and analyzing data on participants' genomes and other systems, including their gut microbiomes. Hood founded the Institute for Systems Biology.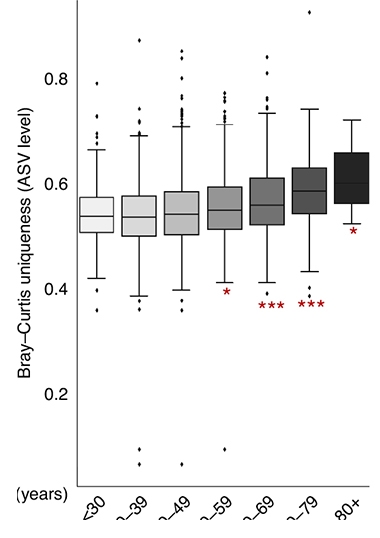 Wilmanski calculated the microbiomes' Bray-Curtis uniqueness; this is a measure of how dissimilar the microbiomes are in one person compared to another in terms of the type of bugs present and their abundance. He found that people's gut microbiomes started to become more distinctive at the genus level during their 40s and 50s. In the 50s, 60s, and beyond, the gut became more divergent at the amplicon sequence level, a term that denotes individual organisms. Amplicons are basically sequenced stretches of DNA.
Along with age, Wilmanski also looked at other variables likely influence one's microbiome, including body mass index, alcohol consumption, and prescription medicine use. Most of them didn't survive adjustment for age, except for lipid markers. People with more individualized microbiome signatures had lower low-density lipoprotein-cholesterol and triglyceride, and higher vitamin D levels, all known markers of health.
Are there health implications to microbiome individuation in late life? Wilmanski looked at the Osteoporotic Fractures in Men (MrOs), a longitudinal observational cohort of 907 men aged 78 to 98. Calculating their Bray-Curtis uniqueness, he found that the most "unique" microbiomes had fewer of the two commonly seen gut bacteria Bacteroides and Prevotella. This drop was linked to better health and longevity. On the other hand, people aged 85 and older whose intestines retained high levels of bugs such as Bacteroides and Prevotella, and had less individuated microbiomes, were less likely to survive during the next four years (see image below).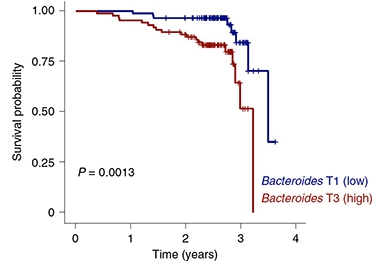 Previously, the authors found that certain plasma metabolites predict the diversity of a person's gut microbiome (Wilmanski et al, 2019). To expand on this, Wilmanski tested 653 metabolites in the Arivale cohort to see if any of them reflected the gut microbiome compositions that develop with aging. Derivatives of tryptophan and phenylalanine, including indoles and phenylacetylglutamine, correlated with microbiome uniqueness. Other studies have reported more activation of the pathways that lead to tryptophan and phenylalanine metabolism in the gut microbiomes of centenarians than in younger controls (Rampelli et al., 2013; Collino et al., 2013). Additionally, indole mediates inflammation and extends survival in animal models (Krishnan et al., 2018; Sonowal et al., 2017).
These findings were confirmed among 4,575 participants from the American Gut Project, the largest publicly available human gut bacterial dataset (McDonald et al., 2018).
The study confirms that aging may bring gradual shifts in gut metabolic capacity, and supports the idea that blood metabolites reflect the function and individuation of the microbiome, wrote the authors. "You can often get more information about the health state of your microbiome from looking at the metabolites that you find in the blood, as opposed to the microbial species themselves, which vary from person to person and place to place," Price told Alzforum. Researchers in this young field are struggling to make sense of the diversity of the microbiome and how it affects health and disease.
The authors see their study as a step forward in understanding how the human gut impacts health. "Basically, if you stay healthy, your microbiome will evolve along with you," said Price. "It changes and it optimizes and becomes increasingly unique. That doesn't happen if you're not healthy."
But what makes the gut microbiome healthy? Wilmanski and Price don't know. "We are still in the early stages of really understanding in depth how to steer a microbiome," said Price. "It's not so hard to define what is unhealthy in the microbiome, but it's harder to find what is good."—Helen Santoro
References
Paper Citations
External Citations
Primary Papers
Wilmanski T, Diener C, Rappaport N, Patwardhan S, Wiedrick J, Lapidus J, Earls JC, Zimmer A, Glusman G, Robinson M, Yurkovich JT, Kado DM, Cauley JA, Zmuda J, Lane NE, Magis AT, Lovejoy JC, Hood L, Gibbons SM, Orwoll ES, Price ND. Gut microbiome pattern reflects healthy ageing and predicts survival in humans.

Nat Metab

. 2021 Feb;3(2):274-286. Epub 2021 Feb 18 PubMed.