Semagacestat Failure Analysis: Should γ-Secretase Remain a Target?
When a large trial fails, there is usually hand wringing, doom saying, and not a little bit of Monday-morning quarterbacking. But beyond the din of disappointment, are we taking enough time to truly learn what went wrong and what could be done better next time? And are we learning publicly, for the benefit of all? At the NIH Alzheimer's Disease Research Summit 2015—and in meetings and conversations before and since—leading scientists from both academia and industry have called for deeper efforts to dissect all aspects of a terminated drug program and use the insight to push the field forward.
Bart De Strooper of KU Leuven, Belgium, made such an attempt. He struck a nerve, and a probing discussion ensued on Alzforum. In a Leading Edge Essay in the November 6 Cell, De Strooper claimed that the field at large had insufficiently dissected why the semagacestat IDENTITY Phase 3 trial failed. He charged that the field jumped to a simplistic conclusion in abandoning γ-secretase as a target. Specifically, De Strooper argued that the biphasic pharmacology of semagacestat seen in Phase 2 predicted that the dosing regimen chosen for Phase 3 might be counterproductive. The drug caused peaks of complete inhibition alternating with full enzyme activity, rather than a more desirable partial but chronic inhibition, and the once-daily dosing driven by safety concerns worsened this oscillating pattern.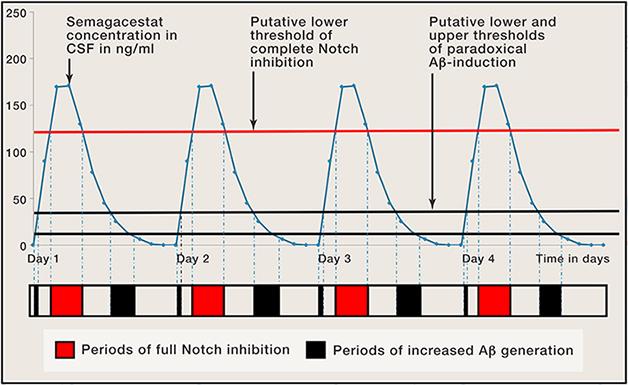 Did semagacestat concentration, Notch inhibition, and Aβ generation fluctuate in clinical trial participants? [Image courtesy of Cell, 2014.]
More broadly, however, De Strooper believes that this and other data could fill key knowledge gaps toward more specific attempts at inhibiting γ-secretase in the future. He urged that the enzyme complex be kept as a therapeutic target. At the very least, he said, the semagacestat results should be followed up with new basic research. To Alzforum, De Strooper wrote: "We have only two classical drug targets in Alzheimer's, BACE1 and γ-secretase. We should be careful with them."
In response, 12 scientists developed a thoughtful conversation (see below) about semagacestat and γ-secretase. These contributors run the gamut from academia to biopharma, from basic Notch to clinical trials research. All have worked on specific aspects of γ-secretase or semagacestat. To enable a broader conversation in the field of Alzheimer's research, Cell Press has generously agreed to open access to De Strooper's essay for several weeks. Pour yourself a large mug of coffee, read the essay, and take in the considered view of leaders in the field. What do you think? Does this experience with an early, broad-spectrum inhibitor mean this target is too complex? What should be done next to prepare the ground for a better approach? Weigh in with your expertise. We welcome comments about new angles, both in support or in cordial dispute.—Gabrielle Strobel
References
Therapeutics Citations
External Citations
Further Reading
No Available Further Reading