Proteomics Highlight Alzheimer's Changes in Matrisome, MAPK Signaling
In Alzheimer's disease, proteins in the brain pile up in plaques and tangles. Could the proteome yield clues on how that happens that genomic and transcriptomic studies miss? In today's Nature Neuroscience, researchers led by Nicholas Seyfried at Emory University School of Medicine, Atlanta, suggest as much. They analyzed more than 8,600 proteins from nearly 1,000 postmortem brain samples, looking for sets of proteins that changed in coordinated ways from control to AD brains. They identified 44 such modules. Two stood out. A set of extracellular matrix, or "matrisome," proteins rose in tandem with plaques and tangles, with a whopping correlation coefficient of 0.75. Meanwhile, a MAPK signaling module was linked to cognitive decline independently of brain pathology. Curiously, neither module showed up in transcriptome data from the same brains.
In-depth proteome analysis links extracellular matrix to plaques and tangles.
MAP kinase signaling proteins associated with cognitive decline.
Neither protein module showed up in transcriptomic data.
Seyfried believes proteomics offers a powerful complement to RNA analysis. "We have to integrate both to get a complete picture," he told Alzforum. "If we were completely RNA-centric, we would miss some of the strongest signals related to AD pathology."
Commenters were impressed by the scope of the work. "This is a very comprehensive proteomic study," Kanta Horie at Washington University in St. Louis wrote to Alzforum. Pieter Jelle Visser at Maastricht University and Betty Tijms at Amsterdam University Medical Center were intrigued by the varied biology linked to AD. "This indicates that AD affects many more processes than initially thought … We are starting to see how several processes play a role in the disease together, which is the strength of using large-scale proteomics to study disease," they wrote (comments below).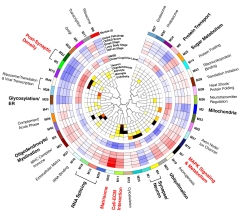 Protein Whodunit. Each protein module (outer circle) is annotated with its correlation with brain proteinopathy (next five circles; red=positive, blue=negative), cognition (next two circles), and cell-type specificity (inner circles; red to black indicates a significant association). [Courtesy of Johnson et al., Nature Neuroscience.]
More Proteins, More Networks
The authors had previously probed the AD proteome by using label-free mass spectrometry to quantify around 3,000 proteins in samples from more than 2,000 brains. That effort identified 13 protein modules, six of them linked to AD. Revved-up glial metabolism stood out as the main factor associated with the disease (May 2020 news).
To dive deeper into the proteome, joint first authors Erik Johnson, Kathleen Carter, and Eric Dammer turned to tandem-mass-tag mass spectrometry, a technique that labels proteins with chemical tags containing different heavy isotopes. This allows researchers to identify many more low-abundance proteins than do label-free methods, and also to run samples from multiple brains at once, increasing efficiency. The authors applied the technique to dorsolateral prefrontal cortex tissue from two sources, the Religious Orders Study and Memory and Aging Project (ROSMAP) and the Banner Sun Health Research Institute. Of the 516 samples, 110 came from people who had been cognitively healthy at the time of death, 206 from people with preclinical AD, and 200 from AD patients.
The tandem-mass-tag approach fished out 8,619 proteins. Three-fourths of those could be assigned to protein modules, as compared to a third of the proteins in the earlier label-free study. Modules were defined as sets of proteins that all changed together, going up or down in a coordinated fashion with disease stage. Twelve of the previously identified 13 modules, all but the smallest one, repeated in the new data. In addition, the authors found 32 new protein modules.
In some cases, previously identified modules could be refined into smaller, more specific sets. For example, proteins from the astrocyte/microglia metabolism module that dominated the first study now spread across three new modules. These were MAPK signaling (Module 7), cellular interactions with the extracellular matrix (M11), and sugar metabolism (M25). "We had such depth [of coverage] that we were able to reveal new biology," Seyfried told Alzforum.
The findings appeared robust, replicating across paired frontal and temporal cortical samples from 113 ROSMAP brains, as well as in 151 parahippocampal gyrus tissues from the Mount Sinai Brain Bank and 40 DLPFC and anterior cingulate samples from the Emory Brain Bank.
Twelve of the 44 modules boasted particularly strong associations with plaques, tangles, and cognitive decline. For some modules, their proteins were more abundant in AD, in others, suppressed. These modules reflected processes such as synaptic function, post-synaptic density proteins (M5), sugar metabolism, myelination, RNA splicing, protein transport, and mitochondrial health. All of these had shown up in the previous study as being linked to AD. New to this study were ubiquitination, glycosylation, and the matrisome (M42). Of the 12, the four modules with the strongest associations were M5, M7, M11, and M42.
M5, M11, and M42 were altered in preclinical AD as well as in symptomatic disease, but the M7 MAPK signaling module was not. Intriguingly, M7 was also the only one of the four that remained associated with cognitive decline after adjusting for plaques and tangles. "One could postulate a model in which M42 lies 'upstream' in the disease cascade, whereas the M7 module may be an important effector of cognitive decline in the presence of [elevated] M42," Johnson wrote to Alzforum.
Key Networks. Top proteins in the MAPK/metabolism (left) and the matrisome (right) modules. Yellow proteins deposit in plaques, green proteins in tangles, blue proteins in both. [Courtesy of Johnson et al., Nature Neuroscience.]
Why the RNA—Protein Disconnect ...?
To tie these findings in to previous transcriptomic work, the authors compared RNA and protein data in the same DLPFC samples from 168 of the ROSMAP brains. Surprisingly, the two overlapped only partially. Eight of the 12 AD protein modules were preserved at the RNA level, changing in the same direction in AD. Ubiquitination, glycosylation, MAPK, and the matrisome were not.
Seyfried noted that individual RNA transcripts from within these protein modules were still associated with AD. For example, most matrisome transcripts did rise with disease progression, in agreement with other work (Aug 2019 news). What was missing was the coordinated behavior of the module, where all transcripts rose or fell as a group. "There was no coherence in the biology," Seyfried said.
One reason could be that many different cell types make and secrete matrisome proteins into the ECM. Since gene expression is regulated at the cellular level, a group of proteins with diverse cellular origins might show less concordance in their expression patterns. Once in the ECM, however, all the proteins are subject to the same forces. In particular, many of the matrisome proteins contain heparan sulfate and glycosaminoglycan-binding domains that allow them to bind Aβ fibrils, and these proteins accumulate in amyloid plaques. After becoming ensconced there, they likely last a long time, far surpassing the rapid turnover of RNA expression patterns, Seyfried noted.
Others agreed with this interpretation. "The lack of RNA upregulation may be explained by reduced clearance of the respective proteins, and/or by an accumulation in plaques and tangles," Dietmar Thal at LU Leuven, Belgium, wrote to Alzforum (full comment below).
Likewise, the MAPK signaling proteins lack a cell-type-specific signature, and are also known to deposit in plaques and tangles. MAPK itself is a tau kinase, so this module may directly exacerbate tau pathology. This module was more strongly related to tangles than most other modules, perhaps explaining its correlation with cognition, Seyfried speculated.
… And the Gene—Protein Disconnect?
The protein modules were even less in synch with genetic polymorphisms than with transcripts. The authors looked for genetic variants that influenced the abundance of all the proteins in a module, calling these variants mod-QTLs. Perhaps unsurprisingly, they found no variants with such broad effects—with one exception. The APOE4 allele boosted levels of matrisome proteins as a set.
Again, this may have to do with protein interactions in the ECM. ApoE is in the matrisome module, as is Aβ. The E4 version could affect deposition of its fellow module proteins into plaques.
Notably, previous work has linked APOE4 to higher levels of another matrisome module protein in cerebrospinal fluid (Aug 2019 news). SMOC1, a basement membrane protein, was highly linked to AD and one of the main drivers of the module in this study, Seyfried noted.
Seyfried believes SMOC1, as well as other M7 and M42 proteins, could be biomarkers. He is extending his proteomics work to CSF and plasma to pinpoint the best candidates. Meanwhile, Johnson plans to study other neurodegenerative diseases to learn how specific the proteome changes reported here are to AD. All data from this study are freely available to other scientists.
Co-author Junmin Peng at St. Jude Children's Research Hospital in Memphis, Tennessee, did some of the underlying proteomics analysis while at Emory. He noted the good agreement of the present findings with previous proteomics work. "This new paper demonstrates the reproducibility of large, deep proteomics datasets from multiple groups. Collectively, the results of AD proteomics will lead to innovative hypotheses to test in the future," he wrote (full comment below).—Madolyn Bowman Rogers
References
News Citations
Primary Papers
Johnson EC, Carter EK, Dammer EB, Duong DM, Gerasimov ES, Liu Y, Liu J, Betarbet R, Ping L, Yin L, Serrano GE, Beach TG, Peng J, De Jager PL, Haroutunian V, Zhang B, Gaiteri C, Bennett DA, Gearing M, Wingo TS, Wingo AP, Lah JJ, Levey AI, Seyfried NT. Large-scale deep multi-layer analysis of Alzheimer's disease brain reveals strong proteomic disease-related changes not observed at the RNA level.

Nat Neurosci

. 2022 Feb;25(2):213-225. Epub 2022 Feb 3 PubMed.