Protective APOE3 Variant Binds More Lipids, Self-Aggregates Less
A rare APOE3 variant, dubbed APOE3-Jacksonville, drastically reduces a person's risk of developing Alzheimer's disease. How does it protect the brain? Primarily by reducing ApoE self-aggregation, according to scientists led by Guojun Bu at the Mayo Clinic. In the September 29 Science Translational Medicine, co-first authors Chia-Chen Liu, Melissa Murray, Xia Li, and Na Zhao reported that the APOE3-Jac variant creates a protein that can pack on the fat. This increased the amount of healthy lipids in the brains of mice and reduced ApoE self-aggregation. In a mouse model of amyloidosis, APOE3-Jac triggered a cascade of fewer plaques and fewer dystrophic neurites, hinting that ApoE's lipidation or self-aggregation may become a therapeutic target.
APOE3-Jacksonville variant causes missense mutation in the lipid-binding region.
5xFAD mice expressing the variant had fewer plaques, less neuron damage.
Could reducing ApoE aggregation be a therapeutic opportunity?
"This paper emphasizes the importance of lipid metabolism in the context of AD," Mikko Hiltunen, University of Eastern Finland, Kuopio, told Alzforum. William Rebeck, Georgetown University, Washington, D.C., agreed. "It clarifies the models of APOE-related risk and convincingly suggests ApoE lipidation as a good therapeutic target to reduce neurodegeneration risk," he wrote (full comment below).
Previously, Bu and colleagues found the APOE3-Jac variant in people who had remained mentally sharp into very old age (Medway et al., 2014). To find out why, the scientists collected frontal cortex tissue in the Mayo Clinic Brain Bank from 1,128 controls, 457 people who had had AD, and 1,063 people who had had dementia with Lewy bodies. Sequencing confirmed that five controls—and no cases—carried the APOE3-Jac variant.
The APOE3-Jac mutation, V236E, lies in ApoE's C-terminal and lipid-binding region. Could carriers benefit by way of altered brain lipid metabolism? To find out, the scientists immunoprecipitated ApoE from postmortem brain tissue of three E3/E3-Jac carriers and five E3/E3 controls. ApoE from carriers bound more cholesterol, hinting that it could better haul lipids. The researchers quantified the mutant protein's lipid-loading capacity by isolating astrocytes, the main ApoE-producing cells, from APOE knockout mice and culturing them with purified human ApoE3 or ApoE3-Jac (see image above). Indeed, the Jac mutant shuttled more cholesterol out of the cells (see image below).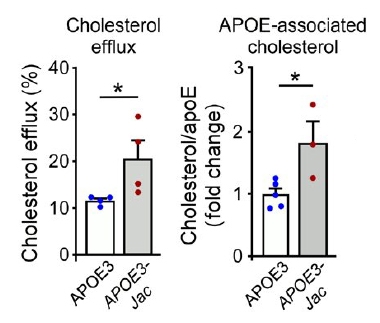 This finding made Liu and colleagues curious about lipids other than cholesterol. They injected a virus encoding APOE3 or APOE3-Jac into brain ventricles of APOE knockout mice, and later found that brain tissue from Jac-expressing mice contained not only more cholesterol but also more lipids crucial to membrane homeostasis and synaptic function, including phosphatidylserine, phosphatidylethanolamine, phosphatidic acid, sulfatide, and cerebroside. "Alterations in lipid metabolism likely contribute to the protective effects of APOE3-Jac," Jacob Raber, Oregon Health & Science University, Portland, wrote to Alzforum (full comment below).
If lipids grease up ApoE3-Jac, might that make the protein less likely to stick to itself? The scientists fractionated human brain tissue, and found that while ApoE3-Jac carriers and controls had comparable amounts of soluble ApoE, carriers had much less insoluble ApoE, suggesting fewer aggregates. Indeed, in vitro, ApoE3 readily oligomerized and bound heparin, whereas ApoE3-Jac was primarily monomeric and bound heparin poorly. "Impaired interaction with heparan-sulphate proteoglycans may be a common feature of APOE variants associated with reduced dementia risk, including APOE3-Christchurch and APOE2," Yakeel Quiroz, Massachusetts General Hospital, Boston, wrote (full comment below).
ApoE is known to fuel Aβ aggregation, hence the scientists wondered if the Jac variant's aversion to self-aggregation would carry over to amyloid deposition. In brain tissue from Jac carriers, they found less soluble Aβ42, less insoluble Aβ42 and Aβ40, and few or no diffuse plaques. On PET scans in living people, they saw less amyloid and greater glucose utilization in a carrier than controls (see image below).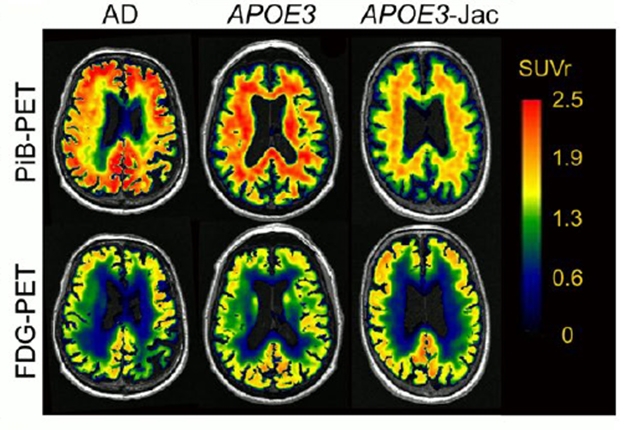 A Healthier Brain. An aged APOE3-Jac carrier's brain (right) had less amyloid (top) and metabolized more glucose (bottom) than that of an aged cognitively normal APOE3 homozygote (middle) or a person with AD (left). [Courtesy of Liu et al., Science Translational Medicine, 2021.]
APOE genotype is a major risk factor for both AD and DLB, hinting that ApoE self-aggregation may be involved in aberrant protein aggregation in both types of dementia. "While this paper focuses on the levels and deposition of Aβ, the observations that APOE4 increases risk of DLB while APOE3-Jac is protective suggest that important APOE-related processes are not limited to APOE-Aβ interactions," Rebeck wrote.
To explore APOE3-Jac's effect on amyloid deposition and its consequences, Liu and colleagues virally expressed APOE3 and APOE3-Jac in 5xFAD amyloidosis mice. Besides recapitulating the finding of fewer cortical plaques in APOE3-Jac-expressing mice, this experiment also showed them to have fewer microglia, reactive astrocytes, and dystrophic neurites (see image below). "This emphasizes the critical importance of ApoE structure on AD-related processes," David Holtzman, Washington University, St. Louis, wrote to Alzforum (full comment below).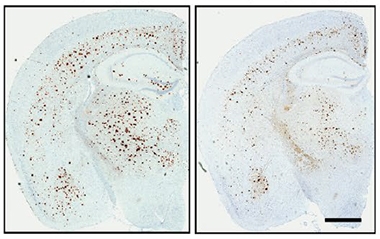 However, APOE3-Jac mice performed similarly to APOE3-expressing 5xFAD mice on memory tasks. Commentators were curious if APOE3-Jac also affects tau pathology, and whether it may affect the memories of mice with plaques and tangles. "These studies definitely need to be extended to an animal model that includes tau pathology, as the 5xFAD used here is a limitation," Ralph Martins, Edith Cowan University, Australia, wrote to Alzforum (full comment below). Together with the Jackson Laboratory in Bar Harbor, Maine, Bu and colleagues are creating APOE3-Jac knock-in mouse models on different backgrounds to define the variant's effect on cognition and AD pathology.
Regarding therapy development, Jing Guo, Nga Bien-Ly, and Gilbert Di Paolo at Denali Therapeutics, San Francisco, noted that previous strategies to reduce ApoE aggregation focused on increasing its lipidation via the LXR/RXR lipid receptor pathways or boosting the cholesterol transporter ABCA1 (full comment below). Bu and colleagues focus on reducing ApoE aggregation itself. "Monomeric ApoE is a much better lipid acceptor than aggregated ApoE," he told Alzforum. His group is screening FDA-approved, brain-penetrating molecules and is working on structure-based drug design in search of new compounds that disrupt ApoE aggregation.
APOE3-Jac is rare, and its frequency needs to be better defined in larger cohorts. Within a Danish cohort of more than 100,000 people, geneticists led by Ruth Frikke‐Schmidt, University of Copenhagen, found a lower frequency of this variant than what Liu and colleagues had reported. APOE3-Jac carriers did have a 70 percent lower dementia risk, albeit just short of statistical significance, (Rasmussen et al., 2020). Alison Goate and Anna Podlesny-Drabiniok, Icahn School of Medicine at Mount Sinai, New York, noted an even lower frequency of APOE3-Jac among almost 100,000 people in the gnomAD database. Nancy Ip, Hong Kong University of Science and Technology, who studies the ApoE genetic locus, also called for determining APOE3-Jac 's frequency across ethnic groups (see comments below).—Chelsea Weidman Burke
References
Research Models Citations
Paper Citations
Medway CW, Abdul-Hay S, Mims T, Ma L, Bisceglio G, Zou F, Pankratz S, Sando SB, Aasly JO, Barcikowska M, Siuda J, Wszolek ZK, Ross OA, Carrasquillo M, Dickson DW, Graff-Radford N, Petersen RC, Ertekin-Taner N, Morgan K, Bu G, Younkin SG. ApoE variant p.V236E is associated with markedly reduced risk of Alzheimer's disease.

Mol Neurodegener

. 2014 Mar 10;9:11. PubMed.
Rasmussen KL, Tybjaerg-Hansen A, Nordestgaard BG, Frikke-Schmidt R. APOE and dementia - resequencing and genotyping in 105,597 individuals.

Alzheimers Dement

. 2020 Dec;16(12):1624-1637. Epub 2020 Aug 18 PubMed.
External Citations
Primary Papers
Liu CC, Murray ME, Li X, Zhao N, Wang N, Heckman MG, Shue F, Martens Y, Li Y, Raulin AC, Rosenberg CL, Doss SV, Zhao J, Wren MC, Jia L, Ren Y, Ikezu TC, Lu W, Fu Y, Caulfield T, Trottier ZA, Knight J, Chen Y, Linares C, Wang X, Kurti A, Asmann YW, Wszolek ZK, Smith GE, Vemuri P, Kantarci K, Knopman DS, Lowe VJ, Jack CR Jr, Parisi JE, Ferman TJ, Boeve BF, Graff-Radford NR, Petersen RC, Younkin SG, Fryer JD, Wang H, Han X, Frieden C, Dickson DW, Ross OA, Bu G. APOE3-Jacksonville (V236E) variant reduces self-aggregation and risk of dementia.

Sci Transl Med

. 2021 Sep 29;13(613):eabc9375. PubMed.