Protecting Proteasomes from Toxic Tau Keeps Mice Sharp
In neurodegenerative diseases, normal cellular waste disposal systems fail to clear misfolded proteins. One of the systems that goes awry is the proteasome, a meat-grinder-like organelle that chews up unwanted proteins marked with ubiquitin tags. In the December 21 Nature Medicine, researchers led by Karen Duff at Columbia University, New York, in collaboration with Alfred Goldberg at Harvard Medical School, make the case that hyperphosphorylated, aggregated tau directly harms proteasome function, perhaps explaining the failure of this organelle in tauopathies. In tauopathy model mice, stimulating proteasome function by activating protein kinase A cleared accumulated tau and improved learning and memory. Several drugs that activate PKA are already approved by the Food and Drug Administration.
"This is an elegant, meticulous study, and the data look compelling," said Gerold Schmitt-Ulms at the University of Toronto. Researchers have speculated that proteasome dysfunction might play a key role in tauopathies, but they have struggled to demonstrate this in mouse models, Schmitt-Ulms noted. "The authors show something that many people have suspected, but had trouble documenting. It's not so straightforward to activate the proteasome in vivo," he added.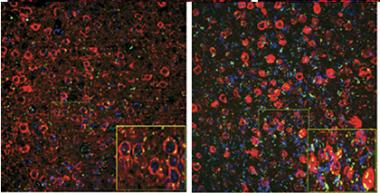 Proteasome function slows down in areas of the brains burdened with amyloid pathology (see Keller et al., 2000; Apr 2010 news). Some previous studies have correlated this dysfunction to the presence of hyperphosphorylated, misfolded tau, and found that aggregated tau inhibits proteasomes in vitro (see Keck et al., 2003; Tai et al., 2012). However, these studies stopped short of demonstrating a direct effect in vivo.
To do this, first author Natura Myeku used rTg4510 mice, which express mutant (P301L) human tau and develop tangles starting at about four months of age. She found that proteasome activity in cortical brain extracts from these mice weakened with age, in parallel with worsening tau pathology. The authors crossed rTg4510 mice with a reporter line that expresses a green fluorescent protein labeled for proteasomal destruction (see Lindsten et al., 2003). In the reporter mouse, neurons degraded the GFP quickly and barely fluoresced, but in the P301L tau crosses, green dots accumulated around tau deposits, increasing with age (see image). Moreover, proteasomes from rTg4510 mice co-immunoprecipitated with tau, indicating a physical association. The mutant protein might be obstructing and poisoning proteasomes, the author suggested.
Could normal proteasome function be restored? Elevated levels of cyclic AMP activate protein kinase A, which in turn stimulates proteasome activity by phosphorylating one of its subunits, according to some reports (see Zhang et al., 2007; Metcalfe et al., 2012; Myeku et al., 2012). To test if cAMP could rescue tau toxicity, the authors intraperitoneally injected rolipram, a phosphodiesterase 4 inhibitor that boosts cAMP levels, into three- to four-month-old rTg4510 mice for three weeks. Levels of insoluble and phosphorylated tau dropped by about a quarter, and the animals learned the location of a hidden platform in the Morris water maze as well as wild-type animals, while untreated transgenics performed poorly. Purified proteasomes from treated mice chewed up proteins better than those from untreated mice, and maintained good proteolysis even when exposed to aggregated tau in vitro, suggesting they were protected from its toxic effects.
Although rolipram treatment helped young mice in the earliest stages of tauopathy, for eight- to10-month-old mice the same regimen provided no benefit. These older mice accumulate much more aggregated tau, and the treatment might have to be longer or at a higher dose to have an effect, Myeku suggested. Alternatively, proteasomes from these late-stage mice might resist phosphorylation, she said. In ongoing work, the authors are testing additional pharmacological approaches to raise cAMP levels, some of which might be more potent. They also want to find safer drugs. Rolipram is no longer used in people because of side effects such as nausea, but other, newer drugs in its class, such as apremilast and roflumilast, have better safety profiles, Myeku said. She believes some of these might have therapeutic potential for treating Alzheimer's disease or other tauopathies.
In addition, some evidence hints that stimulation of proteasomes could provide broad protection against other neurodegenerative diseases. Goldberg recently reported that boosting cAMP in cell lines revved up proteasomes and cleared mutant FUS, SOD1, and TDP-43 in addition to tau (see Lokireddy et al., 2015). "We're very interested in testing this mechanism of action in mouse models of other neurodegenerative diseases," Myeku said.
Meanwhile, the details of how tau harms proteasomes remain unclear. The authors speculate that mutant tau may obstruct the access of other proteins to the proteasome, clogging up the machinery. This model implies that mutant tau binds more strongly to proteasomes than does wild-type. However, Schmitt-Ulms recently found the opposite: In a direct comparison, P301L tau bound more weakly to proteasomes than wild-type tau did, leading him to a different interpretation. "We prefer a model whereby the interaction between mutant P301L tau and the proteasome is partially impaired relative to wild-type tau, perhaps contributing to poor proteasome processivity for this substrate. Over time, these altered properties of tau may lead to its aggregation," he wrote to Alzforum. This aggregated tau may then bind the proteasome and poison it, as Myeku et al. suggest, he added (see full comment below).—Madolyn Bowman Rogers
References
News Citations
Research Models Citations
Mutations Citations
Paper Citations