Plasma NfL Goes the Distance in Alzheimer's
Damaged axons spill their guts, and the debris eventually makes its way into the bloodstream. Now, scientists tracking one such neuron-derived protein are moving closer to a blood test for neurodegeneration in Alzheimer's disease. In a longitudinal study of people with AD, blood levels of the neurofilament light protein (NfL) rose over time, and the rate of rise paralleled established cerebrospinal fluid and imaging markers of neuron death and advancing cognitive troubles. The work, the first to follow such a large group of people with the common, late-onset form of AD, strengthens the case for blood NfL as an easy and accessible surrogate measure of neurodegeneration in the brain. The study, by Niklas Mattsson, Lund University, Sweden, and Henrik Zetterberg and Kaj Blennow, University of Gothenburg, appeared in the April 22 JAMA Neurology.
Study measured NfL over time in 1,583 ADNI participants.
NfL rose with age and in MCI; accelerated in AD.
Rate of change tracks with other neurodegeneration markers, cognitive loss.
"The results … highlight the potential utility of plasma NfL as a biomarker of neurodegeneration and disease progression," wrote Michelle Mielke, Mayo Clinic, Rochester, Minnesota, to Alzforum. A blood-based biomarker is particularly attractive as an endpoint for clinical trials and to determine the rate of disease progression in the general population, she said.
The data echo recent findings in people with early onset, familial AD, from Mathias Jucker's group at University of Tübingen, Germany, and the DIAN researchers at Washington University in St. Louis (Jan 2019 news). Jucker called the new study "very interesting. This supports our study in familial AD and stresses again that NfL is a dynamic biomarker predicting disease progression," he said.
NfL is not specific to AD. Blood levels increase in several neurodegenerative conditions and after brain injury. Cross-sectional studies found plasma NfL up in people with MCI over cognitively unimpaired people, and higher still in those with AD (Mar 2017 news). High levels of NfL predicted cognitive decline and loss of brain volume over the following years. But researchers lacked a definitive picture of how NfL changed over the course of AD in the same person.
For their longitudinal study, Mattsson and colleagues took advantage of blood samples collected from 1,583 participants as part of the Alzheimer's Disease Neuroimaging Initiative (ADNI). With an average age of 73, the group comprised 401 cognitively unimpaired (CU) volunteers, 855 with mild cognitive impairment (MCI), and 327 with AD dementia, who gave a total of 4,326 plasma samples over a span of up to 11 years. The investigators analyzed plasma NfL using their in-house, ultra-sensitive single-molecule array immunoassay.
In agreement with their previous work, NfL levels started to rise before overt dementia set in. At baseline, cognitively normal people averaged the lowest levels of NfL, the MCI group was higher, and those with AD were highest. In all three groups, NfL increased with age. The CU and MCI groups rose at about the same rate (2.4 and 2.7 ng/L, respectively), while the AD group rose significantly faster (4.9 ng/L/year).
The rate of increase of NfL was linked to amyloid deposition: In the cognitively unimpaired or MCI groups, those with low CSF Aβ42 had a significantly quicker rise in NfL than the amyloid-negative groups. This indicates that NfL may be used to detect incipient neurodegeneration in preclinical AD, Mattsson wrote to Alzforum. That jibes with the DIAN data, where blood NfL started to increase 16 years before the expected onset of dementia (Preische et al., 2019; Weston et al., 2017).
Plasma NfL tracked with a raft of other disease markers. Rising NfL correlated with declining CSF Aβ42 and increasing tau, with shrinking hippocampi and cortex on MRI, with waning glucose metabolism, expanding white-matter lesions, and sinking scores on multiple cognitive tests, all independent of diagnosis. Of CSF biomarkers, Aβ42 was most strongly associated with NFL level longitudinally; among imaging measures, the top association was with hippocampal volume and entorhinal cortex thickness, and with changes in the ADAS-Cog among cognitive measures.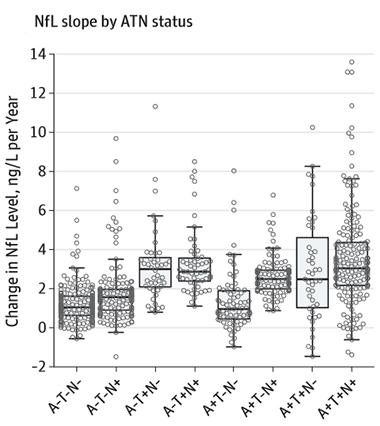 The investigators also compared plasma NfL to biomarkers in the A/T/N classification scheme (Apr 2018 news). This system defines disease states according to biomarkers for brain amyloid (A), tau pathology (T), and neurodegeneration (N). Current measures of N include FDG-PET glucose uptake, MRI assessments of brain atrophy, or CSF total tau. A recent study held out CSF NfL as an alternative marker for neurodegeneration in this scheme (Nov 2018 news).
What about blood NfL? When Mattson examined NfL in ADNI volunteers binned according to the A/T/N criteria, the N+ subsets had a higher baseline and faster rising NfL than N- groups. Also, T+ people had greater NfL rise. "Tau pathology is closely associated with neurodegeneration, which leads to release of NFL. The response of the NFL slopes to tau positivity support that association," said Mattsson. Going forward, it will be interesting to compare the changes in NfL to additional aspects of AD not included in this study, such as the spread of tau measured by PET imaging, he said.
Anne Fagan, Washington University, St. Louis, Missouri, said studies in both late-onset and autosomal dominant AD have shown correlations between imaging variables and plasma NfL levels, but the strength of this study is its evaluation of within-person change over time. "As always, this is a terrific study by this group, and very comprehensive. It lays the groundwork for future studies to define cutoffs and evaluate the performance of NfL as an indicator of neurodegeneration as defined by the proposed ATN framework," she said.—Pat McCaffrey
References
News Citations
Paper Citations
Preische O, Schultz SA, Apel A, Kuhle J, Kaeser SA, Barro C, Gräber S, Kuder-Buletta E, LaFougere C, Laske C, Vöglein J, Levin J, Masters CL, Martins R, Schofield PR, Rossor MN, Graff-Radford NR, Salloway S, Ghetti B, Ringman JM, Noble JM, Chhatwal J, Goate AM, Benzinger TL, Morris JC, Bateman RJ, Wang G, Fagan AM, McDade EM, Gordon BA, Jucker M, Dominantly Inherited Alzheimer Network. Serum neurofilament dynamics predicts neurodegeneration and clinical progression in presymptomatic Alzheimer's disease.

Nat Med

. 2019 Feb;25(2):277-283. Epub 2019 Jan 21 PubMed.
Weston PS, Poole T, Ryan NS, Nair A, Liang Y, Macpherson K, Druyeh R, Malone IB, Ahsan RL, Pemberton H, Klimova J, Mead S, Blennow K, Rossor MN, Schott JM, Zetterberg H, Fox NC. Serum neurofilament light in familial Alzheimer disease: A marker of early neurodegeneration.

Neurology

. 2017 Nov 21;89(21):2167-2175. Epub 2017 Oct 25 PubMed.
Further Reading
No Available Further Reading