PET Firms Up Amyloid Cascade: Plaques, Inflammation, Tangles
In the Alzheimer's cascade hypothesis, plaques unleash tangles; alas, where neuroinflammation fits in has been hazy. Now, the first study to combine imaging of microglial activation with amyloid and tau PET in the human brain places neuroinflammation squarely in between the two. In the August 26 Nature Medicine, researchers led by Tharick Pascoal, now at the University of Pittsburgh School of Medicine, and Pedro Rosa-Neto at McGill University in Montreal, report PET findings from 108 adults who range from cognitively healthy to AD dementia.
The regional pattern of microglial activation in AD brain mirrors Braak staging.
In the presence of plaque, it parallels and predicts tangle spread.
The data suggest that amyloid and microglia together unleash tangles.
Across this cohort, the regional distribution of microglial activation mirrored Braak staging, and correlated with tangle load. Moreover, the extent of microglial activation predicted the spread of tangles into later Braak regions, suggesting it drove this pathology. Notably, the relationship between neuroinflammation and tangles only occurred in the presence of amyloid plaques, and all three pathologies were required for cognitive decline.
"Amyloid potentiates microglial activation to drive tau propagation in the brain," Pascoal told Alzforum. "The data suggest neuroinflammation should be included in biological definitions of AD." Some of these data were previously presented at the 2020 Human Amyloid Imaging conference (Feb 2020 conference news).
Others were enthusiastic. "This is a very compelling study, and certainly advances our understanding of the cross talk between microglial activation, amyloid, and tau burden in the clinical context," Kiran Bhaskar at the University of New Mexico, Albuquerque, wrote to Alzforum (full comment below). Marc Diamond at the University of Texas Southwestern in Dallas said it would spur further research. "This type of correlation is a powerful inspiration to labs such as mine to test whether there are certain inflammatory signals that might influence tau propagation," he wrote (comment below).
Neuroinflammation Linked to Tangles
PET imaging studies have consistently shown that as plaques spread into the cortex, tangles break out of the medial temporal lobe to rampage across the brain, attacking cognition as they go (Mar 2016 news; Aug 2016 news; Feb 2018 news). But the mechanistic connection between the pathologies remained mysterious. The medial temporal lobe contains little amyloid, making a direct interaction unlikely.
Animal and in vitro studies hinted that microglia might be the missing link. Michael Heneka at the German Center for Neurodegenerative Diseases in Bonn reported that in mice, activation of the NLRP3 inflammasome in microglia caused the cells to spew cytokines that triggered tau phosphorylation in neurons (Nov 2019 news). Work by Sarah Hopp at Massachusetts General Hospital in Charlestown suggested a different microglial mechanism. She found that microglia isolated from AD brain contained tau seeds, which the cells released into the culture medium. The data implied that microglia phagocytose aggregated neuronal tau present in aging brain, then try but fail to digest it, and instead end up strewing it across the brain (Hopp et al., 2018).
Pascoal and colleagues directly examined microglia in living humans via PET. They used PBR28, a tracer that binds the mitochondrial protein TSPO. TSPO is predominantly expressed by activated microglia, but also sometimes by activated astrocytes and endothelium. Unfortunately, a common polymorphism in TSPO interferes with binding, leading to a low PET signal in many people (Apr 2012 news). To get around this problem, the authors studied only people with no copies of this polymorphism, which amounted to about half of those they genotyped. Pascoal noted that neuroinflammation does not vary between low- and high-affinity TSPO binders, so he believes the findings from this study will generalize to the broader population. Bhaskar praised the decision to exclude low binders, because this enabled the authors to collect more-consistent data in which variation in the PET signal reflected disease stage rather than genetic differences.
Participants came from McGill's Translational Biomarkers of Aging and Dementia (TRIAD) cohort. After screening out people with neurological conditions other than AD, the researchers had 130 participants, 22 of whom were healthy young controls with an average age of 23. The older participants had an average age of 72; 64 of them were cognitively healthy, 28 had mild cognitive impairment, and 16 had AD dementia. All participants underwent cognitive testing, MRI, and PET scans at baseline, and the older group had a follow-up tau PET scan one year later.
What did PBR28 show? Uptake of the tracer associated with high cerebrospinal fluid sTREM2, another marker of microglial activation that is elevated in AD. Moreover, brain regions in cognitively healthy older participants that bound PBR28 matched those with high TREM2 expression in postmortem brain samples from the Allen Human Brain Atlas, suggesting the PBR28 signal reflects microglial activation. The strength of the global PBR28 signal roughly correlated with the global amyloid signal, as seen by the tracer AZD4694, and with overall tangle load, measured with MK6240.
In terms of its regional pattern, PBR28 uptake rose with age, particularly in the precuneus, posterior cingulate, lateral temporal, and inferior parietal cortex. However, the pattern changed with disease, lighting up more regions in MCI and AD brain. Like tangles, microglial activation progressed from a Braak stage I pattern in cognitively healthy participants up to Braak stage VI in people at more advanced stages of AD.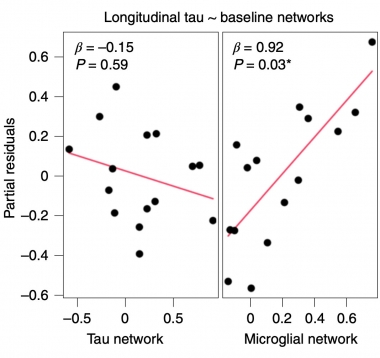 PBR28 uptake also correlated with the change in tau PET over one year. A regression analysis of the baseline PBR28 and MK6240 regional networks found that the microglial network strongly predicted future tangle spread, with a correlation coefficient of 0.92, while the baseline tau PET network did not (see image at left). In more evidence of a causal role for microglial activation, the PBR28 signal at baseline in the transentorhinal cortex, i.e. in Braak stage I, foreshadowed tangle accumulation in later Braak stage regions on the follow-up scan.
"The exciting observations from Pascoal and colleagues that tau pathology follows changes in microglia activation align with over two decades of cellular and mouse research suggesting that microglia pro-inflammatory activation drives tau pathology," Hopp noted (full comment below).
Amyloid Sets the Stage
Where does amyloid fit in? Both high plaque load and microglial activation were required for tangles to occur. Against a background of high cortical plaque load, the more widespread a person's activated microglia were, the more widespread their tangles. For example, people with a high global amyloid burden who bound PBR28 in the transentorhinal cortex had tangles in the hippocampal region, while people who bound PBR28 in Braak stage IV regions had widespread neocortical tangles. In the absence of amyloid, this relationship between inflammation and tangles vanished (see image at top of story).
To put the icing on the PET cake, Pascoal found that all three pathologies acted together to precipitate cognitive decline. The presence of any single pathology had no consistent effect on cognition, but having all three together hiked a person's risk 25-fold.
The Nuances of Microglial Activation
The study raises several questions, in particular how microglia promote tangle spread, and what type of activation does this. TSPO binding is a blunt instrument that cannot distinguish nuanced microglial phenotypes. Some types of microglial activation, at the right stage of disease, may even help ameliorate pathology. For example, mouse studies suggest that TREM2 activation early in amyloidosis helps corral plaques and neutralize toxicity (May 2016 news; Apr 2020 news; Jun 2020 news).
David Holtzman at Washington University in St. Louis noted that mouse studies from his group have found that microglial activation curbs tau seeding, rather than promotes it (Leyns et al., 2019; Jul 2019 conference news; Gratuze et al., 2021). "We always need to remember that correlation does not equal causation," he wrote to Alzforum (full comment below). Could it be that the active microglia coincide with tangles because they are trying to corral or eliminate them, as they do with plaques (Sep 2019 news; Apr 2021 news)?
Rosa-Neto will tackle the causation question by manipulating microglial reactivity, for example by modulating TREM2, and measuring how that affects tau pathology in animal models. He also wants to pin down the type of microglial activation in AD brain by examining fluid biomarkers of inflammation. In this PET study, the PBR28 signal correlated with numerous CSF inflammatory markers, including fractalkine and its receptor CX3CR1, TGF-α, CSF-1, and IL-8. Some of these markers correlated more closely with the PBR28 signal than did sTREM2. Bhaskar's research has shown CX3CR1 strongly affects tau pathology in mouse models, suggesting a key role for this receptor.
"CSF biomarkers may better capture a snapshot of the neuroinflammatory phenotype [than does PBR28]," Hopp agreed.
Rosa-Neto will continue to follow this cohort, adding longitudinal PBR28 and amyloid scans as well as additional tau scans to learn more about when the various pathologies appear and change in relation to one another. However, he believes existing data already suggest that to be effective, anti-inflammatory therapy would have to be started early in AD, before tangles break out of the medial temporal lobe. Recent findings that fluid markers of inflammation change very early in preclinical disease strengthen this idea (Aug 2021 conference news). Past anti-inflammatory trials, for example one of minocycline in mild AD dementia, may have begun too late in disease to do any good, Rosa-Neto speculated (Nov 2019 news).—Madolyn Bowman Rogers
References
News Citations
Paper Citations
Hopp SC, Lin Y, Oakley D, Roe AD, DeVos SL, Hanlon D, Hyman BT. The role of microglia in processing and spreading of bioactive tau seeds in Alzheimer's disease.

J Neuroinflammation

. 2018 Sep 18;15(1):269. PubMed.
Leyns CE, Gratuze M, Narasimhan S, Jain N, Koscal LJ, Jiang H, Manis M, Colonna M, Lee VM, Ulrich JD, Holtzman DM. TREM2 function impedes tau seeding in neuritic plaques.

Nat Neurosci

. 2019 Aug;22(8):1217-1222. Epub 2019 Jun 24 PubMed.
Gratuze M, Chen Y, Parhizkar S, Jain N, Strickland MR, Serrano JR, Colonna M, Ulrich JD, Holtzman DM. Activated microglia mitigate Aβ-associated tau seeding and spreading.

J Exp Med

. 2021 Aug 2;218(8) Epub 2021 Jun 8 PubMed.
Further Reading
Papers
Pascoal TA, Benedet AL, Ashton NJ, Kang MS, Therriault J, Chamoun M, Savard M, Lussier FZ, Tissot C, Karikari TK, Ottoy J, Mathotaarachchi S, Stevenson J, Massarweh G, Schöll M, de Leon MJ, Soucy JP, Edison P, Blennow K, Zetterberg H, Gauthier S, Rosa-Neto P. Microglial activation and tau propagate jointly across Braak stages.

Nat Med

. 2021 Sep;27(9):1592-1599. Epub 2021 Aug 26 PubMed. Correction.
Primary Papers
Pascoal TA, Benedet AL, Ashton NJ, Kang MS, Therriault J, Chamoun M, Savard M, Lussier FZ, Tissot C, Karikari TK, Ottoy J, Mathotaarachchi S, Stevenson J, Massarweh G, Schöll M, de Leon MJ, Soucy JP, Edison P, Blennow K, Zetterberg H, Gauthier S, Rosa-Neto P. Microglial activation and tau propagate jointly across Braak stages.

Nat Med

. 2021 Sep;27(9):1592-1599. Epub 2021 Aug 26 PubMed. Correction.