Peering Inside Stubby and Mushroom Dendritic Spines
The words "mushroom" and "stub" denote two types of dendritic spines, but while their shapes are easy to behold, whatever biochemical differences hide within is a mystery. To explore what goes on inside, Silvio Rizzoli, University Medical Center Göttingen, Germany, and colleagues combined electron, super-resolution, and fluorescence microscopy with mass spectrometry to create three-dimensional models of mushroom and stubby spines from cultured rat neurons. In the June 24 Nature Neuroscience, they showcase the awesome complexity and, arguably, the beauty (see videos below), of the spines' respective proteomes. The scientists found that both types have similar synaptic protein amounts and distribution, but mushroom spines have stronger synapses and more secretory and trafficking proteins in their postsynaptic densities (PSDs) than do stubby spines.
Three-dimensional models of postsynaptic dendritic spines reveal structure, proteome.
Combined cutting-edge techniques powered this massive effort.
The work is foundational for studying synapse destabilization in Alzheimer's.
"I applaud this study for its elegant combination of fairly sophisticated techniques that are rarely coupled together, super-resolution microscopy, deep quantitative protein analysis, and large-scale automated anatomical analysis, to address a very specific but high-content question," Grace Stutzmann, Rosalind Franklin University of Medicine and Science, North Chicago, wrote to Alzforum (full comment below).
The authors concluded that mushroom spines likely respond better to signals coming across the synaptic cleft than do stubs, perhaps explaining why the former stick around throughout adulthood while the latter disappear. The analytical techniques used in this paper may be useful in Alzheimer's models, helping scientists learn why mushroom spines wither during the disease.
To characterize the two types of spines, first author Martin Helm and colleagues cultured wild-type rat hippocampal neurons for 23 days, then peered into more than 47,000 spines on those neurons by way of electron and super-resolution microscopy. They used mass spectrometry on trypsin-digested proteins from neuron cultures and computer software to identify all the proteins in whole neurons. Then, the scientists labeled 110 proteins, including postsynaptic proteins such as PSD95, signaling proteins such as calmodulin, glutamate receptors, and trafficking molecules, and measured their amount in spines using fluorescence microscopy (see image below).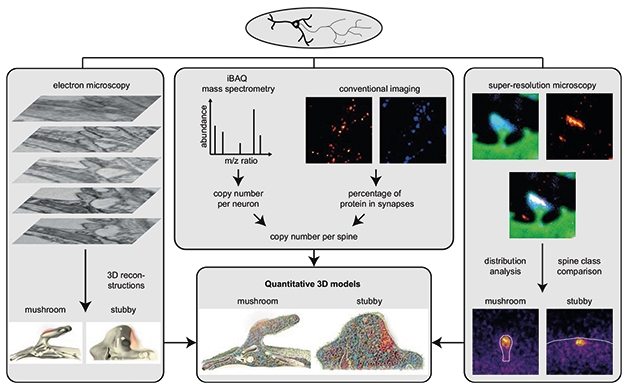 Three-Dimensional Dendritic Spines. To build the models (middle, bottom), researchers first compiled electron microscope images (left) to shape dendrites and place organelles inside. Next, super-resolution microscopy (right) filled in protein distribution. Finally, mass spectrometry and fluorescence microscopy (middle, top) determined how much of each protein was in the spines. [Courtesy of Helm et al., Nature Neuroscience, 2021.]
Electron microscopy revealed that the volume, size of the PSD, organelles, and their distribution were surprisingly similar in mushroom and stubby spines. Likewise, super-resolution microscopy showed a comparable average protein distribution throughout both types (see image below). "It is inherently interesting, and perhaps initially counterintuitive, that the more transient stubby spines have similar protein composition and copy number as the more structurally and functionally stable mushroom spines," Stutzman wrote. This might hint that the two spines exist on a spectrum of immature stubs and mature mushrooms, the authors write.
Similar Distribution. Super-resolution microscopy images (top row) of mushroom (left) and stubby (right) spines containing calmodulin (red dye). The overall distribution of proteins within both spine types is similar (middle, bottom rows). [Courtesy of Helm et al., Nature Neuroscience, 2021.]
To compare the proteomes of mushroom and stubby spines, Helm and colleagues used quantitative mass spec to measure the concentrations of more than 6,000 proteins in entire neurons. To figure out which proteins were within spines, the researchers chose 110, most of them synaptic, labeled them with antibodies, visualized them under the fluorescent microscope, and counted how many co-localized with dendrites of each neuron. Dividing their counts by the estimated number of spines per neuron yielded the average amount of each protein per spine (see image below).
Protein Accounting. Average number of each of 110 synaptic proteins (dots) within all spines. Cytoskeletal (green) and signaling proteins (orange) were most abundant. [Courtesy of Helm et al., Nature Neuroscience, 2021.]
The scientists did find a difference, relating to synaptic strength, between the proteomes of mushroom and stubby spines. They tagged the PSD and each protein with fluorescent antibodies and quantified fluorescence intensity. They then assessed synaptic strength by PSD size and correlated that to the abundance of each protein within the given spine. When quantified in this way, mushroom spines seemed stronger—suggesting, perhaps, that mushroom spines better adapt to changes in synaptic activity (see image below).
Strong Synapses. Abundance of 110 proteins, grouped by function, in mushroom (green icons) and stubby spines (orange). Darker color reflects tighter correlation between protein amount and mass of the postsynaptic density (PSD). Black icon borders mean the correlation is significant, gray borders indicate non-significance. [Courtesy of Helm et al., Nature Neuroscience, 2021.]
The researchers stacked electron microscopy images into three-dimensional models of an average mushroom and stubby spine, then filled them in with the protein information (see videos below). Among many exquisite details, these models showed the PSD to sit on the side of the spine, rather than at its tip. "It was beautiful that the authors could show the PSD at a different location than where one traditionally thinks it would be," Jeremy Herskowitz, University of Alabama, Birmingham, told Alzforum.
Behold These Spines. Video models of average mushroom (top) and stubby (bottom) spines show where myriad proteins and organelles are located throughout. [Courtesy of Helm et al., Nature Neuroscience, 2021.]
Could these techniques teach scientists about spine proteomics in dementia models? Takaomi Saido at the RIKEN Brain Science Institute in Wako-shi, Japan, thinks so. He noted his previous finding, with Ilya Bezprozvanny, University of Texas Southwestern Medical Center, Dallas, and colleagues, that calcium is dysregulated in mushroom spines in APP knock-in mice, causing the spines' demise (Oct 2015 news). "This new technology will provide further molecular and cellular mechanistic insights," Saido wrote to Alzforum.
Jochen Herms, Ludwig-Maximilians-University Munich, Germany, agreed, wondering about his own previous findings in α-synuclein-overexpressing mice (Blumenstock, et al., 2019). "Changes we saw in the proteome of synaptosomal preparations from those mice can now be further analyzed to assess whether changes occurred at mushroom or stubby spines," he wrote to Alzforum (full comment below).
Hui Zheng and Baiping Wang at Baylor College of Medicine, Houston, are curious about how spine proteins respond to AD-related injury. "It would be interesting to assess how proteins related to protein trafficking, exocytosis, and endocytosis change in response to extracellular (Aβ) or intracellular (tau) protein aggregation," they wrote to Alzforum. Bezprozvanny and Ekaterina Pchitskaya, Peter the Great St. Petersburg Polytechnic University, Russia, wrote, "These findings may be important for understanding primary processes that induce spine instability and open new options for spine-preserving therapies." See full comments below.
What about human iPSC-derived neurons? They have become a popular model in AD research these days; alas, Herskowitz was dubious about studying spines in them. "In our hands, we have not seen those cells make the four different spine types of mature dendrites that form in rodent primary neurons or neurons in vivo," he said.
Kim Green, University of California, Irvine, thinks studying dendrites from tissue slices will be a helpful next step. "Then researchers at MODEL-AD can see if we can do something similar in our models," he wrote to Alzforum. The Model Organism Development & Evaluation for Late-Onset AD (MODEL-AD) consortium is exploring knock-in mouse models that have sporadic AD mutations (Oct 2019 news; Apr 2021 news).—Chelsea Weidman Burke
References
News Citations
Paper Citations
Blumenstock S, Angelo MF, Peters F, Dorostkar MM, Ruf VC, Luckner M, Crux S, Slapakova L, Arzberger T, Claverol S, Herzog E, Herms J. Early defects in translation elongation factor 1α levels at excitatory synapses in α-synucleinopathy.

Acta Neuropathol

. 2019 Dec;138(6):971-986. Epub 2019 Aug 26 PubMed.
External Citations
Further Reading
Papers
Umeda T, Ramser EM, Yamashita M, Nakajima K, Mori H, Silverman MA, Tomiyama T. Intracellular amyloid β oligomers impair organelle transport and induce dendritic spine loss in primary neurons.

Acta Neuropathol Commun

. 2015 Aug 21;3:51. PubMed.
Ryskamp D, Wu L, Wu J, Kim D, Rammes G, Geva M, Hayden M, Bezprozvanny I. Pridopidine stabilizes mushroom spines in mouse models of Alzheimer's disease by acting on the sigma-1 receptor.

Neurobiol Dis

. 2019 Apr;124:489-504. Epub 2018 Dec 27 PubMed.
Primary Papers
Helm MS, Dankovich TM, Mandad S, Rammner B, Jähne S, Salimi V, Koerbs C, Leibrandt R, Urlaub H, Schikorski T, Rizzoli SO. A large-scale nanoscopy and biochemistry analysis of postsynaptic dendritic spines.

Nat Neurosci

. 2021 Aug;24(8):1151-1162. Epub 2021 Jun 24 PubMed.